Openly and Honestly by Karin Taylor
A discussion about the some of the conflicts that occur in the life of an artist from an artist's viewpoint.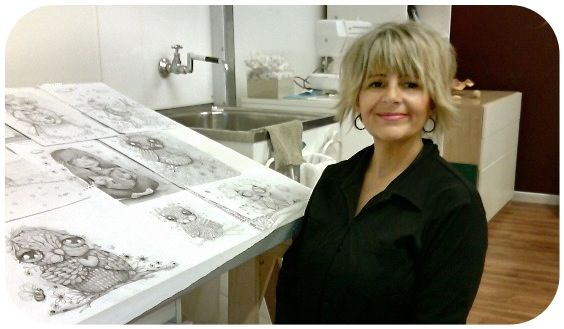 Recently I became engaged in a discussion with a friend, afterwards I felt really down. Sometimes saying things out loud makes them seem more real. Sometimes exploring topics that cause confusion, can help us to make sense of things. Sometimes, a discussion can help you realise how very small you are, in the scheme of the entire universe.
This was one of those discussions.
I realised how small I was. I am already a smallish 152cm so I am used to looking up at the world. By that, I don't mean to indicate that I am share an optimistic world view with those who see glasses half full…no, I am not the garden-variety type pessimist either. I describe myself as the 'optimist for the pessimist' and the 'pessimist that does hard labour on a sketch pad to turn the pessimist's thoughts into optimistic ones'. Every day, I struggle with a pull, a pull downward, like a magnet…but I refuse to give in as a general rule. I like that people mistake me for an optimist, it means I am doing a good job of becoming what I aspire to be. What I didn't realise is, that the art of becoming an optimist, requires such hard labour and long hours of training in boot camp. My dedication wanes at times, but if you watch closely you will notice, despite how dark my world becomes, I strive to overcome. I may go down for a while, a white flag of surrender will issue forth, but then I climb that ladder and tilt my eyes skyward again. I won't give up easily on optimism. In fact, I have been called incorrigible because I neglect myself, exhaust myself, run myself into the ground, lose sight of my own goals, forget to remember the best possible outcome can occur if I just hold it together a few minutes more. I lose my temper like everyone else. I clamber into my cave whenever I can. I say things I wish I'd kept silent. I lose friends, I gain friends, I lose friends….it's a constant neverending state of confusion sometimes, but other times, all I see are butterflies and the beauty.
So why did I feel low after this discussion, because it made me realise that all the butterflies and all the beauty in the world, have not made me wealthy with bags of money. No. I try to give to the world a positive view through my art, yes. I strive to take in all I see, and feed it back to uplift others, to feed the spirit, to help people overcome, to encourage others…however, it is not a lucrative business, and in that way, I must say…I feel like a failure.
It is so hard, to promote oneself continually, in fact, it goes against everything that is within me, and yet, I must do so, in order to share my art with an audience that is far bigger than my small town. In fact, hardly anyone knows me here. The truth is, not even one gallery, is my art in. That hasn't always been so, I can list lots of galleries where I once shared my work, but the last gallery I was in, after talking with the Director, gave me such a shock, that I have never been able to go back to a gallery, and I sadly view them with skepticism…it is a business, like my art has to be, a business. Yet there is such a conflict going on. Because art for me, was never regarded as 'business'….it was sheer joy, pure release… however, I found that by selling my work, there was a connection that was made with others. It is what I'd say you could call "A value connection". What is that you might wonder? Well, it is what happens when someone pays for your art. It shows you they value it, want it in their home, are prepared to share it with others. It is very important therefore, to spread my art as far afield as possible, to touch all the hearts and minds and souls and people that I can…because I have a problem with 'being in the presence of people, as it exhausts me' (Asperger's syndrome) I found the best way for me to connect with others, that didn't exhaust me, was to draw and to write.
Somehow money gets tied into it all, and I want to explain why money matters, it's not about being greedy, no not at all. Money is a big 'heart matter'….because it is what shows me, just how much people value my art. So it became something I learned that was painful, when people don't buy, when the economy is on the downturn…when people are struggling and suffering and can't put food on the table, it leaves me in the same struggle. When people are joyful and can afford to buy my art, it results in the joyful connection and the feeling I identify with being valued…well, my art being of value to others.
This is sometimes why, I have to try and smile when I sell stickers, and make $0.50cents when I know a print of the same artwork could sell and I could make $80. It breaks my heart. I think it's not greed or selfishness, it's just that I never saw my work as being a sticker sale, I always thought it would be on a print on someone's wall. I've had to get used to learning to be accepting that other's still value my work, if they are buying a sticker….it means they want to share my work with others, on their school folder, on their surfboard perhaps or some other special place they have in mind for it. The world of prints, changed everything for me. In one way, I sell so much more, and feel so much more valued…..but in another way, I sometimes find I feel devalued. I wasn't prepared for this at all. When redbubble changed their policy and brought in cheaper cards, stickers and prints, the quantity of art I sold tripled. However, the difficult truth I had to face and wrestle with, was that I then earned two thirds less than I could have, had they not brought those products in. It's certainly a lot to think about. Because of these new less expensive products, many more people were able to afford more of my art, so why did I feel devalued. Because I put a price on the value of my art, instead of looking at this as 'a sale is a sale is a sale'….regardless of the amount, someone went through the process of loving, choosing, paying for and waiting excitedly at home to receive that piece of art, regardless whether it was on a sticker, or a stretched canvas print…..the same sense of love, joy, etc….was the experience for the purchaser… yet, on my end, was a sense of devaluing, if the product chosen was a smaller product like a sticker.
So, in conclusion how have I come to terms with these things, well..as I eluded to above, when I realised that the same joy is experienced for the purchaser, regardless of whether they bought a sticker or a canvas print…..it changed my outlook altogether.
I was happy and positive that the 'exchange' was made, never mind the 'value' in money terms. The same love, time, energy, etc, had been expended on the process of finding, searching, feeling a connection to my art (and I hope to me)….and truly, this is what matters. I sometimes give my art away to someone who appreciates it, I have been known to give a lot of art away, without any qualms at all, I will even buy my own art, to give to an individual if I think they will appreciate it…. and the buying of stickers, is no less a purchase. In the end, it is the showing of appreciation, the connecting with it, that matters. The same can be said for genuine responses in comments made about my art, for those that favourite my work, for those that write sweet endearing letters to me about my art. These are the things that help me feel that my art is valued, regardless of the amount of money expended……it is more about the amount of time and energy people 'spend' on my art.
I sometimes can feel begrudging and ungrateful, as anyone might make the same mistakes I've made, but onward and upward, I am deeply grateful….I hesitated to write this, because I know that people will say to me, that my value system shouldn't be so flakey, that I should create just because I love creating. What people don't know, is that I wasn't a great artist as a child, I showed a little potential, but I worked to develop a style, to develop my art with heart, so that I could connect with a world I felt so disconnected from…..and so you see, it means everything to me.
Mahalo. Karin xox