What is a Healing Place?
To me a healing place is somewhere you can go to take time out. A place of quite or soothing music. A place you can be on your own. A place that is nurturing to the body, mind and spirit.
I am fortunate, my healing place is the beach. I have a beautiful beach down the road which except during holiday season is deserted. I walk down on the white sand and it massages my feet, the wind gently blows my hair as the suns rays warm my skin. I look out across the vast ocean and know that all is well in the world. I am at peace.
Not all of you are this lucky so you have to make a spot within your lifestyle.
Before I lived here I had turned a section of my courtyard into a healing place. I had a comfy chair, an ipod for music, crystals in the garden and a fairy or too:) and to this I added beautiful images that would transport me to wonderful places in nature.
For those of you who only have a single room, take time to turn the lights down, use lamps, shut the door and put up a do not disturb sign. Place your nature images on the wall and allow yourself to get lost in nature.
What if you only have a moment to yourself at work. If you have an office, take the phone off the hook & shut the door. Make sure you have healing images on your wall and spend at least 5 mins a day immersing yourself in them.
If you are a receptionist, suggest that your employer puts some healing art on the walls as then when people are waiting they can de-stress and have some healing time and you will also receive the benefits all through the day.

Purity of Heart, calming mind and nerves. This one is like taking a tonic. The water lily has long been used to aid meditation and purple speaks of meditation, intuition, calming nerves and mind. Spend time meditating on this image and receive the healing it brings.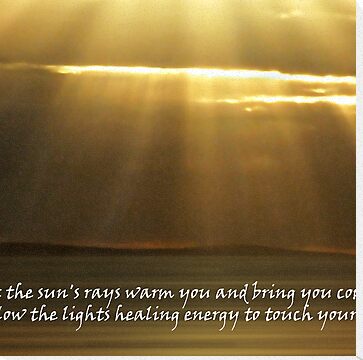 Receive vitality and warmth from the suns rays. This is an image of the rays of sunlight streaming down through the clouds to bring you warmth and vitality.
I was going to include an image of a healing space, but then I thought we are all so different, so better for you to use your own imagination, but I will add an image of what you could place on the wall. You can purchase these images here If you are using it in an outdoor area I would recommend you get a laminated print for the wall.
Have fun creating your space and may it bring you wellness, peace and happiness.