Photography Legends of History A-Z
Here is just a selection of female photographers from history that have helped shape photography and art as we know it. Some names you will know and some you may never have heard of before but all are worthy of a place in history. I have included a wikipedia info link via the artist's name where possible, or their own website so if you wish you can read their biography, see more of their work and learn about their style…….so sit back and get inspired by some amazing artists from the last 100+ years!
Enjoy Cheers Jules :)
PS Some letters are filled with info about photography in general, this is not to say that women with last names beginning with E,I, J,V,X and Z don't exist it's just that I found them impossible to find on the web or I got freaked out by copyright issues.
A – Diane Arbus


Child with Toy Hand Grenade in Central Park, New York 1962 Silver Gelatin Print
B- Margaret Bourke-White


Hats in the Garment District, New York, 1930
-and this is Margaret at work on top of the Chrysler Building, NY 1934..


-I just had to add that one!
C – Julia Margaret Cameron


I wait 1872 albumen silver photograph
D – Judy Dater


Imogen and Twinka (Photographer Imogen Cunningham)
E – E is for Ektachrome
A type of reversible film first made by Kodak in 1946
F – Donna Ferrato


Foot in Mouth 2002
G – Nan Goldin


Misty and Joey at Hornstrasse, 1992
H – Florence Henri

I – I is for Iris Print
An Iris print is a specific form of Giclee print and 'Giclee' is a term to describe fine art inkjet printing.
J – Is yet another quiet letter J…J is for JPG files -something that most of these women didn't have to worry about.
K – Sirkka-Liisa Konttinen


Spacehopper 1971
L – Dorothea Lange


Migrant Mother 1936 Silver Gelatin Print
M – Dora Maar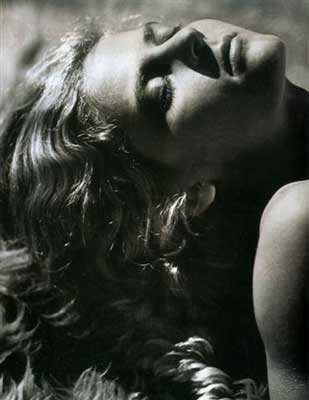 Assia, nu sur la fourrure, 1934 Vintage Silver Gelatin Print.
N – Mary Ellen Mark


Amanda and her Cousin Amy 1990
O – O is for "OMG look at that image!!"
P – Olivia Parker

Q – Is for "Quick get the CAMERA!"
R – Bettina Rheims

S – Cindy Sherman


Untitled Film Still #3. 1977 Gelatin Silver Print
T – T is for Talbotype
A photographic process introduced in 1841 by Henry Fox Talbot, using paper coated with silver iodide. It is also known as 'calotype'
U – Doris Ulmann


Southern Appalachian Highlanders 1920s
V – V is for Canon *V*ersus Nikon
W – Dorothy Wilding


Tallaluh Bankhead 1920s
X – X is for Li Xiao-Ming no web info available sorry
Y – Madame Yevonde


The Machine Worker in Summer 1937
Z-Zee End !!


This is called Leaf Skeleton by Olive Cotton
-okok not ending in Z but she is one of my absolute favourite female photographers :)