Behind the scene on an Autumn shoot
This post was originally written in – NOVEMBER 05, 2011 and unpublished until now.
From an ongoing discussion in Solo Exhibition's Photographers' Café page 3
Now showcased on the RB Weekly Wrap
---
---
It was a beautiful autumn day just before 4 pm, I was out driving up the mountain side looking for photo opportunities. I was really hoping to capture some fall colors with streams, especially streams. I have no photos of waterfalls or streams in my portfolio. I always admire those beautiful running water images with long exposure blurs. Envious really. First off, I have been hunting in and around town for picturesque streams for years and I can't find none. Never mind waterfalls, there isn't any, period. To be honest, I haven't gone off the beaten trails often. Secondly, my little compact is not a camera I would buy accessories for, ND filters is out of the question, so it would have to be near dark before I can set up for long exposure. The biggest problem with shooting near dark is that the lighting of the scene would not be as varied and dramatic as all the daytime conditions can offer. Getting such an image with all the conditions in place would be like winning a lottery.
I have stopped at a few spots along the road where I can see water and clearing I can access. I finally found this little hideout, rather ho hum like the rest before this, except for the little pond that was covered with fallen leaves of all colors. But I will leave that for later. First thing to do is walk the small parameter and shoot all round, noting interesting potentials.and try to soak in the ambiance.
One quick shot of the scene. I always do that if the location offers anything interesting at all. I use it for reference later and see if it's worth re shooting on another day with different conditions.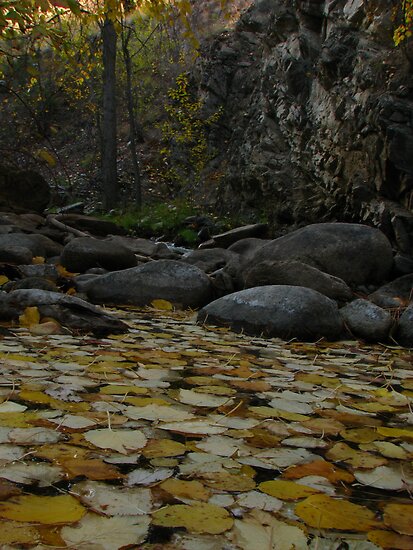 O yippee, cascade! Lighting is too flat from this angle, may try a flash on the branch later.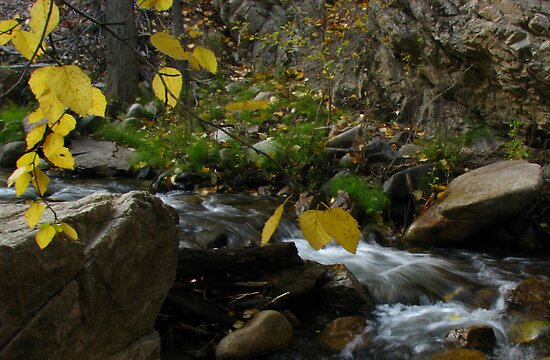 Got down on my knees, checking blur effect, color and exposure. Rather boring photo.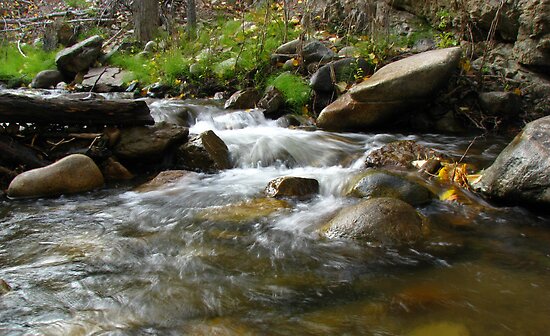 Working back to the original point of interest and the sun peeked through the clouds. Good, more color and depth. Although, I am not too worry as long as the scene is not completely flat, just less post processing.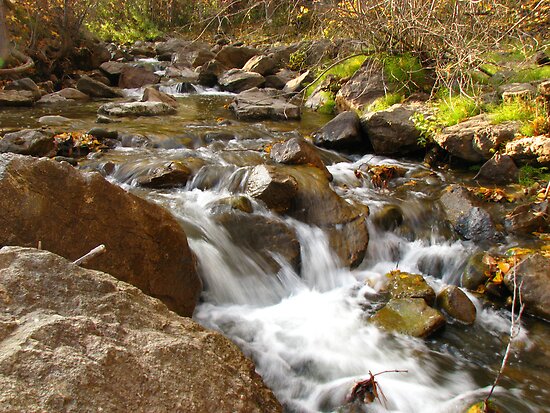 Ah, nice setup. Lighting near perfect. This image had gone through some basic processing, and I will work this further and or re-shoot on another day.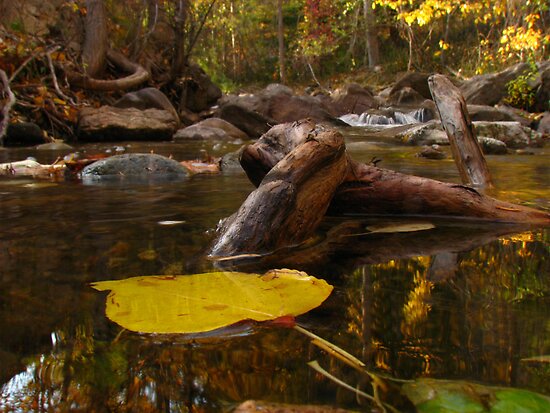 Cute, but there's more to this place I saw.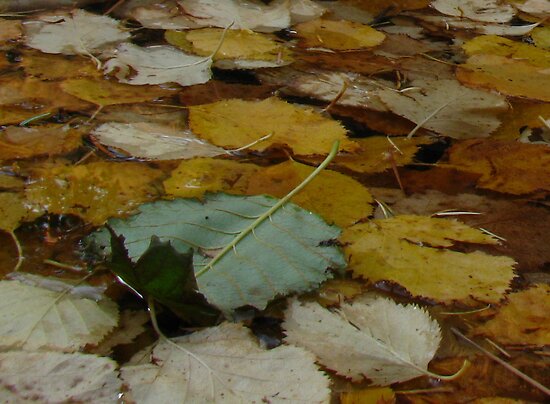 So now I have came full circle back at the crime scene. This was a small space, if you count the leaves, it's roughly15 leaves wide x 15 leaves to the mid-ground rocks. The sun had moved and the scene looks flatter again. No problem, since the leaves would be in closeup range the colors would still be there in the data. I am glad the distant yellow leaves now looks more lit up against the darker background. I know I can deal with not having a wide angle lens in a cramped space by: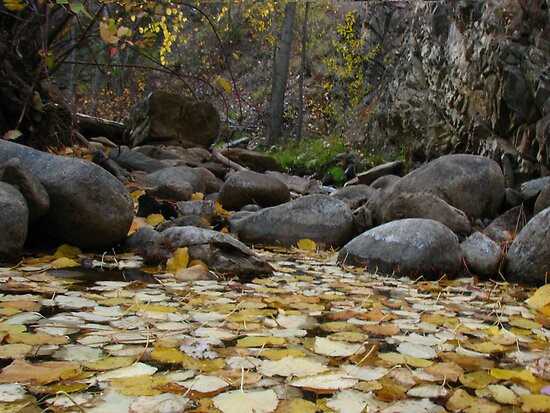 Scanning the scene with multiple shots and stitch afterward. But this won't work when I am inches from the main subject.
Get as close to the foreground as possible to simulate depth by comparison. So I laid flat on my stomach
Stretching the image horizontally, and use the perspective tool.
Which looks like this after some post processing.
I know you are saying, this is a different scene. Where did the cascade, the path and trees on the top right, the green leaf come from? I have shown them all in the photos above. They are all there, just not all in one convenient place where I can capture them with one shot.
My motto: Photoshop – because Mother Nature is not perfect!
I have no interest in showing you what my cheap little camera sees, It's merely a tool. I want to show you what I see.
Is it fake, dishonest?
Only as fake as any painting.
It is as real as anything.
This is what I (my mind's eye) saw!