Froggatt Edge WIP for Sojie 14
A Digital translation of Froggatt Edge, Derbyshire by the very talented Sue Nichol

This is another painting that I can identify with one of my favorite places. In fact, my portfolio is full of images from that place (Vaseux Lake); why I also choose to do Digital Art translation instead of Photographic.
Below is a drive by shooting of the scene, the bluff and the red leaf shrubs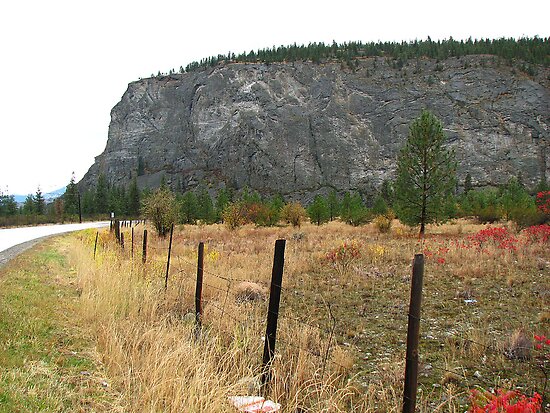 I have tried some preliminary tests before I got up the nerve to ask for Sue's permission, but nothing came close to what draws me to her painting. At least I have the basics I can work with; and know now what I want to do. I hope I can pull it off and will be a pleasant surprise for you all :)
Below are the two images I will be using for this translation.

---
---
Summary WIP 2 I have a vision where I want to take this but I am keeping my mind open as I go and lay down the transformations. I am feeling good about this – John Poon
Merging the 2 scenes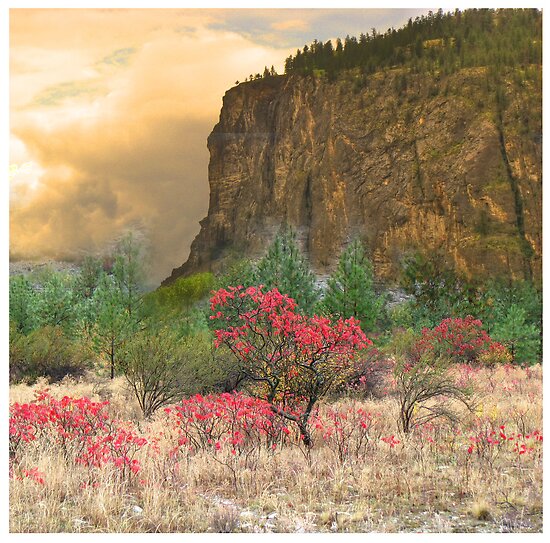 Applied Fractalius and used as a Multiply layer over the original merged scene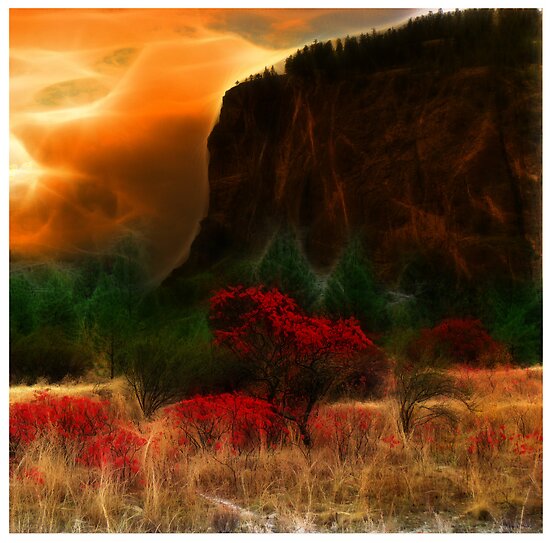 Then I converted it to two black and white layers, one from the red channel and the other from the green channel. I then selectively blended them together and painted out the sky.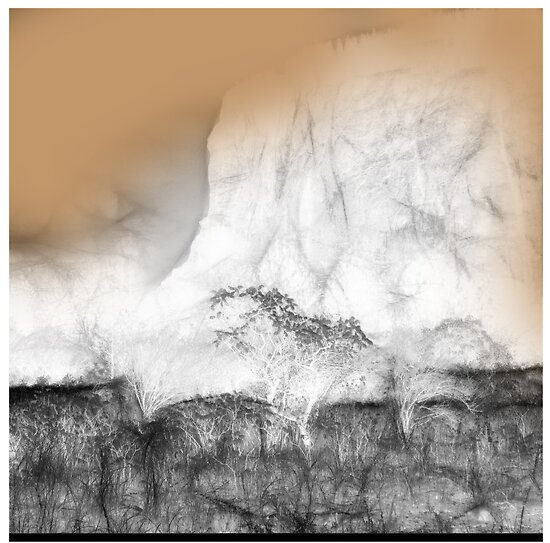 Now I have everything in place, but here comes the tough decision I have to make… as we shall see in the next WIP
---
---
Summary WIP 3 I am very tempted to go with this diversion, work more on the sky and touch up the whole scene. But I must resist, for now. I must carry out my original vision, sit on it for a day or two and see how they compare – John Poon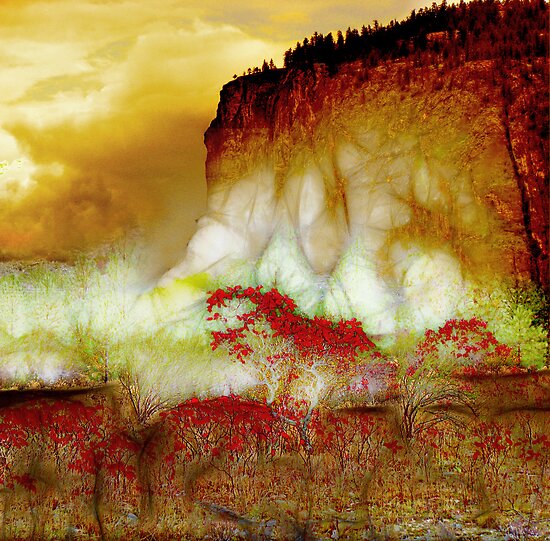 ---
---
Summary WIP 4 and Final 斷崖落影 But which one? The first one below is an improved version of WIP3, which was a diversion form my original vision. When I first saw Sue's Froggatt Edge I saw a traditional Chinese watercolor; and because that would be something new in the Sojie workshops.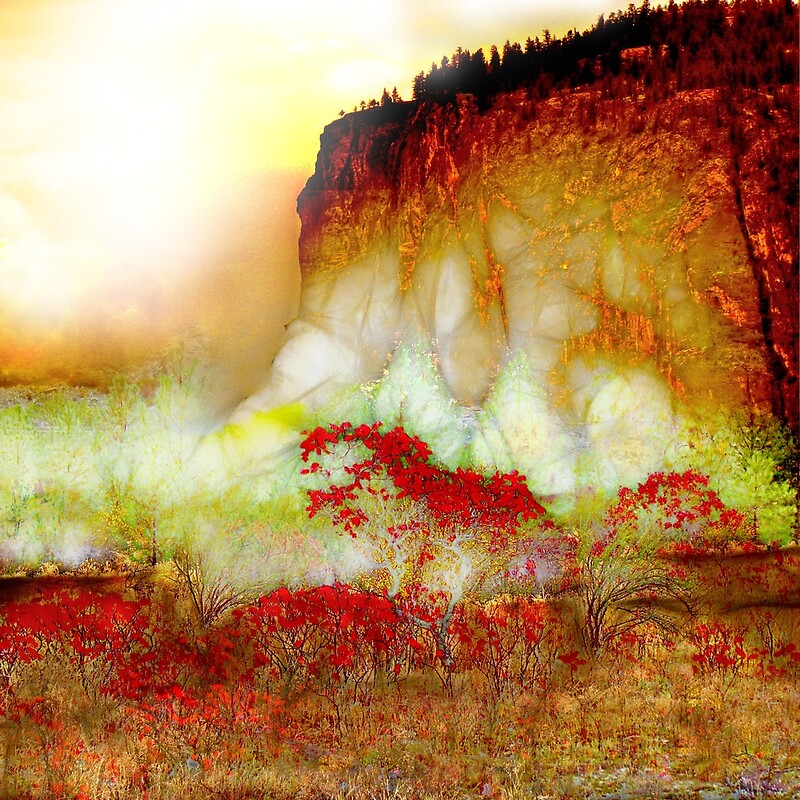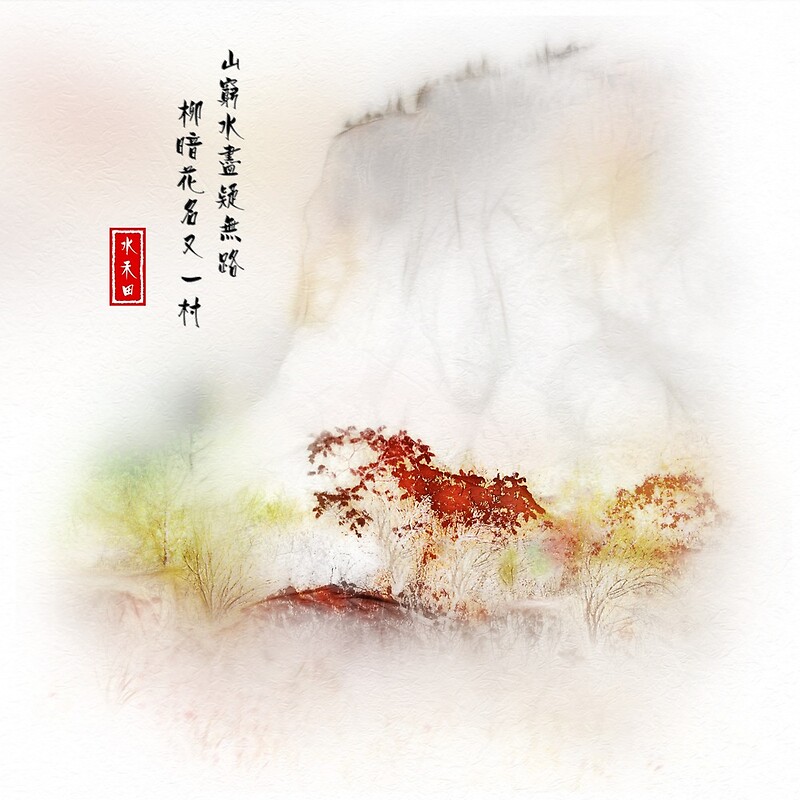 ——-
I have used the same techniques to similate Chinese watercolors before but this one proved to be challenging to fine tune. I have to stop here after 2 day's work.
The Title 斷崖落影 roughly translate to Under the Shadow of the Bluff,
and the calligraphy roughly translated as:
山穷水尽疑无路
Just when your path is blocked by the ocean and mountain,
柳暗花名又一村
behind the dark green trees and colorful flowers there is yet another vista.
(when you hit rock bottom, there's a light at the end of the tunnel)
I prefer the watercolor rendition for this workshop, but I am willing to be persuaded otherwise.
---
---
What If…
Thanks to all those who responded in kind in my dilemma!
A few people, here and by bmail, suggested what if I overlay both together. Thanks again. So, here I hid a couple of layers to show one of the incarnations getting to the final.