You Are Here - Inspiration Award
You Are Here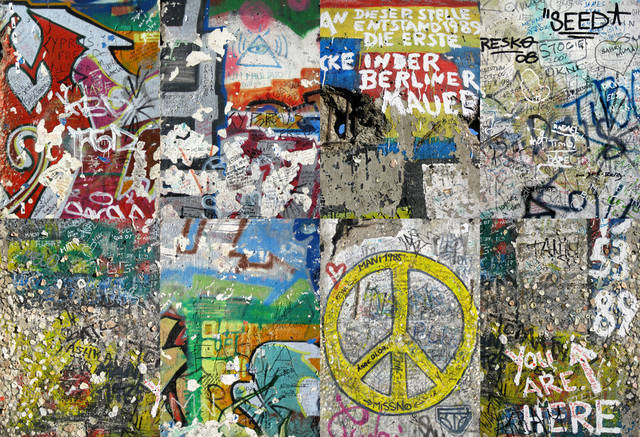 Berlin Wall – photograph montage
"The Berlin Wall is often held up as an example of the worst of human behaviour toward others. However, the vestiges of this concrete scar on humanity erected to keep people apart today bring us closer together. The remaining fragments of the Wall symbolise the irrepressible desire for people to connect with others even when confronted with seemingly insurmountable obstacles. We are all right here, right now – it may sound cliché, but there is no better time or place to do some good for our world."
(words- John Douglas)
I am pleased to share with my fellow bubbleheads that my photograph You Are Here has been selected from amongst 500 artists across 30 countries for an Inspiration Award in the Make Peace campaign in the USA.
The international panel of jurors included:
Leyla Fakhr
Assistant Curator, Tate, London
Karen Blessen
Pulitzer Prize Winning Artist & Founder of 29 Pieces, Dallas, TX
Liz Gordon
Founder of Loft at Liz's, Los Angeles, CA
Svea Lin Soll
Founder of The Swarm Gallery, San Francisco, CA
Dean Brierley
Editor, Black & White Magazine
Gayle Embrey
Director/Executive Producer, Murals as Voice
The Make Peace travelling exhibit will help fund The Peace Centre in Sierra Leone, proving that art truly does change the world – and that we are not too small to tackle the world's big problems.
Click here to learn more about The Peace Project.
The Make Peace exhibition will be unveiled on September 22 at the ArtWalk in Deep Ellum, Dallas, Texas. The exhibit will then subsequently make several other stops in California and travel to other locations in the United States including San Francisco and New York. Confirmed appearances include:
September 22 – Deep Ellum ArtWalk Dallas, Texas
October 6 – Landmark Arts Building, Chelsea, New York
October 13 – The Whole 9 Gallery 3830 Main Street, Culver City, California
October 20 & 21 – Affaire in the Garden Beverly Hills, California
November 2nd – Gallery Expo Long Beach, California
December 1st & 2nd – Showcase Gallery Santa Ana, California
December 8th & 9th – Art4All People Malibu, California
February 2013 – Swarm Gallery 560 Second Street, Oakland, California