Cover of the Donovan song by LaGvoL la Grenouille Volante & Julie Miriam ("MiriamAnne" on YouTube).
Film & art by John Douglas.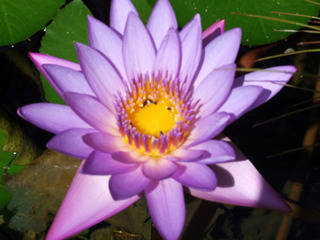 The lotus is in Tahiti.
The kite is in Bali.
The goldfish are in my local park on my street in Elizabeth Bay, Sydney.
The coastline is from Lower Snug, Tasmania.
Rainforest is near Russell Falls, Tasmania.
The green and yellow colours at the point where the lyrics talk about sparkling corn are from the cover of Victor Barker's book The Manatee
(Victor is the father of Julie Miriam, and they were reunited a few years ago after losing contact shortly after Julie Miriam's birth.)
The railroad is in Malaysia.
The white flower is from Tahiti.
The candle is in Bali.
The Buddha is from Victor's backyard in Hobart.
The heart tree snow-globe is from Austria, and is made by the company who very first invented snow-globes.
The painting at the end shows sections of a painting I am currently working on, about celebrating the diversity of cultures and people. All the colour patterns throughout the clip (except the green from Victor's book) are derived from this painting.