All That Glitters is Not Disco
In my eternal search for pain and grief I decide how to vote in the coming Australian federal election.
I was discoing in Lismore on my annual Big City Night Out, shooting pool instead of pills, contemplating those I'd dumped from my Christmas card list since they became sober. As always, after downing a keg of booze with nary a care for the long wait till next cheque, my thoughts turn to the pert fact that this is a federal election year.
The Link
It's self-evident a party's policy whims -State or Federal – affect the quality of life for an artist. Federally, we're talking Arts Council funding, arts funding and employment opportunities to name a few.
In my quest for pain I reluctantly set aside the timeless, unanswerable questions such as:
'Is a politician by definition capable of honesty?' or 'Should you regard an election promise as a core promise or simply farting?'; 'Is that really human hair, Julie Bishop?'. Instead I cut to the chase and asked Australia's Federal Labor and Coalition parties what they will do to improve the quality of life for artists, i.e. Me, Me, Me.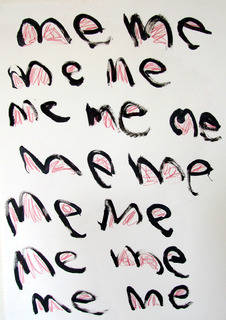 I immediately discard Joe Hockey from my email enquiries list. I'm sure the cuddly Shrek stunt double would have plenty to tell me about the amazing employment opportunities for artists if his team is re-elected, but I want answers, not spin and chips. I think the term 'Workchoices' sticks like a bone in the throat of most people.
Predictably the Coalition is pleased with their employment record. Hubris is easy when you fudge figures so even one hour a week in any job now counts as employed. And as for increases in funding for art-related jobs? Incentive for artists to join in gainful, meaningful employment, which utilizes their skills? Increases in arts grants? Nada. Zilch. Zero.
There are over 45,000 professional artists in Australia, more than twice as many as 20 years ago, with that figure increasing another 2-3% each year.
Most Aussie artists can't make a living from their profession. 50% of all artists earn under $7,300 per annum from their art, so they work two to three jobs—their art, a related arts job such as teaching, and non-arts jobs such as telemarketing or whoring (only a trained eye can tell the difference). Even then, many artists earn less than $30,000 from all jobs. Putting this in a wider context, the average artist income from all sources is about the same as a pre-Workchoices casual factory worker. There are many artists who earn significantly less than this.
More than one in three artists earn less than the poverty line. How low can you limbo?
Do the maths on the gushingly wonderful employment figures hurled at us and see if the current numbers still look good.
Both parties agree in principle into 'looking into' revitalising arts resources but those who monitor these things tell me implementation of any alleged improvements will take years- will I be alive, I wonder? Will creeping mould keep my cadaver creating art? Will my cellulite finally improve? Meanwhile, back on earth, increasing numbers of frustrated creatives smile like waiters. You can keep the tip.
Lobby by Email
So armed with my short list of portfolios I hit the e-mail. It says a lot about this country that we have a Ministry for Arts and Sport – a clear indication of just how valued artistry and imagination are in a our wide, brown bland. Lo and behold it's perfectly clear – and cunningly, here is the real difference between the two camps. To my pointed questions the ALP promptly replied with polite, lengthy, and vague policy-speak. The Coalition on the other hand – rather tardily – replied with polite, short, vague policy-speak.
So here's my decision. Though neither side has quite an elephant stamp gold star rating when it comes to future incentives to the arts, I'll go with the side that least inclines to bellicose squandering of our taxes. Maybe, just maybe, some of the money saved will funnel into turning culcha into culture.