Pink Panther Magazine--Issue 17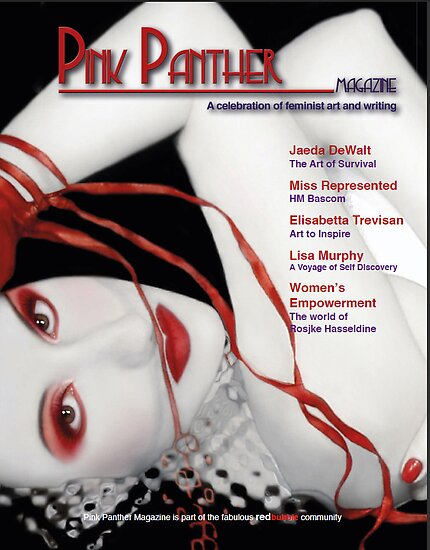 It's always with great excitement each issue of the magazine is released for official publication. We had to sit on our excitement for a couple of weeks in order to coordinate with MagCloud's 25% discount offer that runs through August 31st, making it an even better value this quarter.
Each issue of PPM celebrates feminist art and writing in renewed ways. Inside Issue 17 readers will be inspired by the art of survival and of self-discovery, encouraged with tools for stopping domestic violence, challenged to reassess the multimedia madness that surrounds what defines beauty, and enlightened on ways of discovering women's empowerment. PPM hopes you will enjoy and be encouraged by the diversity of art and writing that fills our pages.
You can read the magazine online HERE. Or you can buy a copy of the magazine HERE. To access the discount enter the promotional code MEMBERSONLY when prompted at checkout.
If you wish to be automatically informed of future editions you can follow us by clicking on the logo below.

Please help promote this wonderful celebration of art and poetry by liking us on Facebook, and adding this to your journals and twitter.
Warm wishes and thanks to all of the artists, writers, and viewers who make each issue possible,
Team Panther