How the Bride of Innocence was conceived . . .
Recent Art » Most Popular Art » Top Selling Art »
---
---
Why Red?
I love accenting images with Red because red is the color of pain, the color of love, of stolen innocence, it is the color that flows during birth when a woman brings life into this world, it is often the color that flows out of us as we leave this earth. Today i am sharing part one of, "The Bride of Innocence". The backgrounds you see are from the balcony pics i took during the daytime.
WHAT THE LOSS OF INNOCENCE ISN'T
My fellow creative Marny Barnes offered me some words that were powerful and rang true:
I refuse to believe that you don't hold a piece of that innocence still…somewhere in all that torture you were strong enough to keep some of that innocence safe and just for you.
AND I will tell you why I think that.
YOU STILL see beauty all around you,
You bleed beauty and innocence out of all your work,
You touch the beauty in the torture and the pain and it grows roses…and color….and ART. If you had no innocence, you would not see the world and other peoples art with such wonder.
I SEE INNOCENCE IN YOU.
YOUR HEART IS PURE AND BEAUTIFUL. YOUR ART IS BEAUTIFUL.
THE WORDS YOU LEAVE TO INSPIRE OTHERS
(ON YOUR OWN WORK…..AND THEIRS)
IS BEAUTIFUL
There is a mourning for the innocence i never got to have or experience as a child.
That is part of what makes incest and sexual abuse so painful. HOWEVER . . .
Marny brought to the light of my consciousness, something i failed to realize and address in my work . . .
That my sweetness, my love, did not die when i was abused. It is still at my core and at my essence. My love of sweet joys remain, my softness, light, grace and hope.
And these are aspects i will seek to express in my future survivor-orientated work.
And i thank you Marny so much for bringing that to the surface of my consciousness.
THE CONCEPTION
The Bride of Innocence (Jaeda as the Brides) was conceived back toward the end of May. That's when construction workers put up scaffolding and started tearing down the supports on my 3rd story balcony and tarped it off.
The construction guys worked a few days on my balcony, tearing stuff down, said something about needing to get permits – due to structural damage . . . and they haven't been back since.
So i decided i would get some pictures, now that my balcony is double long (they tore down the wall that separates my neighbor and me). Everything was bathed in a surreal blue light, from the tarp. The scaffolding was also double long and it looked like an endless hallway leading to the land of dreams, to heaven, anything your imagination can conjure up. The balcony itself looked very sad, broken and i kind of liked it's decayed appeal and thought, at least i could use this to my advantage, creatively!
So i went out on my balcony, during the day and night, and took lots of pictures. At night the tarped scaffolding resembled a boat marina or harbor at night. It looked so very different from, the hallway to heaven, of daylight.
Previous to the balcony pictures, i had taken some studio pics of me in a makeshift bridal gown. I borrowed the bridal veil from my sister. Ripped the satin bottom off of an old nightgown for the top and used a sheer window treatment panel for the gown part/bottom because i don't sew! LOL
The bridal pictures i took of myself in the studio are what popped into my head as i was photographing the balcony and "The Bride of Innocence" was conceived.
It is a slightly sad, disturbing series . . . but i wanted the next series i created to be along the lines of my Red Jane series. I felt like digging deep into all the little nooks and crannies of my soul and Spirit. All of those dark, repressed places that cry out to be acknowledged and expressed.
partake and enjoy
PEACE and LIGHT
j a e d a :)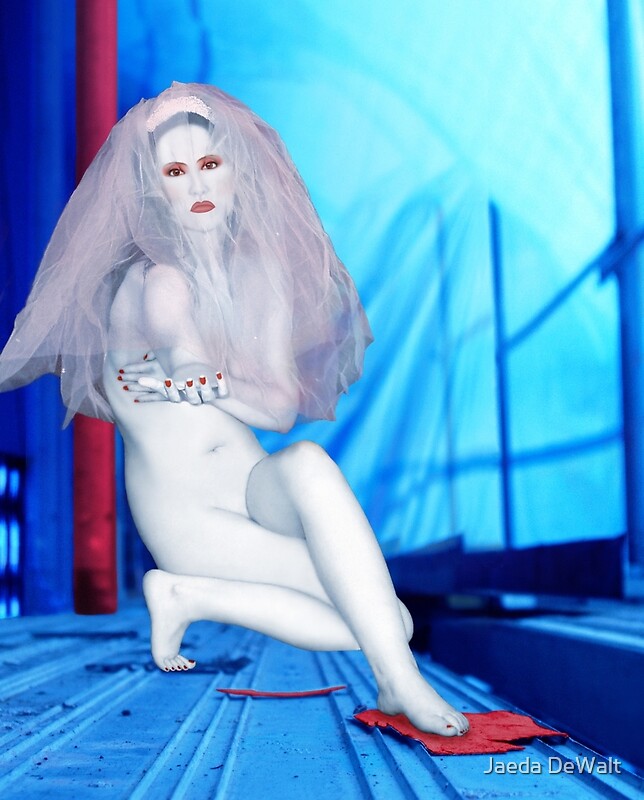 The Bride of Change
The Bride of CHANGE
Peers through the isolating veil of pain and abuse – she is vulnerable
Her weakness is her strength because she OVERCOMES
For she will no longer succumb to a tainted existence
Nor the toxic relationships, that leave dark stains on her soul
She knows . . .these ghosts of perversion and possession must go
And the red of pain mixes with pink whispers of hope
She summoning the strength
To reach out, start anew and become WHOLE
Poem © Jaeda DeWalt
-————————————————————————————————————————————————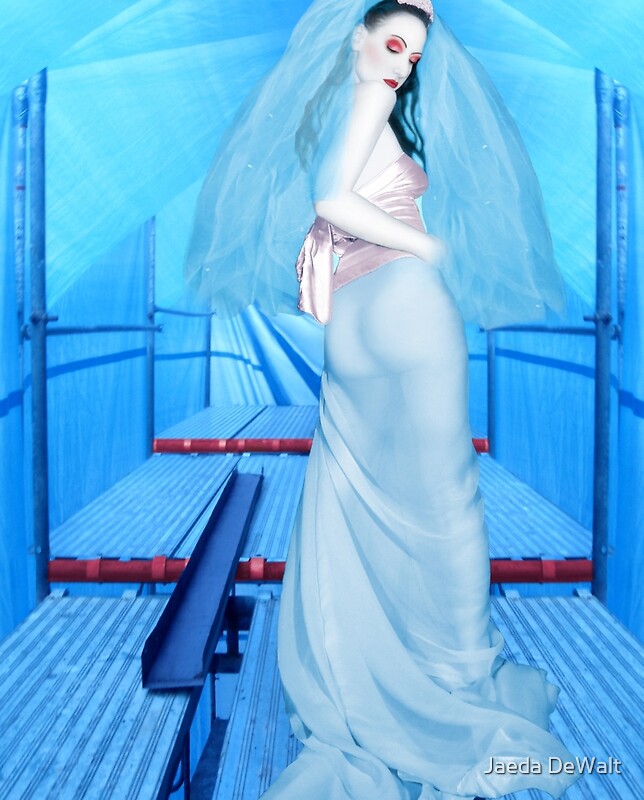 The Bride of Innocence
Pretty in Pink
She softly mourns for the bride she never got to be
No pristine, white gown for this lovely lady
She will never be the Bride of INNOCENCE
She does not seek what she can not be given . . .
For innocence is the one gift,
That once stolen,
Can never be replaced yet the loss is forgiven
Poem © Jaeda DeWalt
-————————————————————————————————————————————————

The Bride of Pain
The Bride of PAIN is stuck inside
A blurry nightmare
As her subconscious rewinds her past
And plays it for her – over and over again . . .
It is the kind of nightmare where
Violated flesh bleeds red
And the sound of innocence being stolen gets lost
Inside a hazy maze of surreal blue hues
She falls to her knees in agony
She wants to find her way out of this repetitive dream
She knows to save herself
She must change the ending . . .
Poem © Jaeda DeWalt
-————————————————————————————————————————————————
View All Journal Entries »
---
BLOG ARCHIVES
30 Random – an odd assortment of personal revelations
Coming to life, my first video…B/W Emotions
Absentia & Speak
Extracting the magic from the tragedy . . .
I invite you to read my triple-feature article in L.L.B.S Magazine :)
My new book is here! JAEDA shades of the soul – PREVIEW
Q & A with Jaeda . . .
Manic Reflections & Bi-Polarities
---
---
Recent Art »
Most Popular Art »
Top Selling Art »
---