my art becoming a tattoo!!
Really exciting news!
Some time ago, a guy contacted me and asked for the permission to use my artwork "Drowning in your ocean" as a tattoo. He said that he came accross it in Google, while browsing looking for new tattoo ideas. I guess he saw something in my image that visualized his proper ideas or his personal philosophy. I was happy that someone could connect with my image, in any way they like… I found the idea exciting, even though at the time I could not quite imagine what the tattoo would look like.
And yes, he was serious about it! I have the honour that a great tattoo artist, Isaac Mitchell, agreed to do the difficult job. Isaac has been inking my artwork on Carter's arm! The tattoo is not completely ready yet – will take several sessions.
Honestly, I believe that the tattoo artist's work is much better than my original! Especially the way that he positionned it on the shoulder gives it three-dimensionality. He also rendered the layers so perfectly. Take a look at the pictures and you'll know what I mean!
The final artwork is a combination of my image, a body and a tattoo artist's amazing work. The tattoo could not have existed without one of the three components so the congratulations go to all three :)
Isaac Mitchell, Allegiance Ink Tattoo, 4074 Washington Rd. Suite 6, Martinez, GA 30907
Now my stupid doodle fits this story: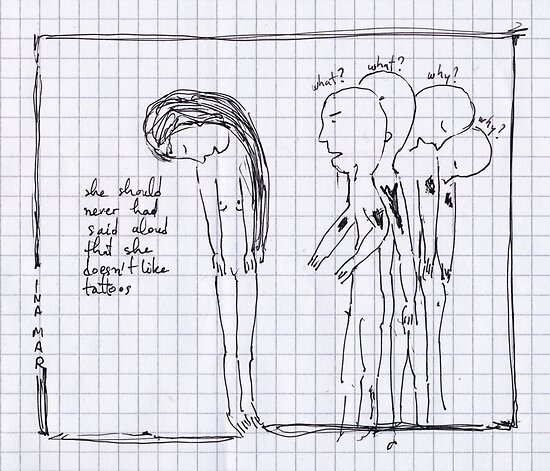 She should never had said aloud that she doesn't fancy tattoos
by Ina Mar