Just a quick shout out, that the NYCC contest voting deadline is approaching faster than a speeding bullet and getting ready to bond over tall buildings in one leap in the next 3 & half days.
So if you haven't voted yet… why not! There's a lot of strong offerings to vote for and it will be tight like a macho man to become the winner.
Vote for the one's you feel represent redbubble in the bestest of lights and if you feel that mine needs a vote, I'd be very, very, very grateful. Did i say 'very' too many times?
Here's my entry & reasoning behind it.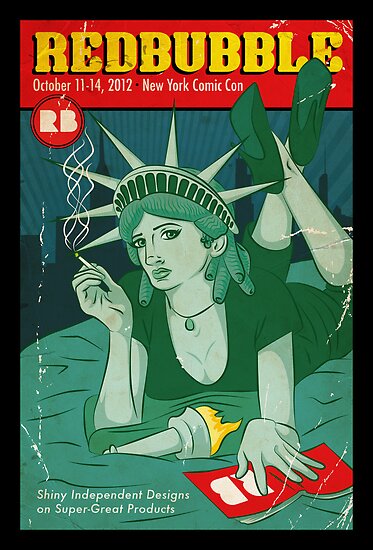 The poster is based on the Quentin Tarantino film poster for Pulp Fiction, but using Lady Liberty as the main character… instantly recognizable as a symbol of New York.
I thought using a front cover of a comic book as being appropriate for the occasion with Liberty taking a break from over seeing the city to grab a few minutes & read one herself!
Find the contest here and make someone feel like a comic book superhero!