#Photographing Severe weather
Living in Florida has exposed me to many facets of our changing weather patterns. We regularly experience, thunderstorms, tornados, water spouts and hurricanes. And of course I just have to grab my cameras and go out to play in the severe weather. So let me explain how I photograph each of these weather phenomena.
Thunderstorms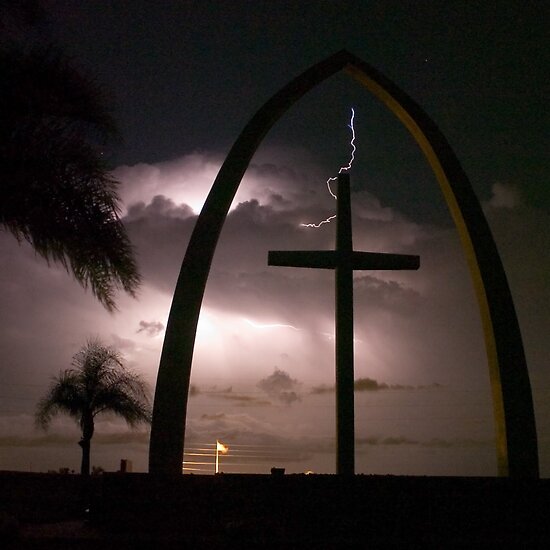 During our peak summer season I monitor online weather radar continually to evaluate the developing storm patterns Once the storms begin to develop I quickly organize a game plan. I try to move to an intersecting point several miles ahead of an approaching front, searching for higher ground with a vantage point. Our typical lightning pattern is for an approaching storm cell to throw lightning bolts into dry air in the path of the approaching storm. By being directly in the path of a storm usually gives me a darker background for lightning bolts.
If an overhead shelter is not available then I open the rear hatch of my SUV to shelter my tripod mounted camera from the rain. I typically mount a wide angle to normal lens to cover a broad area since I don't know where the next lightning strike will hit the ground. Finding an interesting foreground object adds depth and impact to the photographs.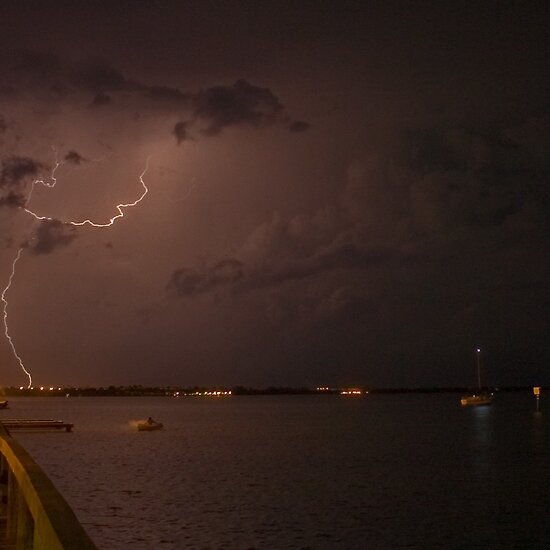 You can trigger your cameras shutter manually with a wired remote cable, shoot time exposures to capture any lightning strikes that occur during the exposure or use an electronic trigger to capture the moment. I currently use an AEO Lightning Strike II trigger. It is a small box that mounts to the cameras hot shoe and connects to the cameras remote control connection via a supplied cable.
The lightning detector is sensitive and will trigger for even distant lightning that may be too weak to record on the camera. The detector can also be triggered by other flickering light sources, so I expect many false exposures that just get deleted.
So we have a camera, lens and trigger mounted on a tripod now we need to set up the camera for fast reaction. I manually focus the lens, usually to infinity and then turn off the cameras auto focus mechanism. I will also be shooting in manual exposure mode. These actions turn off steps the camera normally takes before opening the shutter, so I just reduced the cameras internal response time. I like to shoot at EI200 for best results. But the scene may require something different.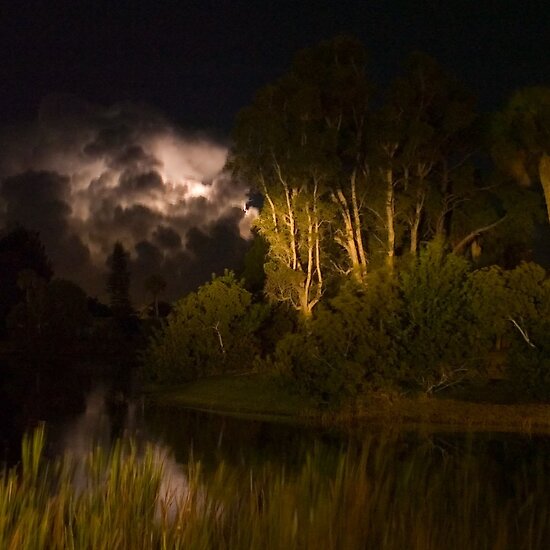 I next establish the exposure I want for the foreground keeping in mind that I need to keep the shutter open for at least 1/4second to capture the whole lightning burst. Now for an aperture setting, if your storm is distant the lightning may require a wider aperture f2.0-4.0 to record the weaker flashes. However as the storms moves closer the lightning will soon overpower those wide open aperture settings and you may need to stop down to f4.8-11 to get an exposure on that great sky filling, tentacle reaching sky burst that fills the image with streaks of lightning. And don't forget to adjust your shutter speed downward as you stop down the lens or you will underexpose the great foreground you selected.
Once your camera is set up and triggering away safely secured under a picnic shelter. Go hide in your car, remember lightning can kill you.
Lightning can be cloud to cloud or cloud to ground or even ball. The actual bolt of lightning is not always visible as rain and clouds will often obscure or diffuse the bolt. While the illuminated clouds are dramatic it is the long slender fingers of the lightning bolt that adds the wow factor to your photographs.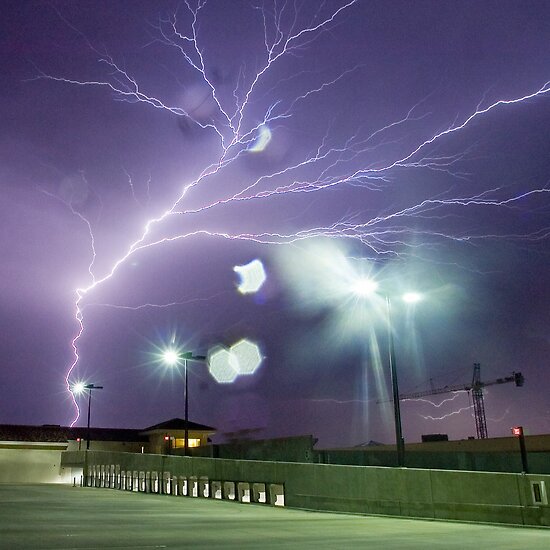 Photographing lightning can be very frustrating with many failed exposures even whole trips that are fruitless when the storm dies as soon as you set up the tripod. But when everything comes together you will be very happy.
Tornadoes
Tornadoes are unpredictable high speed, funnel shaped storms that destroy everything in their paths. After being chased 18 miles by a Georgia twister I now look at others photos of these weather demons.
Water spouts
Are tornadoes on the water, usually minus the flying tractors and mobile homes. See tornadoes above.
In part 2 I will discuss Hurricanes