Wikipedia describes its rules for writing photo captions A caption, also known as a cut line, is text that appears below the image. Most captions draw attention to something in the image that is not obvious, such as its relevance to the text. Caption can consist of a few words of descriptions, or several sentences. Writing good captions is difficult, and the examples below may be helpful. Along with the title, the lead, and section headings, captions are the most commonly read words in an article, so they should be succinct and informative.
"School bus bully" by Larry Grayam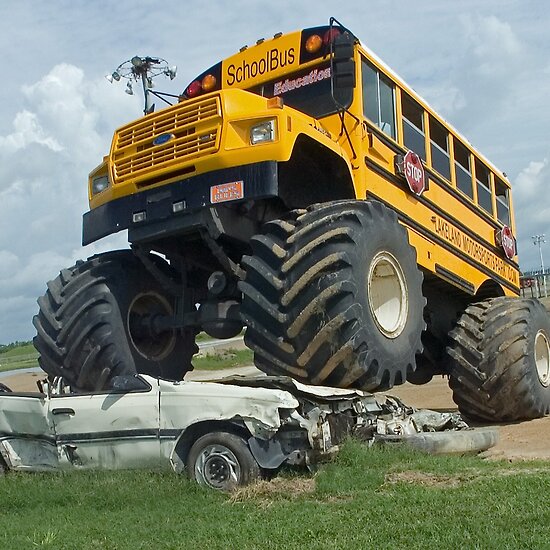 This "School bus bully" seems to roll right over the little guys at this Groveland Florida USA racetrack.
A normally mild mannered yellow school bus becomes a monster truck when outfitted with tremendous
tires. Locals love watching this yellow crusher at weekend monster truck shows.
Nikon D2H 14mm lens 1/200sec f8.0 EI200
Captions are the title or headline that grabs the reader's attention while cutline's give us the important details of a photograph. Cut line's give us the who, what, when, where, why and how or the story of this photograph.
Who is that? (And, in most cases, identify people from left to right unless the action in the photograph demands otherwise.)
Why is this picture being published?
What's going on?
When and where was this?
Why do the subjects look that way?
How did this occur?
These general rules of cut line writing will better inform the viewer. The rules may vary to accommodate the needs of different viewers. In an artistic journal, like RedBubble, for example the artwork may be more relevant then the subjects. Artists may be more interested in how the art was created rather than how the event came to occur. Additional cut line requirements may be required by the group accepting the artwork for publication. A gallery may limit its accepted works to only those produced in a specified geographical location a city, a park, a nation. This is required information for acceptance by many groups. Others may require a particular method, technique or equipment be used, and be so stated.
Individual groups may make specific additional requirements but the inclusion of the above elements will meet the needs of most groups. In many groups moderators are assigned to read all cut lines for required information. If you fail to inform you won't be published.
An artist may have the shot of a lifetime, but without the required information they will not get the widespread exposure they seek.
You may decide to include links in online cut line. See Writing photo captions or Hot tips for writing photo captions and What makes a good caption for more great ideas on cut line writing.
"Writing photo captions" was featured in TUTORIALS 4/09/10