Tips for travel photography
I get to travel to some unusual place through work (and pleasure) and have built up a routine to help me get the most from my limited time in any one place. Since this often means going to places that are not well known, how do you scope a site before you travel? I thought I'd share my format with you. If you find this useful, please leave a comment.
1. Open Google Maps and find the place you are going to. At the top right you should be able to hover over the Map or Satellite icon and choose "Photos". Work out the area that you can travel to in the time you will have. Then spend some time zooming in and examining the photos. Find a few locations that you like. This does not have to be photos that you like and want to copy, in many cases I don't like the picture aesthetically, but think the location has promise.
2. Open Flickr in another window and search for the location. Take time to look at the images and see if you can locate where they were taken for any interesting images. You can also search for specific locations or monuments, or buildings and do the same thing.
3. List a few locations that you would like to travel to. Ideally do this in two categories – must see – and if time permits. Make sure you have more locations than you have time to visit them.
4. For each location, find it on Google Maps. I then use and Android phone app called "Sundroid". (If anyone find a free/cheap PC version, or iPhone version let me know.) I use this to find the location on the map. I then set the date and look at the "Sun, moon & planet tracker". Set this for sun, or moon if you'd like to do night shots. This app then shows you where the sun will be during the day, in comparison with your location. You can then work out where sunrise/sunset is, and what direction you should be in to make the most of the golden hour. I then go back to Google Maps and try to find a suitable location to put my tripod in (using the satellite image). Write enough details about this against the item on your list so you can find it when you visit.
5. When I arrive at a destination I then use my mobile to look at the weather forecast. Broken cloud or intermittent rain may give you the best pictures. Make sure you arrive at a destination with plenty of time to scout the site. Don't be tied to your list, keep looking for unusual images, and be prepared to miss one out if the situation demands it. As an example, despite my best efforts to get a full shot of the Brandenburg Gate in Berlin last year, I had to give up even though I had a whole week. The week started with the Berlin marathon and ended with an open air concert. There was not a single sunrise or sunset without scaffolding and bright red portable fencing!
6. Be prepared. As an example, when I visited Leipzig last year I knew in advance that the Völkerschlachtdenkmal commemoration monument would probably have a lot of on-going building on site. I was prepared for this and decided in advance to scope the site to see if the offensive aspects could be removed later in Photoshop. Since I thought this would work, I stayed for sunset and ended up with this image. Here is one of the original images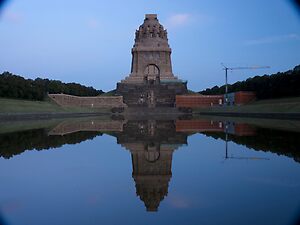 7. Please leave questions, comments and your own advice below.