#Get an EYE-FULL of fine art and photography at Solo's Juried Invitational Exhibition
SOJIE 4
Monday, June 28, 2010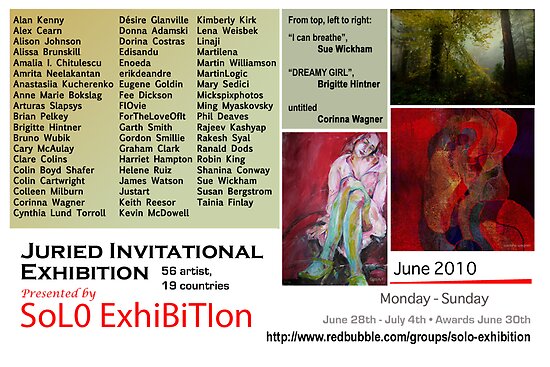 SoJie 4 – Solo's Juried Invitational Exhibition Banner
by F.A. Moore
Today, Monday, June 28, 2010, marks the start of only the fourth Juried Invitational Art Exhibition sponsored by Solo. Yet, it seems, already, that these events, called "SoJie", for short, are an inherent and deeply meaningful part of history, here on RedBubble.
Maybe it's because there are 56 – 59 fine, traditional artists, photographic artists, and digital artists participating each month; maybe partly because the exhibitors bring such variety and experience to their work, having lived or worked in 19 or so countries, collectively; or perhaps because the internet makes a great place to showcase art in a gallery style setting, without walls.
Possibly, in part, it's because we celebrate loud and hardy, afterwards. Receptions start out modest and respectful like any art gallery opening night; but as the week builds, and artists and friends get fuller on virtual grapes and pizzas and full spreads of Chinese and Italian dinners, not to mention fantastic desserts; and inebriated on virtual bubbly and cosmos, it gets a little rowdier.
All in all, we are celebrating art and artists. The official Nominators for this show, Jan Piller, Linda Ridpath, and Vasile Stan, have done an outstanding job. The Judges have had their work cut out for them. But their jury duty is over now; yes, the results are in, so I can name names. Our Jury panel was made up of Joanne Bradley, Elizabeth Bravo, and Lior Goldenberg, each having expertise in at least one of the three categories of digital art, photographic arts, and traditional art.
. You'll want to preview the show before the big day, and see which ones you would choose, if you were a judge. By the way, both Nominating and sitting on the Jury panel are a great way to help build a discerning eye toward 3rd party art. Exhibitions are a way of life for successful, professional artists, and a goal for the rest of us.
You are invited to the show: SoJie 4, and you are welcome to comment! We will have a web ring going as soon as tonight, so if you cannot leave a comment on the show (not a Solo member, in other words), then look for these announcement journals from participating artists.
Here are a few selected at random from the fifty-eight works in the show:
Come SEE the show! – SoJie 4 on now
---
If you do not belong to the group, Solo Exhibition, you cannot participate in commenting; and joining to comment is not encouraged. But you CAN lend support by commenting in my journal, here, about the show.
THIS JOURNAL IS ALSO PART OF A WEB RING. You can also follow other artists involved, by clicking on the WEB RING BADGE below. You don't need to be a member of Solo Exhibition to show your support, this web ring is especially for non members! Thank you!
The webring will be small at first, and will grow to about 45 or 50 people strong over the next few days, so "keep on trucking"!