Don't Walk Behind Me, It's Scary Back There
Dear Friends and Fellow Artists,
First let me express my deepest thanks and appreciation to the
"Dolls and Teddy Bears group and the "For The Love of Teddy Bears" group
for featuring one of the newest additions to my teddy bear photography with poetic verse, "September's Song". Limping along with a semi-broken camera and very little time to enjoy my hobby these days your special recognition of work that I do manage to share means more to me than you will ever know.
Let me take a moment and fill you in on life as I know it these days which has kept me away from Redbubble. Not all of the changes in our life have been as "scary" as hinted at by the title of my journal. For example, part of our otherwise quiet and mundane lives has been filled by the joyous laughter of our granddaughter, who just turned 2 years old in August of this year. She has just about turned our master bedroom into her own "Mickey Mouse Clubhouse" and I think I have just about dragged all of her father's toys, and furniture as well as some of my own that has been carefully cared for all these years down from our attic so that they can be loved, used and enjoyed by a new generation. It amuses me how instinctively our granddaughter's first reaction to some of the "old toys" is to look for the "button" that makes it move, or talk. I think most of the toys she has in her own personal collection require 4 "C" batteries and it's unthinkable that a toy these days requires the imagination to make it "do something". So it warms my heart, when she embraces "the old" and goes about making them a part of her world, and we all set down for an old fashioned "cup of tea".
On September 9th, 2012 my husband arrived home after a typical day of work, announcing that he wasn't feeling well, then suddenly telling me to call an ambulance, he was having a heart attack. After a helicopter flew him to Memphis, TN to one of the top cardiac hospitals in our area, he was evaluated and while it had a been a blessing that his heart attack was mild, he had a serious and awkwardly located blockage in an area surrounding the heart that had been bypassed approximately 10 years prior. So a simple stint was not going to provide the solution that he needed and on September 11, 2012 he was forced to undergo a double bypass open-heart surgery. The surgery went well, but his kidneys took an unexpected hit so his brief stay in the hospital post-op turned into a week filled with kidney dialysis and the larger concern that they wouldn't recover. Praise being to God our prayers were answered and we welcomed him home on the 19th of September with assurance that he would continue to make a complete recovery.
My father on the other hand was not to be so lucky; testing done on him after a simple hernia operation revealed that he had an aneurism in his heart. He was immediately taken by ambulance to Memphis, TN to a hospital only a few minutes from the hospital that my husband was at, where he had surgery on September 10, 2012. Like my husband his heart surgery went well and three days post-op he was recovering nicely when suddenly a slight fever developed and the doctors feared that he was getting a touch of pneumonia. Further testing showed that he in fact had contracted MRSA staph and we were told that because of his lung problems it was a serious situation that he faced.
Fast forward to today, he is slowly regaining his strength but faces future surgery to remove all the toes on both feet. A direct result of the MRSA staph and the medication that had to be given to kill the "super bug" before it killed him.
So like I said in the title of my journal, "Don't stand behind me, it IS scary back there" and while things at home for my husband and I have settled down a little, our family as a whole is still on pins and needles praying for my father's continued improvement and recovery.
Thank you all again for your continued support and kind words. I look forward to more quiet days to come when I can again browse the RedBubble website and catch up with old friends and the wonderful art and photography that I have enjoyed so much in the past.
Huge Hugs and Love to all
Terri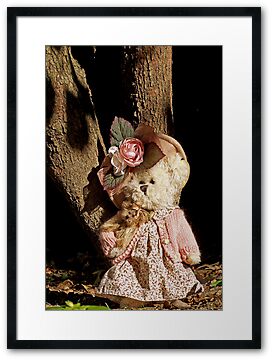 "Listen!" said the Lady Bug, "Can you hear September's Song?"
It's a time when even planet Earth leans back and sings along.
Shadows dance much longer among the forest trees,
And leaves begin to gather, collecting round their knees.
The Summer Breeze moves in to give one final, warm embrace,
Before a cooler North Wind is positioned into place.
Fireflies, and Bumblebees and Birds of finest down
Harmoniously together are raptured by the tune
But sing until accompanied by the Harvest Moon.
Daisy and her sweet young Belle enjoy the happy sounds
Excitably they celebrate autumns come to town.
by Terri Chandler