Spolight: Kimberly Chadwick
Ok, imagine my surprise when I woke up this morning, got my cup of coffee and opened my email! I truly did not think that it was possible. I am truly honored and dumbfounded by this opportunity. So may I start by saying thank you!
To all those that have wondered a little about me and the reason for my madness…….. here is the skinny!
►*State your name and the groups you hosts.*
My name is Kimberly Chadwick (formerly Peers). I am the mother of
Albino's, Leucistic's & Rarities…….Oh My!
. I was invited to join as co-host to the
Songbirds of North America – 2 per 24 Hour Period
and put in a resume to co-host and was hired for the
Birds Of Prey
group.
►*Why is art and creativity is important to you?*
I am not sure if the art in itself is important to me rather the lessons I learn from the subjects that I capture . I was in the pet industry for over 15ish years and I pride myself on my knowledge of domestic animals, reptiles, birds, etc. and teaching about husbandry and proper care in general. Though I will never say that I know everything about them, I will stand by what I do know from my own personnel experience.I have always been a nature nymph so I am outdoors often. I have over the years collected a large number of field guides in order to help me with the identification of my subjects be they birds, reptiles, insects, etc.. Seeing that nature will do what it will, you never know what you are going to actually capture when you are set on finding something. I have captured insects when looking for raptors or songbirds…lol, I have a horrific fear of any insect that I make eye contact with. I know..lol…my images prove otherwise. However if I know it is there, then I feel like I am a step ahead (literally). You get what you get and shouldn't throw a fit (tell I have kids?). I try to study the subject to learn more about it, then like to share the information with others. I will point out and share with the kids or my friends and am notified that my "Geek" is showing…lol, I do feel like fear IS of the unknown. So if I can learn about something new I have captured then share it, maybe it will help someone else with their fear. It has helped mine.Perhaps that is what makes me "me".
►*Where did the inspiration for your group/s come from?*
My
Albino's, Leucistic's & Rarities…….Oh My!
group was inspired one evening when I was looking through my images for that day. I had seen a
Leucistic House Finch
and managed to capture him on a few occasions in my back yard. About that time I had learned that there was a
Leucisitc Vermillon Flycatcher
in our local hotspot here in Tucson. I had also seen a
Dark Morph Ferruginous Hawk
the year prior. I looked through the images on RedBubble and thought how nice it would be to have them in one group to showcase them all. To educate others on the common mistake between Leucism and Albinism as well as Melanism. I wanted a special group that would stand out on its own. It is a small group but I think it meets the specialty mark spot on!
►*What do you enjoy most about being a host?*
Honestly I love the images and knowledge that come through all the groups! I love being able to read about the critters that I just don't get to see here in the desert. I enjoy seeing the world through our members lens. Being a part of these groups are very special for me because I share a similar interest. If I ever get to travel I want to know what I might expect to see and even know what it is! As I hope our members do as well. I love sharing common interests. I feel that the members have the same or similar passions that I do regarding the subjects. I love to see the interaction among them and participation with in the groups. I enjoy being able to be a source of information when I am called upon for assistance.
►*What do you think artists get out of being a part of your group/s?*
Well I can only hope that they get the same feeling I do. That they enjoy the information and knowledge shared by other members as well as myself. To feel a sort of camaraderie with each other due to sharing the same interests.
►*Share something cool (big or small) that's happened in your group (or as a result of your group)*
I can't say anything has happened because of my groups, but I can say being a part of groups is cool. I have met some great people personally or have chatted on the phone with them. I look forward to meeting some of them in the upcoming Fall season as they find there way here in the desert. For me that is cool. To build friendships with people that share the same love I do. To learn from one another and gain strength.
►*What life skills do you think have helped you be a good host (e.g. something you've learnt in a job or parenting skills)*
That is a hard one to nail down truth be told. The past few years alone I have learned so much. I think my biggest skill that I haven't yet mastered is diplomacy. I have a mouth from the south so to speak and have had to learn to soften the sharpness of my tongue.One think that is clear is that you can't tell the emotion, feelings,etc that are typed into words. You can't read the frustration or the sadness to a "T" from a BM or forum discussion. So having to actually think before I speak/type is a learning process for me to this day. Though I feel I am improving, there is always room for more. As my children grow, I have to think about how my actions are going to reflect in them later in life. Who wants there negative words and feelings thrown back at them….Not me. I can't imagine that members would either. So I try to be empathetic and slip into there shoes to understand where they are coming from and I hope I make the right choice from there.
►*If you had unlimited money, contacts, resources and time, what would be the ultimate group activity, project or event for one of your groups?*
As many have said I would love to be able to plan a group outing. Perhaps get ideas from the members then take it to a vote. Or just plan a safari and scout out all locations! Maybe check out all the hawk watch areas. Maybe go on a long mission to see how many specialties there are out there. The ideas are limitless. It would not be a decision made myself though. I think in order for more group participation and enjoyment, everyone should be in on it. Then get camera bags with a souvenir logo on it! YAY!
►*As a sign off, share one work you're particularly proud of…*
I have learned so much with my photography since starting with RedBubble. I have learned things such as composition, lighting, rule of thirds, etc. Though this capture may not be top shelf, it is one of my favorites. I got to watch these babies from when they were little fuzzy bumps in the nest to the magnificent creature you see here. To be able to witness there first steps, their first captured meal, there first full flight was breathtaking for me.
This image represents leaving the nest. Not necessary the nest of your childhood home, but the nest of life we all get caught up in. The nest of the daily Rutt!
This image was taken with a Canon Powershot SX10IS. All my images are taken with my little Point & Shoots so yea, this one I am proud of!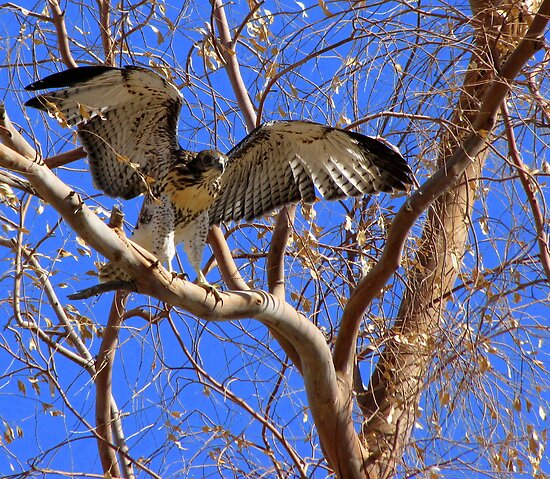 Thank you again for taking the time to learn about me. Thank you for the support, the friendship and the opportunity!