Fashion Photography as Art
Friends,
If you are interested in this genre of art, come and join my new group Fashion Photography as Art.
Fashion has always been very important to me…….personally and culturally. Being Italian, I come from a place where fashion is not only loved, but it is respected. What we wear has always been important for me. I believe that we become the canvas for displaying objects of art.
Fashion is a fine artform and it's about more than just items of clothing…..it's an artistic representation……which is why I enjoy fashion photography so much. I believe it's a wonderful medium to define and represent this idea.
I am currently in talks with the new clothing label, Matovic and I will be shooting their next ad campaign. Matovic specialise in leather wear….it's funky, edgy and little left of centre……which is why I think we will collaborate well together! The label is designed by the beautiful Serbian goddess (and model) Natasha Matovic and the team is led by the Montenegran beauty (and my close friend) Bibi Pivac. Already popular in Japan, it's now time to hit the US and the European markets, so I am very much looking forward to jumping on board this train!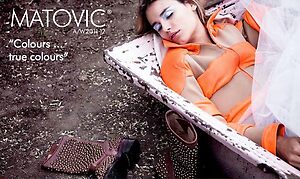 So now, I think its time we get a bigger fashion photography presence here on RB…..it's a huge industry and with the amazing talent that we have here on RB I think we can inspire and motivate each other, and do some great things…..:))
The group is for those of us who already work in the fashion industry and those of you would like to either professionally or semi-professionally. Everyone is welcome to join – professionals and amateurs alike.
Here is the group's objective which can be found on our overview page:
Vogue, Harpers Bazaar, Vanity Fair, La mode practique, Jardin des Modes, La Gazette du Bon Ton, Baron Adolf de Meyer, Edward Steichen, Richard Avedon, Louise Dahl-Wolfe, Helmut Newton, Steven Meisel, Mario Testino, Peter Lindbergh, Annie Leibovitz.
*We are looking for high quality fashion photography in this group and its representation as an artform. This group is about the promotion of fashion as fine art, using the artistic medium of photography.
This group is for those of us who work in the fashion industry, and those who would like to
- photographers, designers, models, creative stylists, make up artists,etc.
Over time fashion photography has developed its own aesthetic, often used in advertisments and fashion magazines. Historically, fashion photography has changed and evolved. However, it has always retained a fundamental core idea – that fashion is about more than just objects of clothing, and that fashion photography is about creatively and artistically representing this notion.
From Italian catwalks to French magazines, photography has helped shape and define the glamorous and beautiful world of fashion! So show me the best of what you have!*
So come and check us out at Fashion Photography as Art.
~ Luisa (diLuisa Photography)