Stuff I've Sold, OMG! -Part 2
OLD TECHNOLOGY STILL WORKS!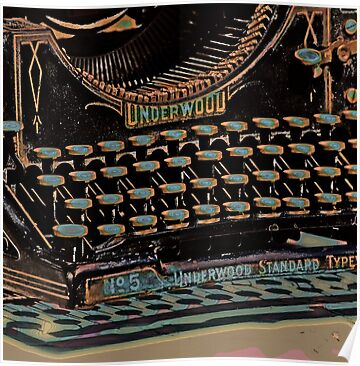 This photograph was taken with my Nikon D-300. It is a No. 5, American Underwood Typewriter. When I was barely reaching puberty, my mother gave me her old typewriter, very similar to this one. I loved to type on it, and back then, you had to think about your words carefully before pounding out the letters on the keys. Make a mistake and it could take you five minutes to change it with the white-out, certainly not like today where your mistakes in spelling are changed before you even realize that you've spelled it wrong!
When you have to stop and think about writing, you learn to compose in your mind as you type, and that is what I did. I've always loved writing (as much if not more than photography). I've had some short stories published by Amazon, in children anthologies and small magazines.
And I owe it all to my mother, who is no longer with us, but the memory of her gift of that old typewriter stays with me always, as does she in my heart.
This particular Underwood Typewriter belonged to a friend, and she let me use it to try out my photography skills. I took various photos and used various filters in PS.
So, now you know why I was thrilled when it was sold. Thank you to whoever bought this photo.
Here are other versions:

or HERE IS MY PORTFOLIO FOR MORE…
You can also see samples of my writing at :