Homepage feature & other wonderful happenings!
Hello People,
Another month has come and gone, thought I would check in and catch up. In the last few entries you all have gotten rather shy on me… but I can see you are still stopping by, and I truly hope this entry finds each and every one of you healthy and happy.
I had such a nice surprise this week when I found out "Polar Pause" was featured on the Homepage, I was beyond THRILLED!!! I want to thank Tammy (aka MoonSpiral) for posting the captured image of it for me, I tried to get it several times but it was not happening, so I really, really appreciate it. Here look…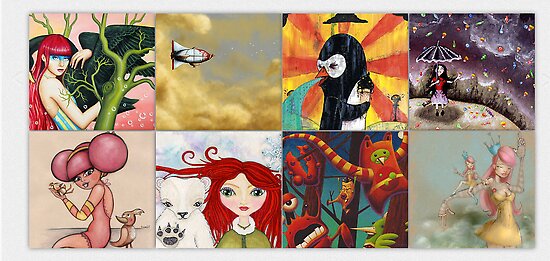 SWEET!
"Polar Pause" was also featured in this great new group called Pop Surrealism, this group has a lot of really cool images in it, if you haven't seen it yet, I would definitely check it out. A Big Thank You for the feature PS!

I entered a challenge this week called- "Goddess Energy In Abstract" in- THE DIVINE FEMININE Group and just saw that my image "Peace In Pieces" came in first, how fantastic is that!!! Thank you very much, there was some really beautiful work in that challenge, worth taking a peek if you have a minute.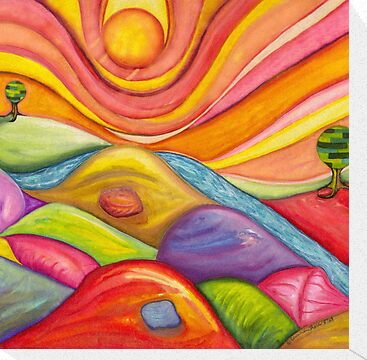 Also I wanted to say a BIG Thank You to BarbaraLM, Danita, and all others that made purchases this month… I really appreciate it, and I hope they bring you many a smile.
I put up a new piece this week from my fairytale series, it's called "Halfway Away". I caught sight of this Princess and her Dragon companion just as they were calling home… here we would use something like Skype, but they use Bubbles to keep in touch while away on a quest… who knew? :)

Spring is popping it's head up in my part of the world… songbirds are returning, the daffodils are in bloom, while the geese fly north over my head, honking all the way! It will be lovely to be surrounded by green again, there is nothing like the glow and vibrancy of that new leaf color to make the world feel refreshed and full of possibility… and oh how I love possibilities!
It's getting late, so I must sign off for now… but not before I wish you all warmth and comfort and a head full ideas with lots of time to create!
Until next time… Peace, Cianna Rose.