For Christmas this year Dad decided to cook Roast Duck.
Not something we cook very often.
In fact the last time either of us even ate Duck was in Hong Kong at the end of our "around the world tour" in January 2007, when we splurged on a Peking Duck Lunch… but that is a whole other story…
So, Dad did an excellent job. The meat was tender and not stringy, and the skin was crisp without being burnt. – Just one of the best Roast Ducks I have ever eaten.
And as a Christmas present, Dad gave me the carcass! [hooray!]
I thought it would make a good soup – since that is the best thing to do with a chicken carcass.
Unfortuneatly there are not a lot of recipes for Duck Soup. I did find a few asian recipes, but they called for ingredients that I could not get on Boxing Day, so I took the best bits from each recipe.
Roast Duck Carcass.
250gm Brown Mushrooms [or Shitake mushrooms for a stronger flavour] chopped into chunks.
1x or 2x Lup Chong Chinese Sausage
Bean Sprouts.
French Onion / Shallots.
200gm UDON Noodles
Plain Chilli Sauce.
Pure Sesame Oil.
Fish Sauce.
Did I mention that you will need a Pressure Cooker?
Ooops, my bad.
You're gonna need a Pressure Cooker.
[ 1 ] Make the Duck Stock:
Get said Pressure Cooker and add 3x or 4x cups of water.
Insert the basket/rack accessory to keep everything out of the water while cooking.
Chop or break apart the Duck carcass and place it on the basket.
Add chopped mushrooms.
Add the Lup Chong sausage.
Cook as per normal pressure cooker technique for 18-20minutes.
[ 2 ] Make the Soup:
When pressure has been released [as per normal operating techniques] remove the mushrooms and duck meat into a bowl, throw away the bones.
Return the meat and mushrooms to the pressure cooker saucepan section.
Add 1litre of water and bring to a gentle boil.
Add 1x level cooking spoon of the Chinese Master Stock sauce.
Add 2x level teaspoons of the Chilli Sauce.
Add 1x level cooking spoon of Fish Sauce [add a bit at a time and check for taste, stop when the soup is slightly salty]
Add about 1x level teaspoon of Sesame Oil.
Add the UDON Noodles, and boil for 3 minutes, stirring occassionally to seperate the noodles.
[ 3 ] Prepare the Vegetables:
Slice the French Onion/Shallots into quarters lengthways, and place in your soup bowl.
Add some Bean Sprouts to your soup bowl.
[ 4 ] Plate-up!
When the noodles are ready, turn off the heat.
Add the noodles, duck meat, and mushrooms to the soup bowl.
Add a couple of ladles of soup to your soup bowl.
This has such an authentic asian soup flavour. It is rich and complex, and just a delight.
Its gonna taste sooooo much better tomorrow night!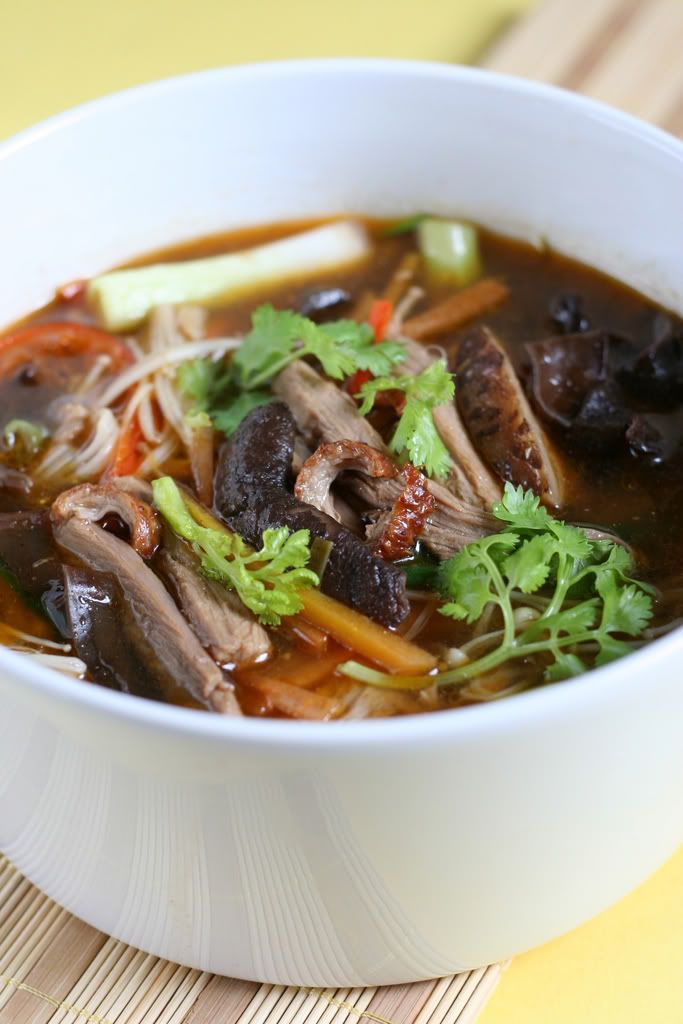 PICTURE COURTESY OF THE WWW
---
CHECK OUT MORE OF MY ADVENTURES IN COOKING…