FORMAL CRITIQUE - ROOFTOP ABSTRACT
HAVING LOST SOME FORMAL CRITIQUES AS A RESULT OF A GROUP BEING SHUTDOWN RECENTLY, I AM NOW COMPILING ALL MY FORMAL CRITIQUES INTO MY JOURNALS.
1. ALL OF THESE CRITIQUES WERE FORMALLY SOUGHT BY THE ORIGINAL ARTISTS
2. ALL IMAGES USED FOR REFERENCE PURPOSES HAVE BEEN USED WITH PERMISSION FROM THE ORIGINAL ARTISTS, AND NO CRITIQUE OF THESE IMAGES SHOULD BE IMPLIED BY THEIR USE.
---
"Roof top Abstract" by Gabriel Skoropada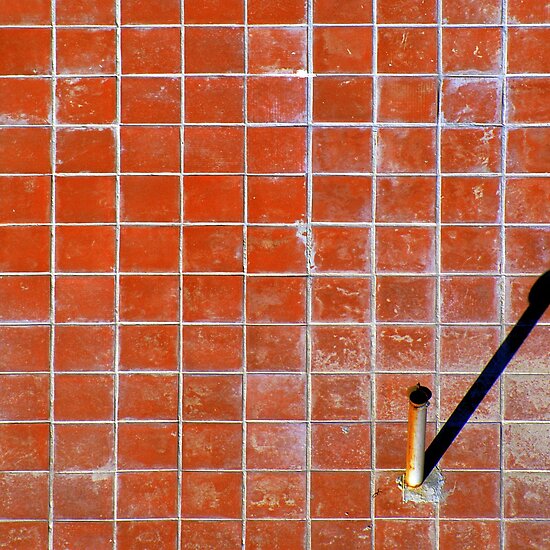 FIRST IMPRESSIONS
I didn't like this when I first saw it. Things haven't improved much since then. I want to like it, but it just doesn't quite work for me. Close but no cigar.
TECHNICAL QUALITY (10 points)
Settings: Focal length 210mm, 1/250s shutter , aperture f/11, ISO 100.
Since you were looking almost directly at this roof top, f11 is un-neccessary. The extra depth of field you gain from f11 is lost here. If you had used f3.5 or f4 then you may have been able to play around with some depth of field and created some out-of-focus regions. Also, I would like to have seen the shutter increased to say 1/500s – 1/700s (ie under exposed) to boost colour saturations in post production.
Exposure:Ok, but it makes the colours a bit flat.
Lighting: Without the chimney to show some shadow, it would be impossible to tell the direction of the lighting, as it is the lighting is flat and does not transition in quality or intensity across the scene. This does not help create any interest.
Colour Saturations: The colours are a bit flat, and as I mentioned earlier, that could be improved by under exposing your image and then boosting the colours in post production. I usually have my DSLR permanently set to underexpose by one full stop.
Focus / Depth of Field: Since you are looking straight at the scene, everything is in focus. A bit of selective blurring around the edges in post production could really help bring the viewer's eye back to the chimney.
Sharpness: Very crisp and sharp as would be expected using f11 aperture.
Score: 6
INTEREST (10 points)
Aesthetics / General appearance: I really dig lines and geometric shapes, I really do., but this is too repetetive even for my taste. I think shooting from a lower angle instead of straight at the roof would have been better. You could have used those lines to create divergence and perspective. The concrete in the bottom right corner is very distracting.
---
Look at this photo by DANI DI CESARE. See how Dani has used lines and repetition to create depth and perspective which draws the viewer through the image. The depth and perspective create interest. The colour saturations are also very eye catching.
---
Emotional Content: I feel nothing. As the viewer, I want to feel something, but I don't… How did Gabriel feel when he took this?… I don't know, and that is a shame.
Storytelling ability / Creative communication of a concept or idea: I am not sure what Gabriel is trying to communicate here. Yes its a grid pattern and a chimney, but after 2 seconds I have seen all I want to see.
Originality: Not very original in execution. I think there were opportunities to use this roof very creatively, but they have been missed.
Score: 4
COMPOSITION (10 points)
Framing / Cropping: A really close zoom so that you can only see 4×4 tiles might have been interesting – a study of texture perhaps? As this image stands now, I would crop it hard and make it a square format so that the chimney is in the bottom left corner of the image and use the diagonal created by the shadow to determine the top right corner position.
Simplicity of Design: At the moment this image is messy. it is just too much. If you tried the crop as suggested ablve, then you would have a simpler cleaner image that would be about parallel lines and a strong diagonal. It would look quite abstract and we would also get a better view of the texture of the tiles.
Points of Interest: The chimney and its shadow are the only point of interest here, and at this distance we can not see them very well. There is little detail in the chimney, which is a shame, because it looks like it could have some great colour and tones.
Rule of Thirds: The chimney is poorly placed within the frame. As it is now it is too low within the image. It should be on the LHS and placed squarely 1/3rd from the LHS and 1/3rd from the bottom to add strength and proportion.
Lines & Diagonals: As mentioned before, if this was re cropped to a square format you could make good use of the strong diagonal made by the shadow.
Balance / Use of Negative Space: This image feels very unbalanced. Because of the position of the chimney within the frame, all sense of proportion has been lost and therefore the feeleing of balance between subject and Negative Space has also been lost. Judicious use of The Rule of Thirds technique would really help here.
Score: 4
GENERAL COMMENTS
Gabriel, I want to like this, and I think I can see where you were going with this. I think it was always going to be a hard one to pull-off succesfully. Being abstract in nature, maybe Black & White would suit better. If so, I would also be tempted to really push the contrast to accentuate the lines.
Do you have other photos of this same subject, or is this the only one? It is a good idea to shoot lots and lots of frames from many different angles and perspectives, – it increases your chances of getting it "right."
Something about this moved you enough to take this photo. It stimulated you in some way, but you have not communicated that to the viewer. In these situations try to take a breath when you see something that catches your eye and think to yourself "how can I best communicate what I feel right now to my viewer?"
Total Score : 14 / 30