FORMAL CRITIQUE - CITY LIGHTS
HAVING LOST SOME FORMAL CRITIQUES AS A RESULT OF A GROUP BEING SHUTDOWN RECENTLY, I AM NOW COMPILING ALL MY FORMAL CRITIQUES INTO MY JOURNALS.
1. ALL OF THESE CRITIQUES WERE FORMALLY SOUGHT BY THE ORIGINAL ARTISTS
2. ALL IMAGES USED FOR REFERENCE PURPOSES HAVE BEEN USED WITH PERMISSION FROM THE ORIGINAL ARTISTS, AND NO CRITIQUE OF THESE IMAGES SHOULD BE IMPLIED BY THEIR USE.
---
"City Lights" by JOANNE HOPE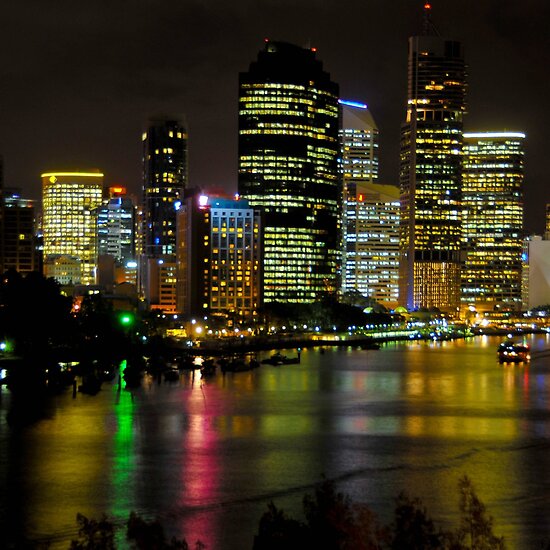 The framing is too tight, especially at the top. The red light at the very top is distracting. The building on the far LHS of the frame (the one with the blue light) is also very distracting.
There is too much of the river in the frame, and as a result the image is almost divided in two, which is not terribly interesting. 1/3rd river + 1/3rd buildings + 1/3rd sky might look better.
The plants at the bottom of the image add nothing to the photo. They are not framing anything and as a result are quite distracting.
Suggestions:
1. Use a wide angle lens (say around 18mm if you have one). This should be an impressive photo, but the buildings need to be framed by something (sky and river) to give them a sense of place.
2. To get a really soft looking river and really boost colour saturations (especially in the reflection on the water) set your camera to the following:
Aperture: f11 to f19 (this will keep everything in focus.
Focal length: 18-25mm
ISO/ASA: 100
Shutter: BULB. You want to leave the shutter open for as long as possible. 2-3minutes would be ideal. The smaller your aperture, the longer you want to keep it open.
You will need to use a shutter release cable, and of course – a tripod.
It is important, as a photographer, not to get distracted by the bright lights and pretty colours in scenes like this. After being impressed (and before you take that shot), we should stop, take a deep breath, and think "how can I best communicate how I feel about this scene?"
Look carefully.
Does that building need to be in my photo?
Does the line created by the tops of the buildings make for a pleasing image?
What do I have in the foreground of my image? Does it need to be there to communicate how I feel right now?