BASIC COMPOSITION Part 2 - "THE LANDSCAPE"
The Landscape Photograph.
Its where most of us start because, well, its everywhere. We can simply go outside and press the button and we've got one. Hooray!
But Landscape Photography holds a surprise for all of us.
"Tell us Byron, – what is this surprise?" I hear you ask.
Well… as with all thing easy – they are really hard to do well.
I am sure most of us have banged our heads on our desks at one time or another desperate to know why we can't take a landscape like Ansel Adams. We go to great locations, we shoot lots of frames, and yet nothing… nothing leaps out grabs us by the ears and yells "HOLY SHIT – THAT IS AWESOME!"
There are a couple of reasons for this -
1. Landscape Photography is everywhere. You really have to pull-off something special to even get noticed nowadays [seriously, we are all up against Ansel Adams and the Weston Family here], and
2. Our Composition just sucks the big fat hairy one.
So, this month I am going to pass on some stuff I have learnt about Landscape Photography in an effort to help you all understand one of the simplest and most difficult forms of photography.
So, let's get started…
---
"Pretty does NOT always make for a great Landscape Photograph"
The problem is that we go somewhere amazing [like Zion National Park USA, Monument Valley USA, Canadian Rocky Mountains etc…] and we are just blown away by the grandeur of nature. The skies are sooo blue, the clouds are amazing, the mountains that reach up to Heaven, the rivers and streams.
We just want to go nuts because everywhere is just incredible.
And time and again we come home with average-looking images.
Well, its like this – just because it looks pretty it doesn't follow that it makes for a great photo. How many times have we seen another god-boring photo of a sunset? Sure it looked amazing to the photographer, but we just don't feel it.
When you go to these places you should spend an hour without your camera. Just go looking around and take it all in, fall in love and drink in the vibe of the place. Then quietly go get your camera, turn it on, take of the lens cap, close your eyes and…
Breath in, then…
Breath out.
You need to calm down, you need to get control of your emotions, you need to get back to thinking like a photographer.
You need to look at things dispassionately.
Open your eyes and start looking at the details of the landscape.
Look at how the little things fit together to make the whole. Look at how the ground lies, look at how the mountains come out of the ground, look at how the trees are placed around you, then look at the clouds in the sky.
Start taking pictures of the little details. Photograph the ground, the sides of the mountains, … photograph a cloud all on its own. You have plenty of time for the big stuff later. If you only shoot the whole big-sky landscapes you will miss the story of how it all fits together.
---
Just because it looks good now doesn't mean it is the right time to take that picture. Timing is one of the most crucial apsects of Landscape Photography.
Timing is about two things when it comes to Landscape Photography:
1. The Weather, and
2. The Light.
These two aspects are frequently over-looked by many many photographers, and they are two of the things that set us apart from the likes of Ansel Adams and the Weston Family.
Uncle Ansel was famous for waiting. He would hike into the mountains and wait for days, weeks even for the weather and the light to be exactly right. Uncle Ansel understood the need for weather and lighting.
Why? Because a Landscape is not just the sky, or the mountains, or the ground. It is also the weather and the light. Not capturing these two aspects is like not capturing the eyes in a portrait photograph. "Weather and Light" is the soul of a Landscape. They are the Spirit that speaks to us of the true beauty of the world.
I am not suggesting that you should wait forever like Uncle Ansel [who has that much time?] instead do your Landscape work early morning [before 8am] or late afternoon [after 4pm] This is when the Light is at its softest, warmest, most-glowing best. It has a yellow tonality [as opposed to mid-day when the light is more blue].
When you photograph during the middle of the day the light is coming straight down, it is flat and lifeless and we get no shadows.
The only time you should shoot Landscapes during the middle of the day is if you are shooting Infra-Red since colour, light quality and shadows are no longer applicable.
Go out when there are clouds about. Nothing is quite so plain as an empty sky. Just because it is a clear sunny day it doesn't follow that it is a good time to take pictures. Before and after a good storm is the time to get out there. Dramatic clouds always make for good pictures.
Look at this image by Lars Vandegoor. Consider how the amazing lighting impacts this image. It speaks of the soul, the spirit of this landscape.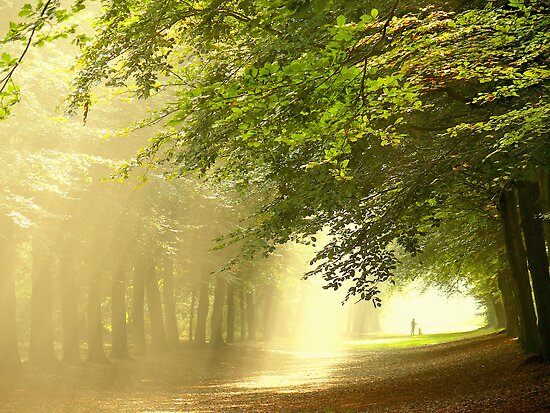 IMAGE USED TO DEMOSTRATE CERTAIN POINTS ONLY – NO CRITIQUE OF THIS IMAGE SHOULD BE INFERRED BY ITS USE IN THIS TUTORIAL.
---
"A good Landscape Photograph is about interesting Things framed by an interesting Environment."
A big mountain is not enough.
A blue sky is not enough.
A winding river is not enough.
You need to make something special that grabs our attention and keeps us looking around the image, something which makes us want to come back time and again to discover new things we didn't see before.
How do you do this?
One word:
"Points of Interest" [ok that's three words!]
Points of Interest [POI] are things we like to look [especially people, animals, interesting objects]
They make our eyes move from one to the next drawing us through the image. They add depth and create long term interest because you can study one, then another, then look at the sky, then go back to another POI and then look at the mountains… this creates movement.
A compositionally flat image is intrinsically dull since our eyes skip over the foreground and stop at the background and there is no-where else to look. They are abrupt and do not draw us in.
Three POI's are a good idea.
One in the foreground. This anchors the image and draws us to the very front. It gives us a starting point and it gives us something interesting with lots of detail to look at.
One in the midground. This gives us somewhere to move to from the foreground. This starts the movement of our eyes.
One in the background. This gives us a final destination for our eyes. It completes our journey.
Framing your scene so that the POI's create a diagonal line, a curve or an S-curve enhances the effect of the POI's.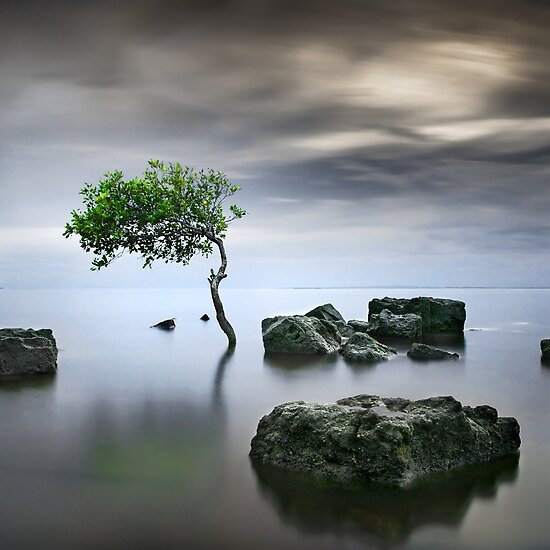 IMAGE USED TO DEMOSTRATE CERTAIN POINTS ONLY – NO CRITIQUE OF THIS IMAGE SHOULD BE INFERRED BY ITS USE IN THIS TUTORIAL.
This leads on to my next rule of Landscape Photography…
---
"If it is in the frame then put it all the way in the frame, or take it out completely."
This means that you should work to frame your images so that only those elements that you need are in the image.
A good Landscape is a clean, simple construction. Remove those messy elements that do not add to the message you are trying to convey to your viewers.
Don't have half of a certain element in the frame – unless you are trying to make a specific statement by doing so. Everything should be well inside the frame.
---
It is rarely a good idea to divide your image evenly between the sky and the ground by placing your horizon on the centreline of your image. It can work, but generally this ratio is not very interesting.
This is where the ubiquitous "Rule of Thirds" comes in. [yeah yeah, I know – its not a rule
Always take several images, each dividing your scene differently. Take some where the sky takes up 2/3rds of the frame, take some where the ground takes up 2/3rd of the frame [and yes take some where the horizon is on the centreline – just in case!]
Look at this image by Dana DiPasquale. See how by placing the Horizon 1/3rd from the bottom of the frame and the subject 1/3rd from the left side of the frame Dana has created a strong but peaceful image that speaks of the beauty of this location.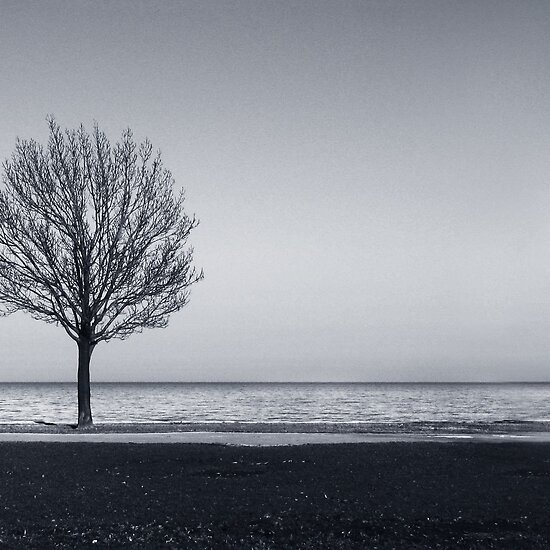 IMAGE USED TO DEMOSTRATE CERTAIN POINTS ONLY – NO CRITIQUE OF THIS IMAGE SHOULD BE INFERRED BY ITS USE IN THIS TUTORIAL.
---
Compositionally Lines, Diagonals and Curves are very attractive to us. Work to frame your image to take advantage of this knowledge, especially if you don't have any POI's in the frame.
If you have a river in the shot, try to frame it so it flows diagonally through your image.
If you have a mountain, shoot it on an angle instead of straight-on, this will add depth to your image.
Try to have your lines go from corner to diagonal corner, or from top to bottom rather than side to side [especially if you are using Portrait Format]
Lines [and especially Curves] create a flow – they create a natural line that we subconsciously like to follow. They are, of themselves, interesting.
The most interesting Curve of all is an "S-Curve" because it creates movement from front to back and from side to side. Roads, pathways and rivers are all great elements that you can use to create S-Curves.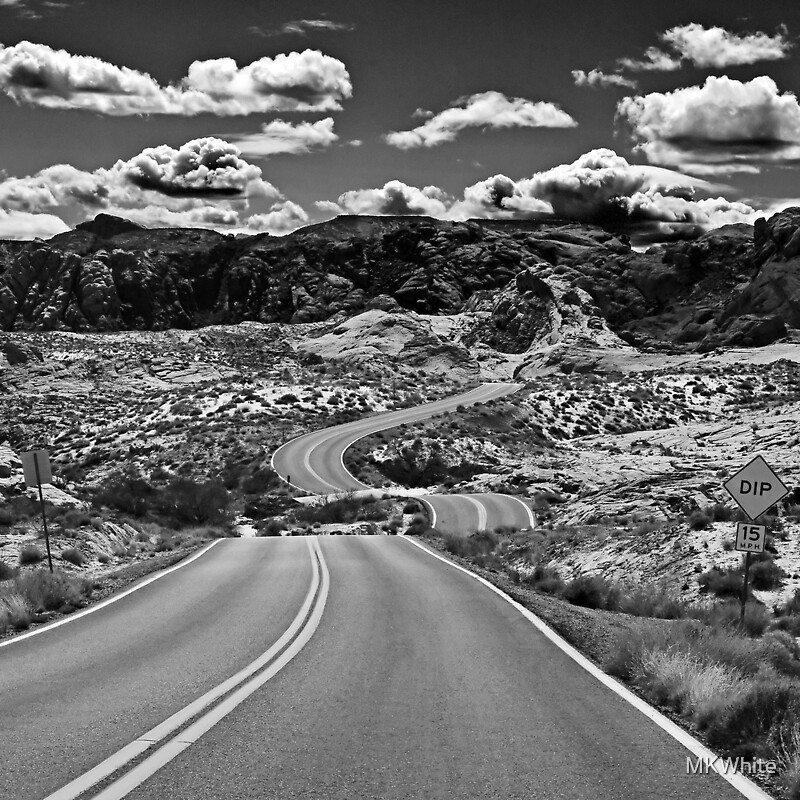 ---
A W/A lens will distort your landscape enough to create an amazing sense of depth and space. No lens is as suited to landscape work quite like a wide-angle. The effect on clouds has to be seen to be believed. I use a 17-35mm exclusively for all my work.
Look at this image by the incredible MEL BRACKSTONE… the perspective distortion in the sky is created by using a 16mm wide-angle lens.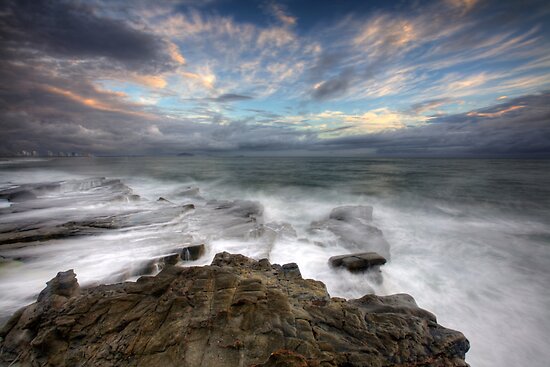 IMAGE USED TO DEMOSTRATE CERTAIN POINTS ONLY – NO CRITIQUE OF THIS IMAGE SHOULD BE INFERRED BY ITS USE IN THIS TUTORIAL.
If you are going to shoot early morning/late afternoon you really need to use specialised filters to get the most from your landscape.
The CP filter will reduce glare caused by light coming in from the side [which it will do early morning & late afternoon].
It will also boost contrast and increase colour saturations – this will add a certain "pop" to your images and help create more interest.
CP Filters also make your skies a deeper shade of blue and add drama to your clouds by making them more prominent and increasing the contrast between the light and dark regions of the clouds.
Frankly I never shoot without a CP filter. Landscape Photographs taken without a CP filter often look washed out and have a light blue sky and flat clouds.
These come in varying degrees of density and will allow you to take longer exposures by dramatically reducing the amount of light coming in to the sensor.
The colours you can achieve with a ND filter are nothing short of extra-ordinary. Of course a Tripod is mandatory if you are going to use ND filters.
You can also use a UV/Skylight Filter. These are very cheap and help to reduce the blue/violet haze often seen around mountains in the far distance.
This image by Bensound was an 8x second exposure using f22 and a ND8 filter: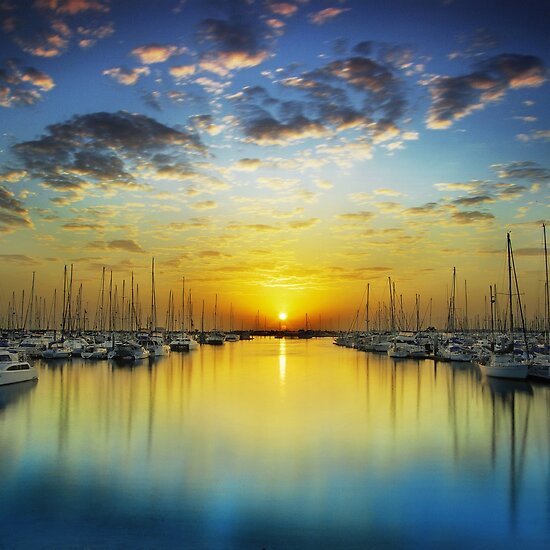 IMAGE USED TO DEMOSTRATE CERTAIN POINTS ONLY – NO CRITIQUE OF THIS IMAGE SHOULD BE INFERRED BY ITS USE IN THIS TUTORIAL.
---
Checkout these amazing RedBubble Artists who are masters of the Landscape Photograph:
BENSOUND who uses ND Filters to achieve amazing award winning images.
LARSVANDEGOOR who is a god of Lighting and Composition
DANA DiPASQUALE whose Landscape Photography speaks of strength, peace, and beauty.
HANS KAWITZKI who uses stunning colour and composition to create powerful landscape photographs.
MEL BRACKSTONE who is just one of the most talented Landscape photographers I have ever seen.
Also check out these Artist's work: