Travel equipment, clothing, and advice
Introduction
I have been asked many times "what advice would you give to photographers travelling overseas?"
I have compiled information which I have gathered from my own experiences and those of other travellers in order to help you prepare for your next overseas adventure.
---
Protect your camera gear
Do yourself a serious favour and buy a Pelican 1510 flightcase.
They are designed to fit into overhead luggage compartments on planes.
I travelled around the world with mine and all my camera equipment in it, and not one bit of damage (I let them put it into general luggage). They cost about $400ish, but they are simply the best protection you can buy for your camera equipment. While it sounds like a lot of money, it is a lot cheaper than trying to buy new camera equipment overseas.
You will have this flight case for the rest of your life.
I know that if it is in the pelican case I do not have to worry about anything ever. It is also sooooo comfortable to carry (the handles have no-slip rubber grips) and it has extendable handles which turn it into a trolley (the wheels are stainless ball-bearing roller-blade wheels) Dragging this behind you is soooo nice – it rolls beautifully over all surfaces.
The best bit – ALL of your equipment, cameras, lenses, PSD, power cords, power adaptors, adaptor plugs, memory cards, instruction books are all in one place. this makes it easier to find all your gear, easier to pack your gear, and reduces the chance of losing anything because you can see something is missing because the space you have made for it will be empty.
Checkout the PELICAN TORTURE TEST VIDEO
If you still need convincing, consider the Pelican Company Motto: YOU BREAK IT – WE REPLACE IT… FOREVER
Seriously, don't travel without one.
---
Secure your property
How will you secure your equipment when you are not in your hotel room? Will you carry it all with you everywhere you go? Trust me, that gets very old very quickly.
The only real option is to leave it at your hotel. Most decent hotels will have a security room where they will hold any valuable items for you.
Make sure you get a receipt, and the name of the person you gave it to. If possible watch them or go with them as they place it in the security room.
But just as many hotels and especially Backpacker Hostels do not have a secure room for your property. Your only remaining option is to leave your property in the room and hope for the best. This leaves you vulnerable since theft from hotel rooms is a major problem all around the world.
Theft from hotel rooms is the single biggest form of crime that happens in the hospitality Industry. Hospitality staff are usually employed on a casual basis and are for the most part transient. They can steal something, leave work the next day and move on to another hotel or even another country. You will never see your stuff again.
Most hotels will not accept liability for anything lost from your hotel room, and your insurance company may not want to pay up either.
Most theft is "theft by opportunity". You leave something in plain site and someone will take it. I promise you that staff may well go through your possessions very very carefully when you are not there, and they know all the hiding places in your luggage and in your hotel room. Many of them have the keys that open each brand of travel luggage.
Having your stuff stolen will seriously ruin your holiday. Not only will you lose stuff, but you will also suffer from very strong feelings of personal invasion. Not nice, especially in a foreign country.
Never ever EVER leave any valuables unattended or unsecured in your hotel room. Sure, your insurance will probably cover it, but you have to spend the rest of your holidays with no camera, and you have lost all your wonderfull memories.
I know this from experience… For two years I was the Second-in-Charge of the Security Department of the largest off-shore resort in the world – Hamilton Island.
But there are ways you can secure your property and leave it in your hotel at the same time: use a braided, stainless steel cable:
You use these cables to secure your flightcase to your luggage and then to your bed each day. They cost around $40AUS and they are one of the simplest and most effective security measures you can buy. You can buy these cables at all good camping/trekking/adventure stores like KATHMANDU AUSTRALIA
Padlocks
Only use Combination Locks. That way you don't have to carry keys with you everywhere, it also means that you wont ever lose your keys when overseas.
To secure your braided stainless steel cable you should use a solid brass padlock. Like all your padlocks it should be a combination type lock. You will have to go to a padlock specialist supplier to get one of these, but it is well worth the effort:
For your flightcase and your luggage you will need several "TSA" type padlocks, which are sold by PADDY PALLIN STORES AUSTRALIA and KATHMANDU AUSTRALIA and most other decent camping stores.
TSA Approved Padlocks can be opened by Airport Security without damaging the locks. Security Staff have a special key which will open these locks.
Cable Locks are very useful for attaching things to other things that a normal padlock wont fit around. Probably not best for use on luggage when in transit since they can get caught or snagged on things.
---
Random items
Carabiners
Not so much a security issue, but just damned handy anytime you want to join two things together, like your hat and your belt! Seriously. When you take your hat off, you have to put it down somewhere leaving it prone to being lost, forgotten, or stolen. A cheap little aluminium carabiner is your best friend here. Put it on your pant's belt loop and you suddenly have a great place to hang your hat – just clip your hat's chin strap or rear adjustment strap into the carabiner!
Also a great place to hang a small towel, your drink bottle, plastic shopping bag, or any other thing that you don't want to hold or you dont have pockets for!
You can usually buy a set of 5 or 6 in various sizes for about $30AUS.
Paracord
Paracord is short for 'parachute cord': "Parachute cord (also paracord or 550 cord when referring to type-III paracord) is a lightweight nylon kernmantle rope originally used in the suspension lines of parachutes. This cord is useful for many other tasks and is now used as a general purpose utility cord by both military personnel and civilians. This versatile cord was even used by astronauts during the 82nd Space Shuttle mission to repair the Hubble Space Telescope." link
It is tough as nails, lightweight, cheap as chips (you can buy 3mm x 15mtrs for about $6AUS from most camping or hardware stores) and is just perfect for tying things together.
"Why would I need to do that?" you ask… well what are you gonna do when you are in the middle of nowhere and the zipper on your luggage suddenly breaks, or you lose your one and only belt, or the laces on your boots snap in half?
But best of all – its a portable clothesline to hang your washing on!
Its such a cheap, tiny, light, and useful item that I never travel without it.
Multi Tool
There are literally hundreds of these cool little tools available everywhere from camping/adventure stores, to hardware stores, and even your local service/petrol station. You can spend $5 or you can spend $500 on them. You dont want a big bulky one, you don't want one that does everything (including decoding enigma messages), you just want the basics: a knife, a nail file (yep you'll appreciate it after a long day in dirt), a thing for making a hole in your belt, scissors, and most importantly – a bottle opener and a cork screw.
Trust me on this, you will be seen as a hero when you and your travel companions recline after a campfire dinner and someone brings out the wine only to find its not a screw-top bottle!
Combo Travel Cutlery
A work colleague bought one of these for me to take on my recent trip to Jordan. It was brilliant and came in handy more times than you could imagine.
There are hundreds of different types of travel cutlery, but for the weight, ease of use, ease of cleaning and just awesome versatility you cant go past these little beauties.
They cost only a few dollars. I would recommend getting the plastic ones because if you put it in your pocket and sit down on it later you wont stab yourself with it like you can with the metal ones.
Really handy when you go somewhere (like Jordan) where a lot of the eating is done with your hands and cutlery may not be readily available.
---
Personal Security
Always use a money belt or document wallet [which you can wear around your neck] and never ever keep anything of value in your pockets.
An excellent tip: keep photocopies of your partner's passport & other ID in your safety wallet, and they keep copies of your passport and ID in theirs.
Before you leave your hotel room each day you should make your partner . This sounds like a really naff little routine, but nothing sux so much as standing at an airport check-in and realising you have left your passport in your hotel room.
Another excellent tip [from Marjolein Katsma ]:
Keep a copy of all your paperwork [Passport, Visa, Itinery etc…] online. Scan all of your documents then Email them to yourself as an attachment. Now wherever you go – you have online, printable copies of all your paperwork easily accessible via your email account!
---
Travel Clothing
You need to protect yourself from the elements. Always dress appropriately for the climate and the environment, but also dress in a manner which is respectful of local customs.
Dressing like this in an islamic country, for example, is just plain rude: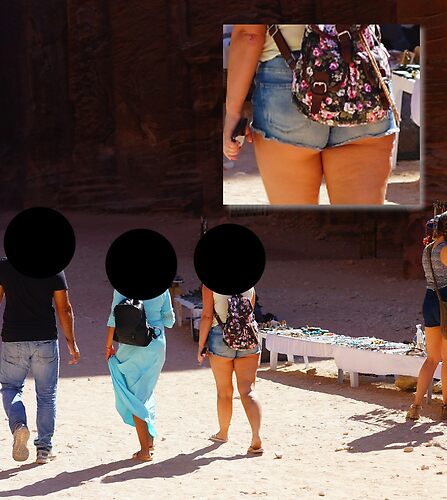 Shirts
For sunny, hot, deserty conditions I have found that the Columbia brand "Bonehead" shirts are quite simply: extraordinary!
FEATURES:
Four hook and loop closure fly box pockets at the chest and a rod holder loop at the left chest
Relaxed fit
Utility loop
Rod holder
Hook and loop on collar tip
Mesh-lined vent at center back
100% cotton poplin
Lightweight, they 'breath' lilke nothing else, they don't heat up in the sun, and due to a rear ventilation flap they pump air thru the shirt whenever you move. I was in Jordan for 10 days and I never sweated once inside these shirts! Even the black one was lovely and cool in the sun!
Pants
Well its Columbia hands down again! The Pilsner Peak Pant:
FEATURES:
Articulated knees
Knife pocket
Omni-Shade™ UPF 50 sun protection
Omni-Wick™
Comfort stretch
Mesh lined pockets for extra breathability
56% polyester / 44% nylon dobby
Every step you take pumps air from inside out through the mesh lined pockets keeping you cool and dry and crotch-rash free!
Hats
For the greatest most comfortable, foldable, lightweight, travel hat I have ever worn you really can't go past the Tilley Hat Company in Canada
These hats are designed for performance.
I have the Tilley LTM2 Airflo
FEATURES:
Maximum sun protection – fabric is certified UPF 50+, the highest given
An abundance of shade – broad brim offers great sun protection
Air flow – 3/4" mesh around crown allows for extra ventilation
Guaranteed for life
Water-repellent finish keeps off the rain
Front & back wind cords system secures Hat in gusty conditions
Double wire in brim for added stability
Hydrofil® sweatband to wick moisture away
Keep valuables safe in the secret pocket
Buoyancy – stays afloat in water
It may seem silly to rave about something like a hat, especially when they cost $70AUS!!! but when you wear it and use it you understand and know why it costs so much.
I am a pale skinned person. Hell, I am so white I am almost fluorescent. I never go out in the sun (which is kinda strange considering I am Australian). If I go out in the sun for too long I burn, go bright red, PEEL and then go back to white again.
I'm so white that the English people on my tour had more of a tan than me, and between the Columbia shirts and pants and this hat I never got sunburnt once during ten days in the Jordanian countryside… and I never ever used sunscreen!
Footwear
I saw it all the time in Jordan: tourists in thongs or sandals.
I also saw lots of people with twisted ankles and blisters.
You can be fashionable, or you can be sensible. If you're lucky you can be both, but always go for sensible first.
If your feet dont work then you have no holiday. If you can't get around or if every step you take is painful, then that's not a great way to "enjoy" your vacation.
Me, I go for sensible and practical… I wear 'tactical boots'. They are the boots of choice for security and law enforcement personnel around the world for very good reasons. They are tough, extremely lightweight, comfortable like your favourite sneakers, and foremost – they are designed to protect your feet in all sorts of adverse conditions.
You can buy them from places like LEGEAR in Australia, or MERRELL in the US…
Get ones with a side zip (a strong heavy-duty side zip) so you can quickly take them off at airports.
I have a pair of these ones made by Original Swat. Check out the chunky side zipper – these zippers never break, so dont get anything with a lightweight/standard zipper.
Honestly, these boots make me feel like I could walk over anything. No matter what the surface conditions: sand, gravel, rock, scree, these boots kept my feet and ankles stable and safe. They are made to breath so your feet are kept dry even after walking around in them all day! And they even keep water out – but only if the water is below the height of the boot of course!
Socks
Complete your footwear with decent socks. Dont skimp on these. A $60 investment in some decent socks is nothing complared to the actual cost of your holiday, but they can be a make it or break it clothing item.
Get nice thick breathable socks. If you're gonna skimp out on your socks, then dont bother with the tactical boots. The whole point here is to be comfortable. To protect yourself from things like blisters you gotta have good socks.
My personal favourite are Holeproof Explorers. I don't know if you can get them anywhere but in Australia, but any socks designed for adventure/hiking/trekking should do you just fine.
Storage
You need something to put your dirty laundry in, but at the same time you dont want to be stinking out the rest of your clothes… well you need the Korjo Compression Travel Bags. At around $20AUS for a set of three these things not only keep all your dirty clothes in one place, they save valuable luggage space coz they squish down!
Mostly though – your luggage wont smell like your used undies!
FEATURES:
60cm x 40cm
The one way valve enables you to squeeze the air out of soft, bulky items to significantly reduce their size.
Does not require a vacuum – just follow the simple instructions and roll the bag to expel air through the one-way valve.
Protects your goods from dirt, moths, moisture and odours in this air-tight bag.
Simply put your stuff in them, zip seal the opening, then roll them up to expel the air through an incredibly simple one-way valve. I found a good way to do it was to lay things flat inside, zip the opening, then place a pillow on it and lie on the pillow. This forced all the air out quickly and easily while also flattening the clothes inside even more!
Even after days the one-way valve maintained the vacuum inside.
---
Buying online
Amazingly some US websites will not sell or ship to overseas, which can be a real pain in the ass. Columbia for example. Sure there is a Columbia site in Australia, but it does not have the range or importantly the sizes that the US website has.
What to do?
I found a great business known as an online concierge called Big Apple Buddy
This business will buy all the things you need from the US websites, package it all together and when they have everything they will ship it to you. There is of course a cost for doing this, but it is very reasonable – especially if there is no other way to get the things you want.
There are, of course, other businesses that do the same thing, but Big Apple Buddy were amazing. Constant updates, when something wasn't available they got in touch right away and asked me what I wanted to do about it. They made me feel very very comfortable about the whole process. The staff were amazingly friendly and helpful!
Other businesses should be looking to Big Apple Buddy to see how brilliant customer service is really done!
Of course, if the product you receive doesn't fit, or it is faulty – your issue is with the supplier, and not Big Apple Buddy, and you might have a problem with returns since Big Apply Buddy bought the item from the supplier and then onsold it to you (at the exact same price – no markup).