How To Post A Image Plus Link and/or Highlight Titles
How To Post A Image on your Homepage, Journal or Description/Narrative page
PART A
Start by having two pages open in your computer.
One maybe on your Homepage for example.
the other open at your image. (this can be public or not)
Place your cursor over the image
then
RIGHT CLICK
it will call up a list of options
then
LEFT CLICK ON
copy image address
THEN PLACE A
! THEN PLACE IMAGE LINK !
with no spaces

YOU WILL NOW HAVE A IMAGE BUT IT WILL NOT BE LINKED
If you want it linked back to another page
then
have a third window open
have the same as above
copy the https:// link from the page you want people to be directed to when the image is clicked on.
THEN
it will look like this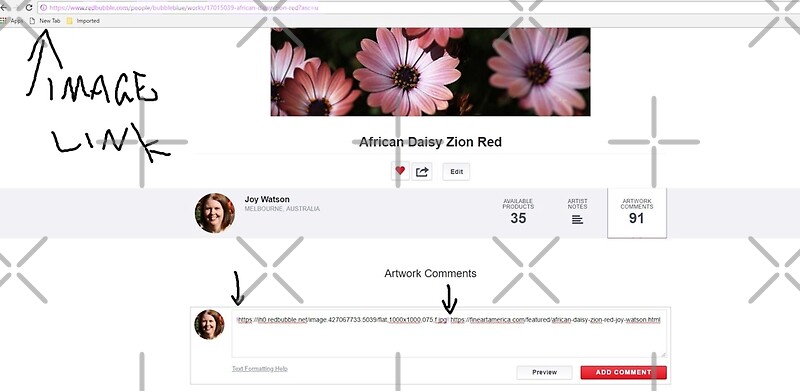 Your image will now be linked.

I have linked it to my work in Fine Art America. I could be anywhere on the internet.
IF YOU WANT TO CHANGE THE IMAGE SIZE SMALLER OR LARGER
you will see that part of the code is 1000×1000
if you change it to say
400×400 or 300×300
the size will change to smaller image
If the change to 600×600 or 700×700
the image you display will get larger.
What you do one side of the X you do the same to the other.
NOTE
MOST IMAGES FOR YOUR REDBUBBLE HOMEPAGE WILL BE 500X500 IF YOU WANT IT TO REACH THE MIDDLE OF THE PAGE.
ALL MY WORK HAS A WATERMARK OVER THE MIDDLE.
PART A SHOULD WORK TO HERE – BUT OCCASIONALLY THE WATERMARK WILL APPEAR. IF SO FOLLOW PART 2
PART 2
If like my work you have a watermark over the image but you want a image of your work not to show the watermark AS sometimes happens in PART A then follow PART 2
This is what you do
Look at your work as a Photographic Print
then
right click on inspect and follow my instructions in my journal called
How To Display Framed Prints On Your Redbubble Portfolio
This is how it will look with no link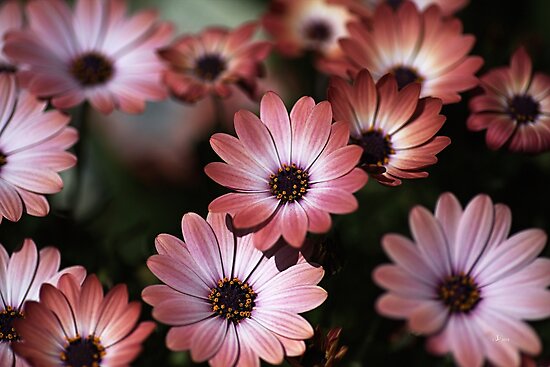 again you can change the size the image by changing the part of the code that is 550×550
to either larger or smaller but the same either side.
TO LINK WORDS
place a
*" Joy Watson Photography ": https://www.redbubble.com/people/bubbleblue?asc=u *
REMEMBER NO SPACES
it will look like this Joy Watson Photography
SO TO BREAK IT DOWN
place a
*"
followed by your words, mine being Joy Watson Photography
then
":
followed by the
https://
Link found at the top of your image page
then a
*
(ALL TOGETHER)
HOW TO HIGHLIGHT WORDS
Joy Watson Photography
place a
*
Your Title
*
with no spaces
so
---
My How To Journals for Redbubble
Displaying Framed Prints On Your Redbubble Portfolio
How To Link Framed Print
Live Traffic Feed for your Redbubble Homepage
Flag Counter for your Redbubble Homepage