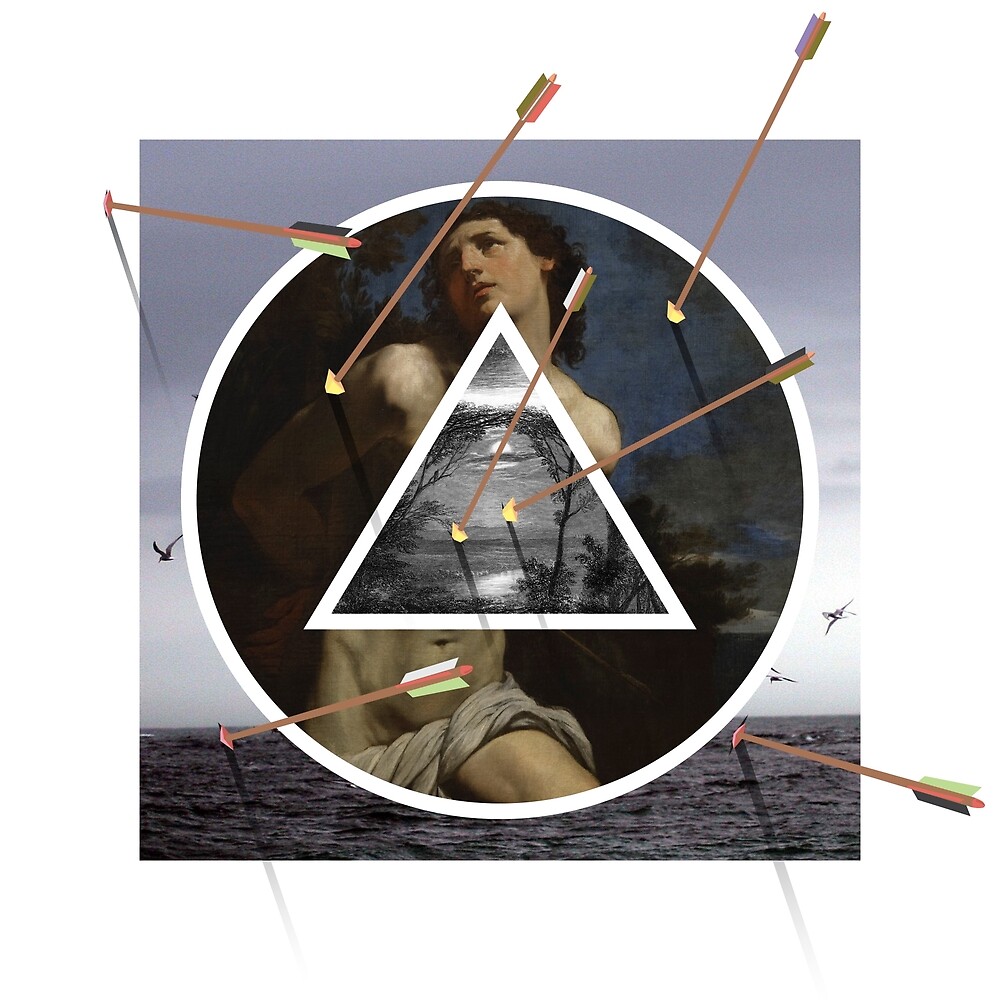 A small handful of people have asked me to tell them more about the images and intent behind No sorrow ever chokes their throats, so I wrote this. I hope it helps for those of you who are curious. One of the biggest disservices an artist can do for her art is to over-explain it. So, apologies in advance.
This is mostly an image about sorrow and loss. Which I'll admit may be a complex and unlikely thing to sell. I believe strongly in embracing sorrow, however, when we attempt to come to terms with the kind of loss we experienced in Orlando, or any massacre in any country. So I chose elements that to myself and others embody loneliness, fear, power, persecution, confusion, etc. I'll move from the outside inward. The name of the piece is "No sorrow ever chokes their throats", which is a line from the Thomas Hood poem called "Ode to Melancholy" (not to be confused with Keats' poem similarly titled.) Hood was referring to birds – "Why should birds sing such merry notes, / Unless they were more blest than we? / No sorrow ever chokes their throats" So I included the image of the ocean — an immense, powerful, lonely and unforgiving place — and birds in the square.
In the circle is one of Guido Reni's depictions of Saint Sebastian, who since the Renaissance has had overtones of being a gay icon and martyr in art. Whether or not he was actually gay is not entirely important (it IS important, but not entirely to this piece). For me, what completes the significance of Sebastian in the piece is that he was a well respected ranking captain and closeted Christian in the Praetorian guard. A brave, inspiring and good-looking soldier by legend. He was eventually clubbed to death for scorning Diocletian's persecution of Christians after he recovered from his famous execution by archers. Art and culture's depiction of him over the next 1,700 years may have been where his legacy of the gay icon came from. So my inclusion of St Sebastian is as much about the legacy of faith, martyrdom and inner conflict as it is about the implications of same-sex affections.
The triangle has an etching which accompanies line "No sorrow ever chokes their throats" the page (page 57 or 58, I believe) of the book Hood's Poems. It is a night scene with the moon low in the sky over a stream that passes between trees. There is a solitary bird in one of the trees looking out over the stream and hills.
The additional arrows, of course, tie into the famous imagery of Sebastian's nearly fatal execution. But more symbolically, they represent the many ways the LGBTI life is targeted negatively. By blatant acts of hate by groups and individuals, by legislation, religion, in the workplace, etc.
Although altogether this is a piece about loss and sorrow, in action it is about unity with those who grieve and those who are persecuted. That is why, as a straight man in this world, I've chosen to put a portion of the profits toward funding Out in Arkansas.