I Think I'm in Shock & You May Be Also
The predicate of this conjunction may be accounted for by the fact that I'm close to being speechless.
The first side of it arises out of the following: This photo is entitled, Help Me Out: My Very First Macro
I received a comment, expecting that perhaps someone had a more or less polished gem to share with me, so as to help me in perfecting my technique on macro shots. Yet, imagine my surprise when the gem of uncertain value turned out to be a diamond in the form of this: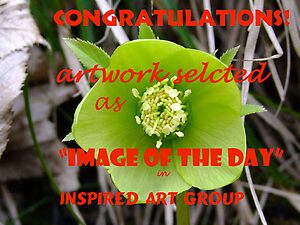 Say that one more time, please. I'd like to thank Mary Sedici and the Inspired Art Group, for this quite helpful assistance. It seems as if I may have done just fine, dare I say somewhat significantly better than fine, on my first Macro.
Ironically, it was not more than 2 hours ago that I complimented Jane on a superb Macro of a Lilly, expressing my desire to even approach such quality one day. Hey, Jane, I think I may have come close.
Thanks, again, to the Inspired Art Group. I'm somewhat mind-boggled. Can I get a pinch?
Cheers,
Rusty