Captain America The Winter Soldier premiere - Evans! Johansson! SLJackson! Russos!
It's been over a month since I last photographed an event, and that was The 2014 Baftas . Between then and now I led a life that was less about yachting, playboying and traveling on exotic African safaris but sitting in the office working on an IaaS Cloud Computing Price models. It's exciting in its own, limited way.
Anyway, the first new event was a very large one – no less than Captain America The Winter Soldier, a premiere large enough that they held it in the same location they used for The Avengers premiere some two years earlier. This time I had a spot that was not as good, and a photo of Scarlett Johansson she didn't end up signing (mostly due to my spot, I suspect I wasn't snubbed) weighed me down and … yes.
Another 11 hour wait like last time. Worth it? Well… here's how it went down.

After waiting outside in the not-so-cold, we were let inside, and despite my wrist number reading #111 I still couldn't secure a front-row spot. So I took up residence next to the escalator heading up. I had about 11 hours to wait. Fortunately I had people to talk to so I wouldn't have to resort to tallying how many times they played the Captain America 2 trailer, or how many times the giant S.H.I.E.L.D. logo hanging from the ceiling rotated.

In case you were interested, the process of getting a giant S.H.I.E.L.D. logo to rotate involves less fancy electronics and gyroscopes than you might expect. It's a dude with a long stick pushing it!

She probably shouldn't be allowed to attend a premiere with a communicable disease of that magnitude. (I could totally take her spot at the front row then…). Nine hours to go, and I still feel like I'm contributing to the net worth of society by being here. If it doesn't look too crowded it's because most of the people are sitting down behind those barriers. Sleeping or playing cards or writing all-too-late Twilight fanfic and stuff.

There's probably about another 7 hours of waiting to go, and here's a very kawaii Captain America flag/cartoon. And on the far right side, there's this weird blue-faced dude from the X-Men. (Incidentally, despite being owned by Marvel comics, the X-Men are not allowed to be involved in The Avengers, but it's less a schoolyard 'cool' thing and more an 'our parents' lawyers say I'm not allowed to' thing).

There's probably about another 5 hours of waiting left. Meanwhile, here's Spider-Man who despite also belonging to the Marvel Comics family is also for similar legal reasons as the X-Men not allowed to be involved in The Avengers. (Bottom line, I have a better chance of becoming a member of The Avengers than Spider-Man or The X-Men do. With or without superpowers).

With a mere hour or so to go, they judged the finalists of a Superhero Cosplay competition. I kept trying to convince everyone I'm a dead ringer for Marvel boss Kevin Feige, but they cruelly don't consider him to be a superhero. I beg to differ – he's actually managed to make me vaguely optimistic about Guardians Of The Galaxy.

Meanwhile, more from The Crowd. Because I've now spent more time in my spot than if I'd watched all the Lord of the Rings movies back-to-back-to-back and feel the need to justify myself and where my life is.

It's less than an hour to go now, and X-Men's Beast does the impossible and manages to get a pseudo-celeb to pose with him – our host for the evening Alex Zane seems pleased to roar for the camera. Either that, or they're watching something particularly gruesome. (Have you seen the Amazing Spiderman 2 trailer, speaking of?)

The impossible has happened : the premiere has started! Actor Anthony Mackie breaks out into song, and I haven't been able to feel both of my legs for the last three hours. I'm assured that's normal.

"I'm not signing a live parrot just because I'm called 'The Falcon' " I might have misheard that.

"Okay, when I drop my arm, give the Paparazzi your fully-developed Blue Steel Glare. See what they make of it" You might remember Anthony Mackie from Million Dollar Baby and The Hurt Locker, but if you're a man-child like me you'll probably like him for his role in the Hugh Jackman boxing robots movie "Real Steel". Which is Awesome.

The movie was directed by two brothers : Anthony and Joe Russo whose best known directing effort prior to this was the 5.6-on-imdb Owen Wilson "Comedy" "You, Me and Dupree". Then again, Peter Jackson had directed a vulgar puppets movie and a low budget horror splatterfest before being given the reins to Lord of The Rings. Weird things happen every day. And I'm inclined to have faith in any pair of brothers where one wears a scarf like that and the other wears a shirt without a tie.

Host Alex Zane asks : "I just want to know what it's like trying to direct a movie where Samuel L Jackson is glaring at you with one eye and an eye-patch, because I probably couldn't cross the road if Samuel L Jackson was looking at me like he is on the poster".

Moments later, I'm having trouble just taking a photo with Samuel L Jackson glaring at OTHER people with two eyes. I also think my Pentax's autofocus peed itself a little.

Possibly even more intimidated by Samuel L Jackson than I first thought, my camera's autofocus took one look at the pattern on the SLJs jacket and decided to focus on the shield behind him instead. (It also could have been the spotted tie I suppose).

"I hear you avoid looking into mirrors when you're playing Nick Fury because even you find the eye-patch intimidating?"

"Wait. I gotta send a text to my bookie… .by which I mean accountant"

The premiere goes hyper-meta as Samuel L Jackson takes a photo of Samuel L Jackson taking a photo of himself facing a camera that's recording him taking a photo. I believe the universe exploded soon after, and we're living in a copy of it that's more or less perfect, except I'm no longer dating Charlize Theron… (I hear SEAN PENN is?)

Next to arrive : Sebastian Stan, who plays the titular villain The Winter Soldier in this film. He also has two first names as a name.

My spot in the crowd also affords me a view of one of the edge posing stations in front of the paparazzi pen, which coincidentally contained a man with the widest waist I've ever seen. Charmed, I'm sure.

"Third floor? This isn't haberdashery and linens" Scarlett Johansson has arrived, and she might hang around a bit before resuming her shopping.

Scarlett Johansson plays Black Widow in the film, as she did in The Avengers and Iron Man 2, and the 'partially-lower-one's-middle-finger-to-wave-at-the-crowd' thing might be something that'll take off, or maybe it's more a Hollywood thing.

"Recommendation for a good family movie that's out in cinemas right now? Well, Winter Soldier doesn't open til next week, so maybe try to catch Frozen while it's still in theatres?" Damnit… I'm pretty sure I've missed it.

Alex Zane : "The ladiez do this every time I tell them I love them" I feel you, brother.

Scarlett : "Sure, babe. I'll call you"
Alex Zane : "But you don't have my number!"
Scarlett : "I think it's '4'. If it's not then it's not meant to be"
(Is it even possible to have the phone number '4'?)

I kind of like this photo. Might leave my comment at that…. or digitally insert a bowling ball at some point.

Somebody who appears to be Scarlett Johansson's bodyguard adjusts …. something. I'm not sure what, but if he's her bodyguard and he's behaving inappropriately the only person she can call to for aid IS her bodyguard. Or me – I'd be happy to help. I just need about five minutes notice so I can circumnavigate the waist of the photographer in the paparazzi pen in front of me.

When worst comes to worst, I often have to shoot high and blind at premieres. However, given the humungous girth of the photographer in front of me, I had to shoot LOW and blind for this portrait shot. It kind of worked out, but I don't actually recommend taking photos without looking at who you're photographing. Especially Scarlett Johansson. She's pretty to look at.

Meanwhile, on the main stage, the man, the myth, the incredible beard of Chris Evans arrives. Until seconds earlier he had been the only member of The Avengers I'd never photographed. So with that accomplished… I was ready to get back to photographing Scarlett Johansson.

Could in theory stand here all day, but doesn't have to like it.

"So… I notice you're wearing a tie. I'm not wearing a tie… should I have worn a tie?" It's hard to say. Scarlett Johansson is engaged now, so the disconsolate 'me' thinks there seems little point.

"You ladies in the balcony proposing marriage to me? I'm flattered by I'm going to have to say no. But if you can focus your attention to my man Alex Zane here… although I think he's desperately trying to get his mobile number changed to a single digit."

"Scarlett Johansson? I've seen her" well done for being so blase about it.

Meanwhile, this guy surely could not have gotten up that morning expecting this blue-face-fake-fangs strategy to work. But it worked. Oh… how it worked.

Chris Evans will have none of your shenanigans. But he will graciously accept compliments on his small but memorable role in Scott Pilgrim vs The World.

Hayley Atwell played Captain America's girlfriend in the first Captain America film… but that was kind of set in the 1940s. She looks pretty good for a 90 year old (which is totally my new favourite pickup line)

"I'll be back… my Maserati's double-parked somewhere"

The cast reassemble on the stage to bask in the adulation of a movie nobody in the crowd has seen yet to be able to say whether it's any good yet (though I gotta say, as somebody who's now seen the trailer about six hundred times, it does look quite decent)

Jeny Agutter (next to Hayley Atwell) was one of the shadowy figures on vertical widescreen monitors in The Avengers. Interesting to see if she's got a bigger role in Cap2. Like… maybe they switched the monitors to the more usual horizontal widescreen. Because really? Who broadcasts in vertical panorama?

"So if you've seen the trailer for the last six hours, remember : the movie actually contains about two hours worth of stuff that's not in the trailer" That's good to know. I was wondering how many times the same guy could catch the same shield thrown at him on the same rooftop.

Practising waiting for a bus for the ride home.

"The 803? I don't even think that runs after 9pm on Thursdays"

"And yet I was certain I read the timetable correctly". For non-method acting, this is pretty damn impressive if I do extrapolate and hypothesise myself…

"You can hang around here. We're taking a cab"

Chris Evans needs to hurry so he doesn't lose his seat to see the movie. (it's considered bad form in England to point at the guy on the movie poster, then at your own face, and then ask a cinema patron to shift seats).

And…. gosh darnit, the 18×12 black'n'white photo I really wanted signed was being held by me at an arc barely two degrees west of where she was looking as she headed for the escalators and the cinema and out of my life.

Another shot of Scarlett Johansson, looking even more almost not quite in my direction (if that's even possible). The famous 'blurry, therefore art' dictum of photography almost but not quite applies here, too. It was quite the night for almost but not quite.
As for me? The long journey home, some leftovers, and a truckload of photos to edit through before bedtime. (I feel like a run a media empire out of my apartment)
And even if not signed, I still like this photo of Scarlett Johansson I took at The Avengers….(my large version is a wider crop that includes more space on the right for an autograph, in case you're wondering whether I'd want her to sign on her forehead or something)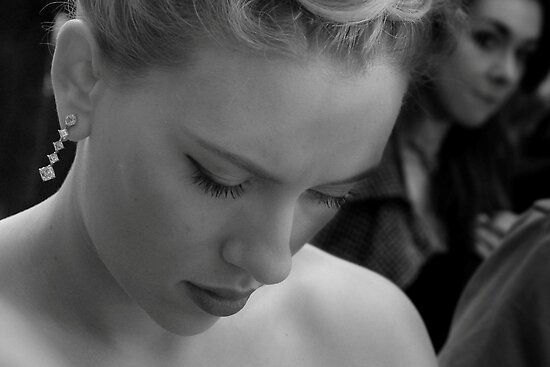 And then, one day later, I was elsewhere for further photographic opportunities at the Apple Store. But who would attend? (No.. not Scarlett Johansson… )

"Don't get too excited, people. I know that my resemblance to Scarlett Johansson is confusing, but she's not here tonight and I only doubled her in some scenes" our host for the evening has arrived, and all the seats are filled and I am photographing (you're allowed as long as you disable your flash) from adjacent to the official videographers.

"Well, looks like none of them are coming. So let me tell you about how awesome I am". So far I'm still onboard with finding out how awesome this gentleman is, but the people who have been here for many hours look like they might be sufficiently amped up by the movie trailer to cause some damage.

They're here — and more importantly that guy won't be beaten up by fans! From left to right it's Anthony Mackie ('The Falcon'), Sebastian Stan ('The Winter Soldier') and brothers Anthony and Joe Russo

"You've got a Captain America tattoo WHERE???" Well, hopefully they don't take the character in unexpected directions in future sequels. That could be embarrassing.

"You know how the visual effects make it look like I'm flying? This is what I look like on-set. It's not even as sexy as I'm making it look like now"

"…. also, if you want to make porridge taste better, don't just add a bit of butter, but also a sprinkling of cinnamon. Finally…. I've forgotten the question you asked. What was it again?"

"the question was about how much you liked working on the film, Anthony"

They opened the floor to questions from the audience. I wasn't paying attention, but I think this might have had something to do with the degree and extent Determinism is related to the idea of self-determination of human actions. It threw the panel for a couple of minutes. It was quite uncomfortable for everyone.

Then everyone started talking at once about the best way to make an omelette – three eggs or four, milk for density or not, amount of cheese… and Anthony Mackie still wanted to talk about porridge. It was goodnatured chaos.

"You think you can take me on in Fruit Ninja? I note that there's more than one iPad downstairs. Let's go"
And it's another one for the Archive of Movie Premieres


Twitter : @berndt2_photo
And another for the sub-set of "Marvel Premieres" which now includes
Thor
Iron Man 3
The Avengers
Thor the Dark World
Until next time!