Oblivion premiere - TCruise! OKurylenko! JKosinski!
Just one day earlier I'd been at this same location for the premiere of Olympus has Fallen This time around, it was the premiere of the new Tom Cruise film "Oblivion".

BFI Imax can host some pretty spectacular premieres – it's sunken below street level and the carpet can wrap around it. However, it's also a cold air trap and it funnels cold wind downwards quite effortlessly. (And did I mention it's actually snowing lightly? Because it is).

"So he asks 'isn't three DSLRs a bit much?' and I say 'hell no, plus I got an iPhone to take instagram photos on, too". I'm not so much cynical as I am ever-so-slightly jealous, to be honest.

If later photos of Tom Cruise in this journal have a slightly red/orange cast to them, it's because they had two mobile bar heaters to keep next to the cast. (It is approximately zero degrees out, despite being April and daylight.)

The man, the myth, the legend. It's said he'll sign anything, as many things, as you want, for anything. Let's test that theory with an 18×12 photo of him I took at 'Ghost Protocol' about 14 months back…Mr Tom Cruise

The particulate matter illuminated by paparazzi flashes is snow (!) but don't let that distract you from the immaculately mussed hairstyle of Mr Tom Cruise.

Actress Olga Kurylenko (Quantum of Solace) has arrived, and I believe this is called "Smizing" (TM/Copyright Tyra Banks)

"OMG – you were the guy in that movie!!" Totally was.

"You brought pictures of me for me to sign? How thoughtful!!". Well, yes. Would have been uncomfortable if they'd been pictures of Keira Knightley, though.

Oh, look! Actress Olga Kurylenko is slightly taller than Tom Cruise!

I'm sorry. My mistake. They're about the same height 8)

Dear Facebook, I have no idea who the two people in the front are. But I'd like to tag the security guy in the back. I think his name is Steve.

Olga Kurylenko's dress fits the white carpet quite well. (Even more so in black'n'white).

Tom Cruise arrived half an hour early and signed so much that the movie screening was delayed by about fifteen minutes (!). But how did I go with my photo, I hear you ask? Ermm… later. His wide arc actually took him away from our area to the far reaches before he returned to sign (or not sign as the case may be).

"Is the bar heater keeping me warm? Well, I think the carpet behind me might be on fire, but yes"

The third arrival from the movie : Joseph Kosinski, who directed this film (and Tron : Legacy, which, sure, it flagged a little in the middle but in comparison to its predecessor (Tron) achieved remarkable coherence. And the soundtrack was amazing)

… Joseph Kosinski also looks like a younger version of a boss I used to have who was a genuinely great SAS Programmer / mathematical savant. I kind of want to talk to him about that, as it's been years since I coded in SAS.

"So I said, 'bull5hit, you can be mine! True story."

Dexter Fletcher shows up to a premiere of a movie he's not in. That's actually true of 90% of premieres he shows up for (and only slightly less true of the premieres I show up for).

"Who's that man? He's beautiful!" says the braces-toothed girl to my right. Steady on, lady. My goatee/beard hybrid is still a work in progress, you know. Five years in, and I think within the decade it could really get somewhere.

Random arrival with random hairstyle : Top Gear's James May! He doesn't like signing for fans, but I have a friend whose mojo is such that he can arrange such things. Either that or he has one hell of a Blackmail file, because it worked.

Even more random arrival with an incredible brown/yellow jacket : Bill Paxton of Aliens ('game over man, game over!!'), True Lies ("… it's pathetic") and Twister fame.

"Hey, you remember Twister (1996)! That's awesome" Sure. That movie had its moments.

"So he said to me: 'Bull5hit, you can be mine!'. But to be honest I didn't really know what he meant by that"

Meanwhile, this is probably James May's opinion of my 1996 Nissan Pulsar LX (automatic) sedan.

Mr Cruise and his assistants converge on my location, but tragically he never looks at me nor the picture of him I'd taken while signing for everyone else. Gutted. And…I don't get it. I've known for a while that I'm invisible to pretty girls, but Hollywood A-Listers? I think maybe I can become some kind of highly specialised ninja assassin on the basis of my 'talent', but that's about the best reading I can put on this… sadly.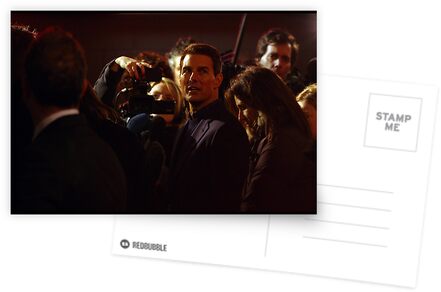 Probably random bad luck rather than an indictment of my bad photography?
Well, no, actually….(or… not directly)
….a week later, through a rather fortuitous contact. something rather unexpected found its way to me. Not my photo (obviously)… but there it was:

Wow. As in, WOW
A bit of random supercoolness, and another entry for The Archive of Movie Premieres