words & wine - the aftermath
Damn, I forgot the red balloons. See what happens when Jo O'Brien's not running things? A scribbled RED BUBBLE sign, an icy beer, and an open notebook saw me awaiting the troops for the first Red Bubble writers' meet. Solo or in pairs, in they sauntered, the first scorching weekend of summer causing the beers to go down fast.
When you introduce yourself at a Bubble meet, there's always that moment of clarity when you ask "so what's your username?……Oh that's you! I've favourited your poetry/ ordered a T-shirt/ bought greeting cards of your photos!" Delicious indeed.
In the bandroom of a funky old bluestone pub in the north of Melbourne, we munched on delectable cumin dusted olives and braised fennel as we mulled over just what we as writers desire of Red Bubble.
Some ideas……producing anthologies &/or zines, a 'for critique' button or group, prizes for competitions, spoken word nights at a local bar, and regular meetings, perhaps fortnightly. Something missing? Well, you only have yourself to blame…you should have been there, tossing forth ideas! And all of this was faithfully transcribed by Fran, who'll be able to report on this far more accurately than I have.
The next meet will be Sunday January 6th, early afternoon. As it stands the venue will probably be Wesley Anne in Northcote again, unless many of you bubblemail me asking for a more central venue. We'll each bring two pieces of writing under 250 words each, and place them onto the table in a pile. One by one we'll grab a piece at random, and read it aloud to the group. The confrontational aspect of this will be alleviated somewhat by the fact you'll be reading someone else's work…but then that brings with it a unique responsibility.
Please feel free to join us! We're such a friendly bunch that we even drew a non-bubbler to our table, sucked into our bubbly vortex. And then cameras were unleashed and pieces recited with great flair and passion, seats were clambered over for the perfect shot, more food was consumed (cigarette dip, yum) and ideas were bounced back and forth so vibrantly that I left the pub intoxicated as much by the sauvignon blanc as by the presence of such fabulous people.
Sunday January 6th. I promise conversation. I promise inspiration. I even promise red balloons.
Many thanks to Mark German for the photos!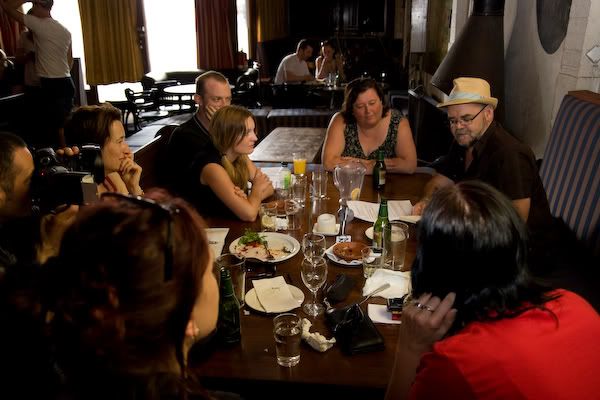 Mick reading to an entranced audience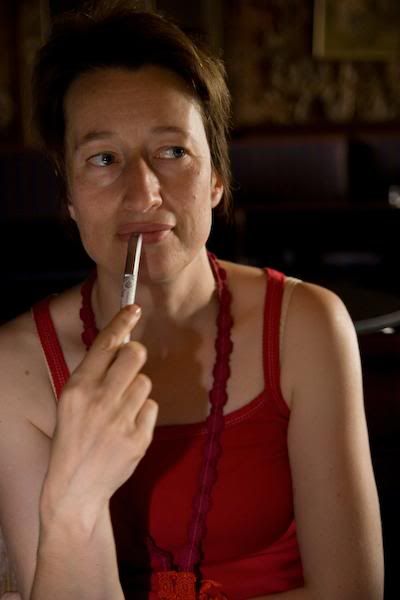 A pensive Fran thinking……hmmm….are these people crazy?

The wonderful band…and yes, he is playing a jug.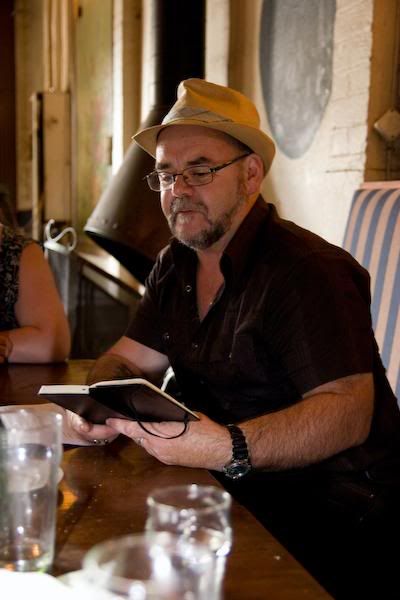 Mick reading his flash fiction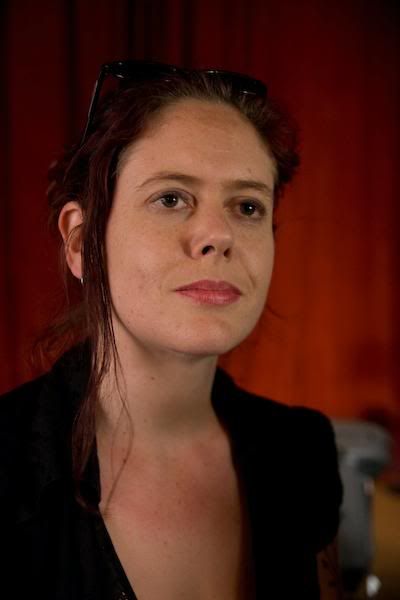 Some random wench