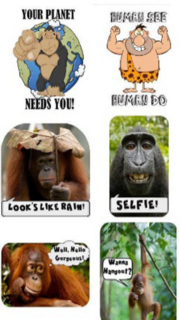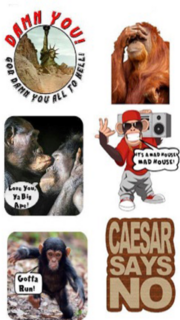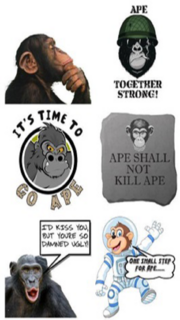 ~ Hail Caeser
Go Bananas for the Best Ape and Monkey Sticker pack available on this planet or any other. With a wide range of fun and playful stickers to liven your chats and messages. From cute pictures, to funny cartoons and quotes, its just what everyone needs on their phone. From Ape City to the Forbidden Zone, Ape World Emojis are causing a storm.
"Great for organising a night of Banana Daiquiris with your mates after a tiring Human hunt"
Satisfied Gorilla Customer, from Ape City
"They're ape-tastic, me and my girlfriend Zira use them all the time"
Cornelius the Chimp
"I can't wait to get my dirty paws on them"
Joe the Orangutan.
"Brighten up your life with this fun app. When you live underground as mutant you need a laugh from time to time"
Thar the Mutant, from the Forbidden Zone.