Teepublic, Supporting Independent Artists!


In April Banshee Joined forces with Teepublic to help our cool Animoji designs reach an even wider audience! But what is TeePublic? A country in the Bahamas whose sole currency is Tea? Hah No! TeePublic is a "Print On Demand" website similar to Redbubble where you design and upload your own artwork to their site. Then visitors/customers can come to your TeePublic site and purchase the shirt or product that they like. It's Nirvava for Pop Culture and Independent Artists and the quality of Art on Teepublic is quite impressive!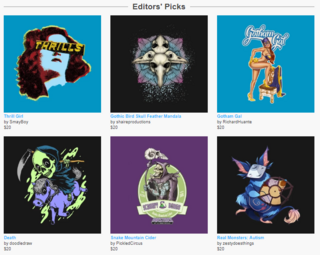 TeePublic has been around since 2013. If you don't recognize TeePublic's name, you might recognize their other company BustedTees as it's highly advertised on the internet. Like all Print On Demand Companies TeePublic handles the printing of the shirts and shipping and handling, leaving the designing and marketing of your products up to you.
So what kind of products can I put my artwork on?
TeePublic is certainly not short of Products in their catalogue. Here's a sample of one of our Banshee Apps Tshirts but do take a look at their full range of products outlined below.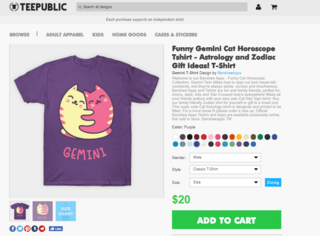 T-Shirts
Kids T-Shirts
Infant Onesies
Tank Tops
Hoodies
Crewnecks
Art Prints
Posters
Canvas Prints
Phone Cases
Mugs
Notebooks
Laptop Sleeves
Stickers
So How Does it Work??
When you first upload any new artwork or design, that design is immediately on sale for the first 72 hours (3 days). Don't worry your product will still be available to purchase after the initial 72 hours have passed but at a regular price, called the sitewide rate. And set prices are what makes Teepublic different to all the other Print On Demand websites!
How Much Do You Make Per Sale?
The commission you make at TeePublic is set in the "Proverbial" stone. There are only two prices, the sale price, and the sitewide price. Shirts on sale sell for $14.00 (Sale Price)and for regular priced shirt $20.00 (Sitewide Price).
Fun Factoid You can make up to 31% commission by selling your own merch or by selling someone else's work for 11%. That's the great thing about TeePublic; you don't have to be artistic to make money here, you could promote others work and still make money on the selling of others artwork. If you find a design you really love, go and promote it!.
Important note on referred sales, it's a 30-day cookie. So any sell within that time frame you make a commission on.
11% of referred sales.
31% of Selling your own products.
How Are You Paid At TeePublic?
Currently, at TeePublic, they offer only two methods of payments. Payments are made on the 15th of every month for the previous month sales.
PayPal
Payoneer
Required Files Type & Settings At TeePublic
150 DPI or above
1500 × 1995 px or larger (the higher, the better)
CMYK but they do except RGB files as well.
TeePublic Alternatives
Here's a list of alternatives though Merch By Amazon is by far the largest POD site available today!
Redbubble
Moteefe
SunFrog
Viralstyle
Teezily
Society6
Teespring
TeeChip
Gearbubble
HandBubble
Who is TeePublic for?
You don't have to be an elite artist to make money at TeePublic, if you simply have the desire to earn income and put in the hard work, you can succeed. If designing t-shirts and marketing those t-shirts sounds appealing to you, we recommend you give it a shot!
So what are you waiting for?
Click Here To Join
And don't forget to check out our Banshee Apps Catalog here:
Banshee Apps Catalogue