- After a long 2017 Banshee Apps are delighted to announce our approval onto Merch by Amazon -

So what is Merch by Amazon?
Merch by Amazon is an on demand t-shirt printing service originally designed for App Developers to promote the fun characters and monsters from their games. However it quickly caught on with regular designers and just about everybody else and now it has become the biggest Print On Demand Service on the internet.
Merch by Amazon or MBA allows you to create and list t-shirt designs right on Amazon.com – for free. Gone are the days of ordering t-shirts in bulk, shipping them to Amazon using their Fulfillment by Amazon(FBA) service, and waiting to see if they even sell. note: As of January 2018 MBA is USA based only, but the word on the street is they are buying more and more industrial size printers for expansion to Europe.
With Merch by Amazon, you get paid on a per shirt basis. Typically this means a $19.99 tshirt will net you just over $5 dollars in profit, and Amazon handle EVERYTHING! There is literally no upfront cost to do this. You just upload your design, set a price and colors, and let Amazon do the rest. Your royalty depends on the price you set which you can customize as you please.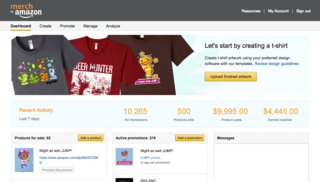 Merch by Amazon is was originally designed for Video Game t-shirts and as such the entire program is run like a Video Game where you have to level up to get increased benefits over time. You start at Tier 1 where you are allowed to upload 1 design a day to a maximum of 10 t-shirts. You can choose from Standard, Premium and Longsleeve t-shirts initially but each style counts as one design! Each shirt has 90 days to sell or it is removed by Amazon. Once you sell ten of any design you level up to Tier 2 where you can sell 25 shirts. As you move up the levels (Tier 100, 500, 1000, 5000) you are allowed to post more designs daily.
As of January 2018 MBA has added more products to its repertoire: Hoodies and Sweatshirts, but you must be on Tier 100 to access the new products.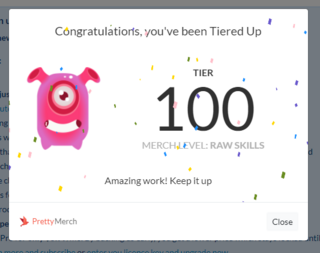 Getting Started Is Easy!
Step 1: Get Your Account
In the two years since it's inception Merch by Amazon has proven to be extremely popular. Amazon has been flooded with thousands of members and tens of thousands of unique designs. There are also increasing numbers of dodgy dealers signing up for multiple accounts so they can sell them at profit later. There are also many many Copycats (fake designers) who just steal your designs outright and sell them at a lower price, though Amazon have started moving against these dodgy dealers recently.
As a result, the only way you can join is by signing up to a waiting list. This waiting list can be anywhere between 3 weeks and 3 months. The best thing you can do is sign up now and start learning from the various Podcasts and Facebook groups already out there. Merchminds and Merch Entrepreneur are full of useful insights from Merch gurus like Jacob Topping, Ken Reil and Chris Green, as well as many more.
Top Tip: With such demand Amazon have now moved to ensure only real designers and enthusiasts are allowed onto the program. In your application make sure to include links to any work you have done e.g Websites, Graphic Design projects you've worked on, or your portfolio. You dont have to be a top notch professional designer, just someone who is genuine about the program.
You can start in the morning, and have t-shirts with your artwork available for sale on an Amazon.com product page before the end of the day. Ready to get Started? Then Click Here!
You can view our Banshee Apps Collection here but be aware it is only available in the USA as of now! Click Here!