~Reflections, Highlights and Last Individual Features (for December) 2009~
Wow December 31 here already! The last day of 2009 and it is a hot one in Melbourne, Australia. What an inspired and inspiring year it has been here on RedBubble. There have been many highlights to this year and a lot of creativity taking place. Writing and drawing is like breathing for me and if I do not do it my world starts to shrink and lose its colour. As soon as I create I feel that I am fully alive. I love creating from the energy and love that comes from inside my soul and then I love to bring this out to try and connect and speak with others. Ah creativity where would we be without it.
Here are my top five highlights for 2009
The biggest highlight for 2009 was collaborating with Reynaldo. Together we have created 104 works (52/52 each) in five months. We now have over 80 features together. We will be continuing our Tribute to Womanhood Collaborations in early 2010. What an honour, joy and absolute pleasure it has been to work with Reynaldo on the Passion Series and A Tribute to Womanhood.
A second highlight was my Goddess Series where in July I created 12 goddesses in 15 days. They are now a calendar.
A third highlight was the Passion Poem and how I drew 8 Passion Drawings, one for every stanza of the poem.
A fourth highlight was my trip to USA and sharing photographs with you all here on RedBubble. Visiting with a brother I had not seen for six years and meeting three little nieces and creating art with them has to be highlight of my year. Seeing all the beauty of Rocky Mountains Park, Vancouver Grouse Mountain (eagle and bear) and Yosemite (heaven on earth) has to be highlight not only of my year but my life
A fifth highlight is enjoying every day here on RedBubble. Sharing our art, creativity and heart with fellow artists, writers and poets around the globe. I love RedBubble and I truly appreciate this wonderful sensitive, highly inspiring and supportive group of friends I have made here. Thank you for your beautiful support of my work and I have enjoyed immensely your work too.
As a way of honouring the last day of the year I am going to post here my last individual features for 2009. And will post tomorrow my ten most viewed Paintings/Photographs since joining RedBubble.
Here are my features for December 2009:
1. Art of Reflection Featured in Feminine Intent 4 Dec 09

2. A knowing Part V featured in Two Beings Group 5 Dec 09

3.. Suspended featured in Impressionism Café 8 Dec 09

4. Suspended featured in Bit's and Pieces 8 Dec 09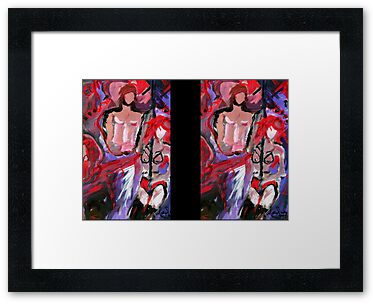 5. Red Dance featured in All Abstract Art 9 Dec 09

6. Love Bombed featured in Impressionism Café on the 11 Dec 09

7. Vincent featured in Anger Management on 17 Dec 09

8. Man featured in Live Love Dream 19 Dec 09

9. Man featured in Lifeline 19 Dec 09

10. Featured Artist in Impressionism Café 22 Dec 09


11. Don't Leave featured in Oh So Emotional…Sad 24 Dec 09

12. Christmas Kisses featured in Live Love Dream 24 Dec 09

13. Christmas Kisses featured in Feminine Intent 24 Dec 09

14. Merry Christmas to My RedBubble Friends… featured Outrageous RB Artists 24 Dec 09

15. Christmas Kisses featured in CORE 25 Dec 09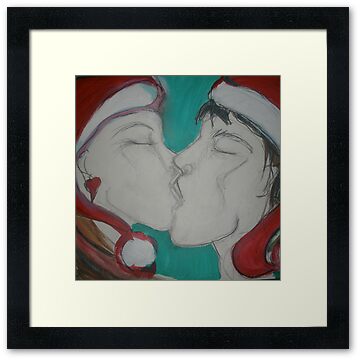 16. Love Bombed featured in All Abstract Art 27 Dec 09

17. Featured Artist in Masterpieces: Literary Workshop 27 Dec 09


18. Inspired or Wired or Brilliant Featured in Anger Management 29 Dec 09
Brilliant Plath disappeared in her Bell Jar
Intense Vincent Van Gogh was labelled insane
And when he cut off his ear they cried he had gone too far
They cut poor Frances Farmers emotion out of her brain
And made her placid benign boring and dull
Angelina was considered already dead
Vulnerable girl interrupted accused of a lull
Her hurt was cold but her blood was red.
Insanity was thrown in my face at 17
When the high school boys shouted
My favourite artist Van Gogh was insane…
'He is not'…I found my voice
'He is sensitive, passionate, intense,
misunderstood…and Don Mclean had
it right on that Starry Starry Night
He took his life as Lovers often do…
I could have told you Vincent this world
Was never meant for one as
Beautiful as you.
Ah the eternal debate…
There is a fine line between
genius and insanity…they say
and how closely do we step the tight rope
With so much mental illness today
Exposed…Depression, Anxiety,
Bi-polar…Obsessive Compulsive
Disorder…A mental health professional
recently advised that 9 out of 10 have
a mental health issue.
Are so few exempt…are these figures really true?
With so much stimulation in the media, mobile, data
Sensory overload with iPods linked to our brain
Texting 24/7 with our mobiles we sleep instead of our lovers
Is the cyborg fantasy becoming a reality…?
in this wired generation?
Constantly on…we must be or we miss out…
We become fed by instant gratification
and stimulated by virtual admiration.
Addiction to this constant contact means that our
heads are overloaded with stimulus but
not given as much time to reflect, to think, to feel.
We are becoming overdeveloped in responding to stimulus
and underdeveloped in knowing our own heart.
Strangers and outcast to our own feelings
Dependent on the hit and the high of the new
and losing sight of the bravery of the subtle and simple.
Craving perfection and the eradication of foibles
we photoshop out our character lines and faults
so that we fit into some kind of ideal of the neo post notion of beauty.
Are not faults far more defining then some sanitised notion of perfection?
Are not our faults the real indicators of our individuality?
Is not our vulnerability a sign of our sanity?
Does not our sensitivity reveal that we still belong to humanity?
Taking time to celebrate and know the individual in their idiosyncrasies
Surely this is worth the effort rather then striving for some standard of
fantasy that can never be translated?
I shudder when I think where we are headed
Man machine…woman machine…cyborgs half man half machine
I pray that disposable people, relationships that end with a click
of the key and people racing to rejection will never be the accepted.
And that the human mind, heart and soul will pause…think and
move the emotional muscle so that sensitivity can still survive
and link us together through heart and mind
right through to the end of time.
So Vincent, Sylvia, Frances, Angelina and Girl Interrupted
Insanity does not seem to be able to define,
What really was going on in your mind,
As far as I can tell…you all could see, think and feel,
Oh that you suffered and were misunderstood
This cannot be denied but you were
real raw and achingly human in your pain
and there was no question of your humanity
Even if there was and still is a question over your sanity.
To me you were brilliant, free, sensitive and intense
And by all indicators ahead of your time.
And I bow to your courage
to follow your own voice and live the
passion that was raw in your heart…
To me it is as if you just knew right from the start.
by Anthea Slade 26-4-09
19. My Journal A Poetic Year – My Top 10 Poems for 2009 was featured in All Things Poetic, Artistic, Philosophical on the 31 Dec(last day) 2009
Thank you so much Suzanne German for featuring my Journal in your beautiful group means so much to me.
I would like to wish all the moderators from the groups that featured my art and writing and my wonderful friends on RedBubble a happy 2010 overflowing with beauty. You have certainly made this year 2009 on Redbubble an absolute delight.
Happy New Year to you all!
Love and Affection,
Anthea