PLEASE HELP WITH A PRAYER FOR THIS LITTLE GIRL
My dear Redbubble friends… we ask that you please pray for this little girl…
Elysian Shae Morris was delivered at 8:47pm on Wednesday
the 22nd of January, 2014, weighing 8 lbs 6 oz.
Her entry into the world was very challenging, she hadn't been
breathing and her heart stopped for quite some time. Elysian needs prayers of healing…
Her parents, who are close friends of ours have stood strong with unmoving faith through this difficult time. They are already witnessing miracles, and there are many who are praying with them and us for Elysian's recovery.
We ask that you please include her in your prayers… we pray for a full recovery. She is a precious little soul..
We thank you for your support, every prayer is a gift…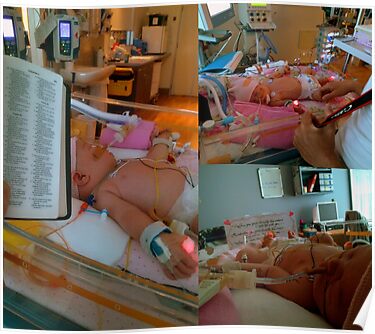 29th January 2014
Keith has put this moving and beautiful video together… Miracles are happening every day. A note from her parents: Tonight, 6 days after Elysian was born dead, and then had her life restored – Shariyah and I were blessed to have our first holds of our daughter. While we could be forgiven for being upset we didn't get these on cue after her birth, our hearts had only room for extreme joy and contentment as we each were able to enjoy such precious and special time together. Thank you God!