PLAY: Intro to Bookmaking and Hand-painted Paper
Hooray! This project is finally coming to fruition! We'll be conducting our very first ART workshop next Weds.
Sometime around November of last year, I met a local artist (Eric Llama) who, like me, likes to paint abstracts and make books from his stash of hand-painted papers. After a few creative discussions, he approached me with the idea of teaching art classes in 2013… I was trilled with the proposal, to say the least. So… together, Eric and I are embarking on a creative journey (beginning next week) where we will conduct workshops at our local Dick Blick art store (as long as we encourage the participants to buy supplies from them). Of course, it's not mandatory that people buy supplies from Blick, but they'll receive a class discount if they do.
Here's an excerpt from the Facebook Event Eric wrote: "The end of January is quickly approaching and nothing is better than art therapy to cure those winter blues!! Angela Walker, a local artist who creates beautiful paintings and books will be co-teaching the class with me. With our combined knowledge you are guaranteed to learn a lot, and have fun! The first workshop will be 2 hours, and students will create several handmade books during that time. The cost will be $20 per person, and I will post a list of materials that you will be responsible for bringing. If you do not have the materials on the list, do not worry! You can purchase any of the materials at Blick, before the class starts. See you there!!"
If you're in the Metro-Detroit area and want to attend the workshop, please send me a bubblemail/email (abroomfi@gmail.com) and I will extend you an invitation. Unfortunately, for now, the workshop has to be by "invitation only" because space is limited.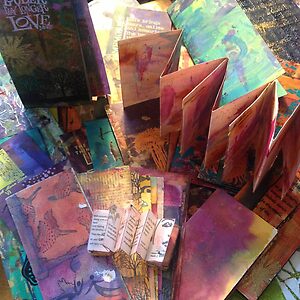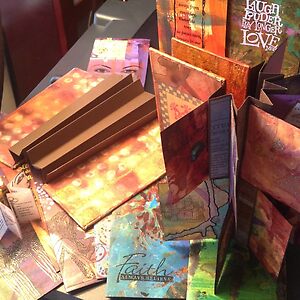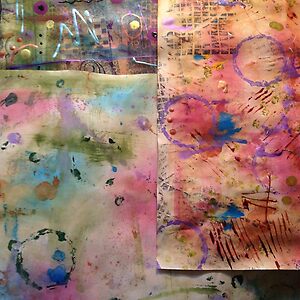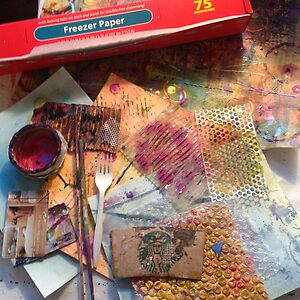 Eric and I are both very excited… we're planning to have a mighty fine time painting and making folded books. We anticipate conducting another workshop in February to cover advanced book-making techniques where people can bring their own painted/purchased papers to make their art, poetry, and/or photo booklets.