alwfineART at Dick Blick ART Madness Event
One of my major goals for 2013 was to move outside my comfort zone and have more real-time interaction relative to my art. Last Thursday (Sept 26), the Michigan Dick Blick management team (Lisa and Eric) gave me an opportunity to share how I do what I do with others!
As a part of their Art Madness Event, they asked me to demo multimedia techniques for creating fine art. I chose to demo alcohol ink and handmade printing stamps/plates… It was a huge success! The store sold out of the products I used in my demo… it was a win-win for everyone! Lisa and Eric gave me a very generous gift card for my participation in the event plus a 30% discount. Ooooooo weeeeeee, we had a ball!
Here's a photo Eric took of my demo in process: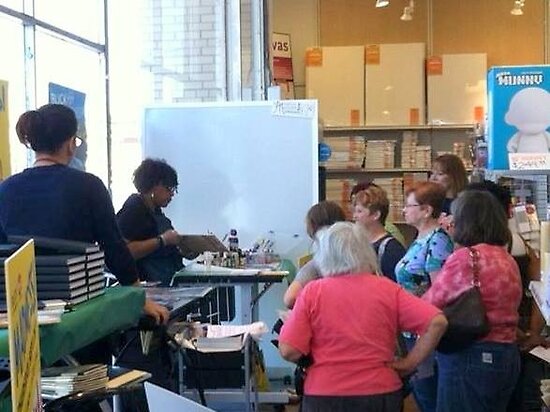 Thanks so much to everyone who came out in support… and to those who wanted to come out, but could not!
So far, 2013 has been a fantastic year for alwfineART! I look forward to doing more events like this in the future. :-)