Mixed Media JEWELS: Alcohol Inks
Many people have asked me about alcohol inks and how I use them. So, I'd like to share a few tips that have made a huge difference in how I use these fabulous gems in my work.
As a mixed media artist, I find myself studying quite a bit to learn all about the new media and tools available for multi-media art. Sometimes I run across things that REALLY make a huge difference in how well I'm able to visually convey what's in my head and/or heart. One of the best things I've run across in recent years is ALCOHOL INKS!
Today, I want to share a few tips on how to use alcohol inks with different media, and on different substrates.
Sidebar: There are several brands of alcohol inks on the market; I use the following:
* Adirondack Alcohol Inks by Tim Holtz
* Piñata Alcohol Inks by Jacquard
Alcohol inks can be used on almost ANY surface, and that's what makes them so awesome. For those of you who like to draw, this tip may be life-changing because the inks can be used on top of other media such as graphite, wax, watercolor, acrylic, etc. and maintain their transparency/vibrancy. They can also be used on nearly all surfaces (porous and non-porous) such as cloth, paper, plastic, metal, leather, clay, wood, etc.
When most artists first start using the inks, they tend to use what is most "recommended" on YouTube: blending foam or felt attached to a wooden block with a handle. I use them that way… and also in the following ways:
Paintbrushes: Most people don't realize you can actually use regular paintbrushes to paint with alcohol inks… You simply use 91% rubbing alcohol to clean/rinse your brushes instead of water. I've found that the Piñata Clean-up Solution by Jacquard actually restores the softness to the brushes so you can still use them with your other paints.
Empty Copic Sketch Markers: Another way to paint with the inks is to put them in empty Copic markers. This gives me complete control when drawing and doing detail work. I also use the inks this way when traveling. However, these markers are for use with the metallic alcohol inks.
Empty Montana (Acrylic) Paint Markers: These markers come with a mixing ball so they are better for use with the metallic alcohol inks. I use empty Montana markers for gold, silver, and pearl alcohol inks… what bliss! I love them.
Canned Air: I also find that the canned air used in dusting my computer keyboard makes for wonderful spattered effects with the alcohol inks
The pictures below will show how I use alcohol inks to add embellishment layers to various backgrounds… sometimes I use them to add transparent color to the edges of collage elements; sometimes I use them to paint details on acrylic, wax pastels, or water soluble oil pastels (all difficult to write or draw on with regular pens/markers).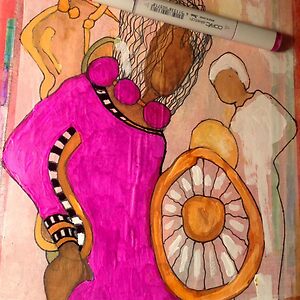 If you love alcohol inks as much as I do, please share your tips with me in the comments below… I'd love to hear how you experiment and play with these wonderful jewels!
Happy painting… and thanks for reading this entry!
Angela L Walker ( alwfineART )
Abstract Artist: Collage, Encaustic, Mixed Media