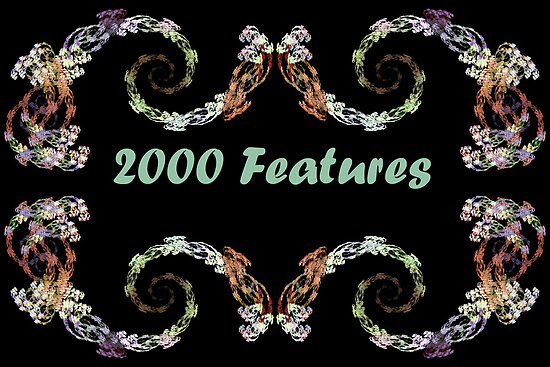 This week (January 2, 2013) I received my 2000th feature.
A good moment for a celebration.
Since the start of my membership on Nov 23 2008 I received:
In addition to the 2000 features: 192 challenge winners and 1802 non-winning Top 10's.
Also a good moment to thank all moderators for the features and everyone who voted on my entries in the challenges.
My 2000 featured pictures:
The first 1900:
____
____
____
____

0001-0100____ 0101-0200 ____ 0201-0300 ____ 0301-0400 ____ 0401-0500
____
____
____
____

0501-0600____ 0601-0700 ____ 0701-0800 ____ 0801-0900 ____ 0901-1000
____
____
____
____

1001-1100 ____ 1101-1200 ____ 1201-1300 ____ 1301-1400 ____ 1401-1500
____
____
____

1501-1600 ____ 1601-1700 ____ 1701-1800 ____ 1801-1900
____

____
____
____


European___PlaceCallHome__AsisPhotography__1Theme__ArtistsRedBubble

____
____
____
____

CountryBumpkin_DownbySea__WhereonEarth____Under_In__AsisPhotography

- ____
____
____
____

PeaceLove__CountryBumpkin_The_X_Factor__PeopleatWork_PreservingHistory
____
____

____

____

ArtistRedBubble_European__AsisPhotography__WeeklyTheme____This&That_

____

____

____
____

AsisPhotography_StairsSteps____ArtinMath____LusciousFood____European__

____
____
____
____


FoodThoughts_ArtistRedBubble__Backyard___AsisPhotography_AbstractNature
____
____
____

____

Snaptacular____TheWorld______theWorld____EyeoftheLens__GloriousGarden
____
____

____
____

GloriousGarden_Monochrome____Trees_____ArtPhotography______Statues__
____
____

____
- ____

CountryBest___Covershots_____ArtofTrees_____ArtofTrees___AsPhotography
____
____

____
____

Nat.BlackWhite_LovelyLavender_BubblingArtist__ShapePattern_LiveLoveDream

____
____

____
____

GlobeSphere__LusciousFood_ArtistsUniverse_AsisPhotography_CountryChurch
____
____
____

____


StreetScapes__CountryBest_AsisPhotography___LiveLetLive__PhotoChallenge

____

____

____

____

#1Artists____ArtistsUniverse_____#1Artists_______#1Artists______#1Artists__

____

____

____

____

#1Artists_______European_______Sea________CoverShots____ArtinMath___

____

____
____

____


AsisPhotogr__StilllifeFineArt__CountryBumpkin__ShapePattern_Nat.BlackWhite

____

____

____

____


Wilderness___Chr.Churches__ArtistsUniverse_____1Theme_AsisPhotography
____

____
____
____


Fasc.Purple_WeekendPhoto____RosesGrow_____TheWorld___ArtistsUniverse
____

____

____
____

CountryBest__MomentinTime_MomentinTime__WeeklyTheme_PhotoChallenge

____

____
____

____

_ArtinMath_____Islandisland__EveryOldNew__LiveLoveDream_CountryBumpkin
____
____

____
____

___#1Artists___AllThingsTwin____Shelters____Islandisland__StunningScenery