With the picture above I received this week (December 17, 2015) my 4600th feature.
Since the start of my membership on Nov 23 2008 I received:
In addition to the 4600 features: 354 challenge winners and 3375 non-winning Top 10's.
A good moment to thank all moderators for the features and everyone who voted on my entries in the challenges.
My 4600 featured pictures:
The first 4500: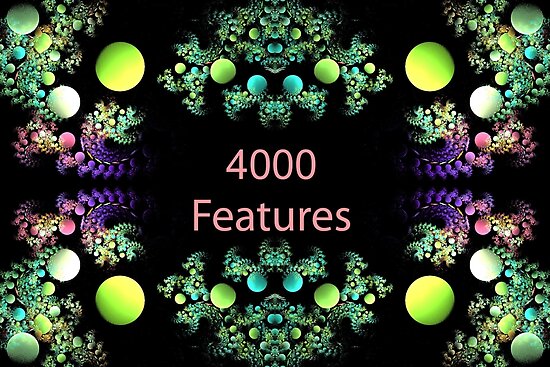 0001-0100 ____ 0101-0200 ____ 0201-0300 ____ 0301-0400 ____ 0401-0500
0501-0600 ____ 0601-0700 ____ 0701-0800 ____ 0801-0900 ____ 0901-1000
1001-1100 ____ 1101-1200 ____ 1201-1300 ____ 1301-1400 ____ 1401-1500
1501-1600 ____ 1601-1700 ____ 1701-1800 ____ 1801-1900 ____ 1901-2000
2001-2100 ____ 2101-2200 ____ 2201-2300 ____ 2301-2400 ____ 2401-2500
2501-2600 ____ 2601-2700 ____ 2701-2800 ____ 2801-2900 ____ 2901-3000
3001-3100 ____ 3101-3200 ____ 3201-3300 ____ 3301-3400 ____ 3401-3500
3501-3600 ____ 3601-3700 ____ 3701-3800 ____ 3801-3900 ____ 3901-4000
4001-4100 ____ 4101-4200 ____ 4201-4300 ____ 4301-4400 ____ 4401-4500

____

____

____

____


Chocoholics_LightupmyLife____Bubb.Artists______Rainbow___CavesCanyons

____
____
____

____

CoverShot___LoveTeddyBear__EveryOldNew_____This & That___LostinSpace

____

____

____

____


RustyCrusty__MagicCamera_____Roadways__AddictedPhotogr.___Postcards_

____

____

____

____


Architectural__PlaceCallHome__AttheMarket_____This & That____CountryBest

____

____

____

____


AboutChall.___NatureandMan__WeeklyTheme____European_____A_Paradise_

____

____

____

____


MadebyNature____Tools_____AddictedPhotogr__CountryBumpkin__TimeWorn_

____
____

____
____

CountryRoad___European______European____WeeklyTheme____ActioninArt_

____
____

____

____

CavesCanyons_CloseupNature_PowerPhotogr___CountryLiving__AsisPhotogr

____

____

____

____


WindowsDoors_ThisThatOther_AlphabetSoup__PlanetScenery_MoodyEvocative

____

____

____

____


HarbourLife_____OldFarts_____TheWindows____TheWindows____OneTree__

____

____

____
____


Bubb.Artists___Roadways____NatureandMan_____Rainbow______European_

____

____
____

____


_European_____Roadways____CountryRoad___AlphabetSoup_____Lakes__

____

____

____

____


__Tools______FreshFoods______OneTree_____RustyCrusty____CountryBest

____

____

____

____


__Tulips____AddictedPhotogr____European___WindowsDoors____1000Plus_

____
____

____

____


Pres.History__WorldSunsets___CountryBest____CropsHarvests__Monochrome

____

____

____

____


Liv.Christianity_ThisThatOther___EverydayLife_____TimeWorn_____OldFarts_

____

____

____

____


LoveofJesus___TheWindows__EyeoftheLens___EysoftheLens_CavesCanyons

____

____

____

____


CountryBumpkin__Shelters____LightupmyLife____CountryBest__PlanetScenery

____

____

____

____


#1Favorites_______Tools_______OldFarts_______European______AboutTime

____

____

____

____


ArtofGlass___2CardsperDay___ArtandPhotogr___PrimaChallenges_European