It's back to school after a long summer of nothingness. Not really sure how what to do with last year's dorm room decor? Never fear. We've got a list of fresh dorm room ideas for you that'll make yours the coolest dorm in the quad.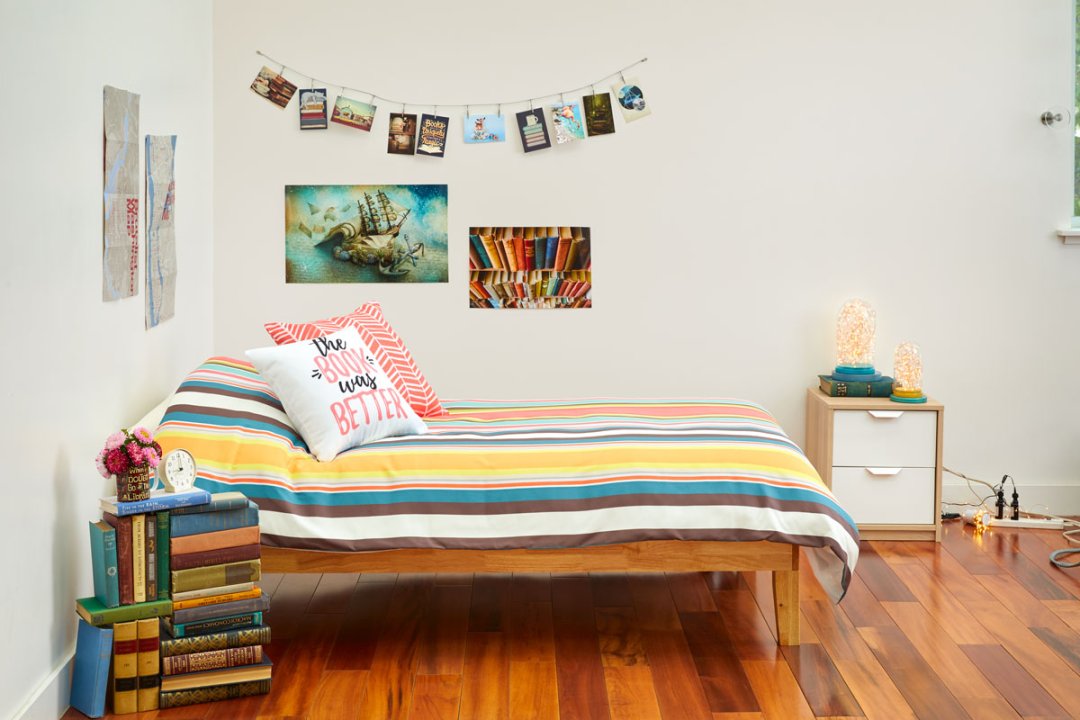 Cozy Dorm Room Ideas to Get Lost in Your Next Novel
Since you can't get into college on just your good looks and charm, it's our guess you might be a bit of a bookworm, too. If your nerdy book references and book collection can't live with your parents, bring it with you. Create a cozy reading nook that even your fictional book friends will want to come play in.
Here's some dorm room inspiration that will call to all book lovers.
The library may be your safe-haven, but your dorm room is a close second. Make sure you have a comfy space to read, study, and debate about who the best Harry Potter character is (Hermione, of course).
1. Pile up the pillows. Can you ever have too many throw pillows? Choose cushions with messages that speak your language like, "The Book Was Better."
2. Display your mugs. For those caffeine-fueled study sessions, you'll need the biggest and best coffee cups. And, of course, when you need less distractions, head to the library.
3. Create a makeshift shelf. Does your mom still have that ratty-looking suitcase from her college years? Revamp it to create a funky corner bookshelf for your already funky-smelling dorm.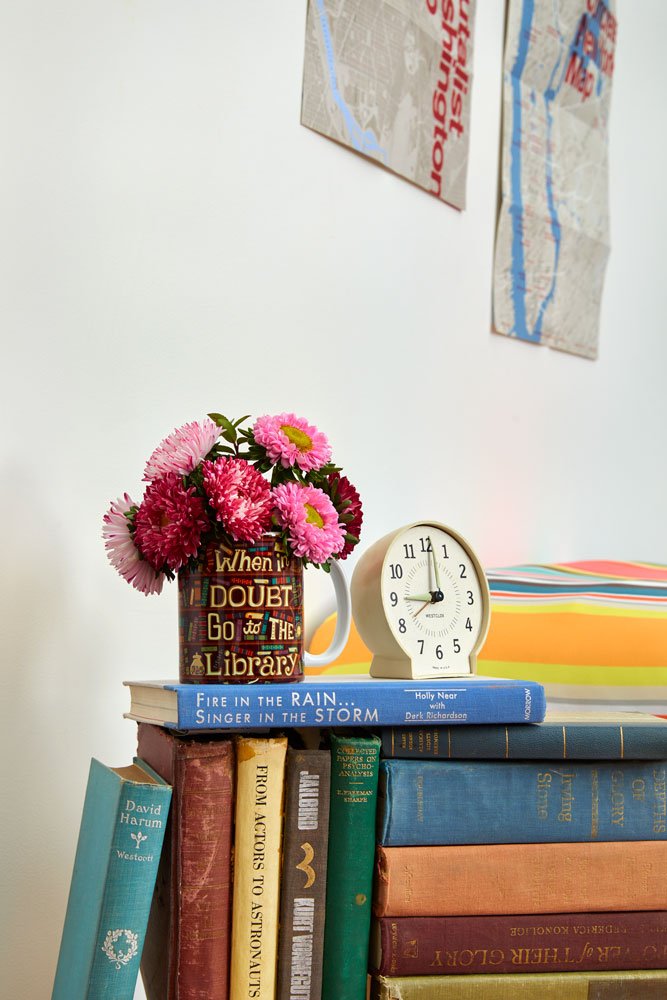 4. Inspire yourself. It's okay not to be okay, especially when you're drowning in homework. If your bed is your favorite study spot, add an inspirational banner to remind you that everything will be A-okay.
5. Light up the room. Escape under the stars. Or, in your case, under a string of twinkling lights. Same thing, right?
6. Take a shelfie. If you can't find enough space for your textbooks and your reading collection, hang simple floating bookshelves around your room. Add potted succulents as bookends.
7. Add bright blooms. Use a pretty mug to display flowers and add cheer to your room. Set atop a stack of books for a whimsical, Alice in Wonderland kind of look.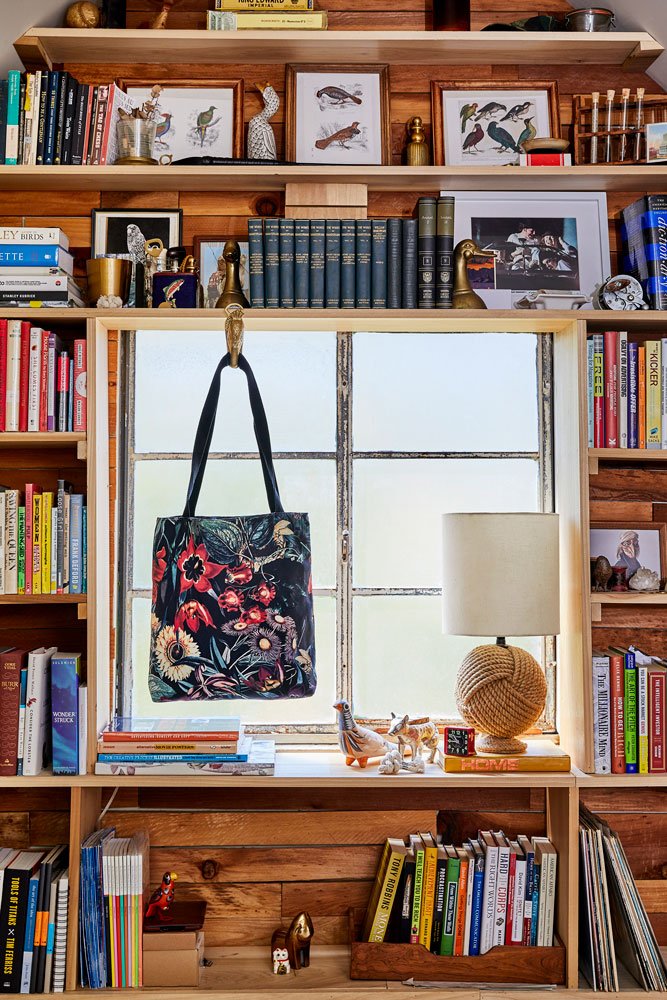 8. DIY a nightstand. If you're craftier than the average person, why not make a nightstand out of a collection of thrift store books.
9. Use your vertical space. One can never have enough books. Stack them high or low. Display them all.
10. Thrift some statement furniture. Climb into a comfy chair and grab your favorite book when you want to ignore the world.
11. Stop and smell the (fake) flowers. Love the look of florals, but aren't quite ready to be a plant lady (or man)? Ditch the responsibility, and purchase faux flowers to decorate your space. Flower garlands will give your bed frame or wall a whimsical feel.
12. Add a throw. We know you wouldn't get out of bed if you had the choice, but sometimes you have to adult. Hanging a throw blanket at the foot of your bed makes it easy to grab and go (all the way over to your desk), so you won't be tempted to nap instead of studying.
13. Believe in make-believe. Read books, and hang great art based on your favs.
A post shared by Hailey LeBlanc (@haileyinbookland) on
Dorm Room Ideas for Total Geekdom
Let your geek flag fly. Whether you're into robots, video games, or flying cats, we've got you sorted for the best dorm room inspiration. You'll want to be comfy when you and your roomies are having a 3-day video gameathon. Even if Harry Potter marathons aren't an official part of your curriculum, your dorm room is still a safe place to dork out. It's time to get your geek fest on, friend.
14. Fluff the pillows. You'll need the comfiest of throw pillows to sit on when you're eating pizza and talking about the finer points of time travel.
15. Pizazz your walls. When you can't possibly look at another textbook, stare off into space and expand your mind with these trippy posters.
16. Stick to the point. Your RA may not love if you if you place stickers all over your walls, but your computer is fair game. Let folks know if you just don't care.
17. Be bold. If you like bright colors and contrasting themes, have at it. Display your favorite
18. Bring on the tunes. Can't leave home without your guitar? Bring it with you. Put your instruments on display. Frame your favorite lyrics. Even if it's the Mario Kart theme song.
19. Add a curtain. No window, no problem! A curtain can be a nice and easy way to add a pop of color to your room. Bonus points if you color coordinate with your bedding.
20. Make your computer a work of art. The best conversions being with stories of cars on flying saucers.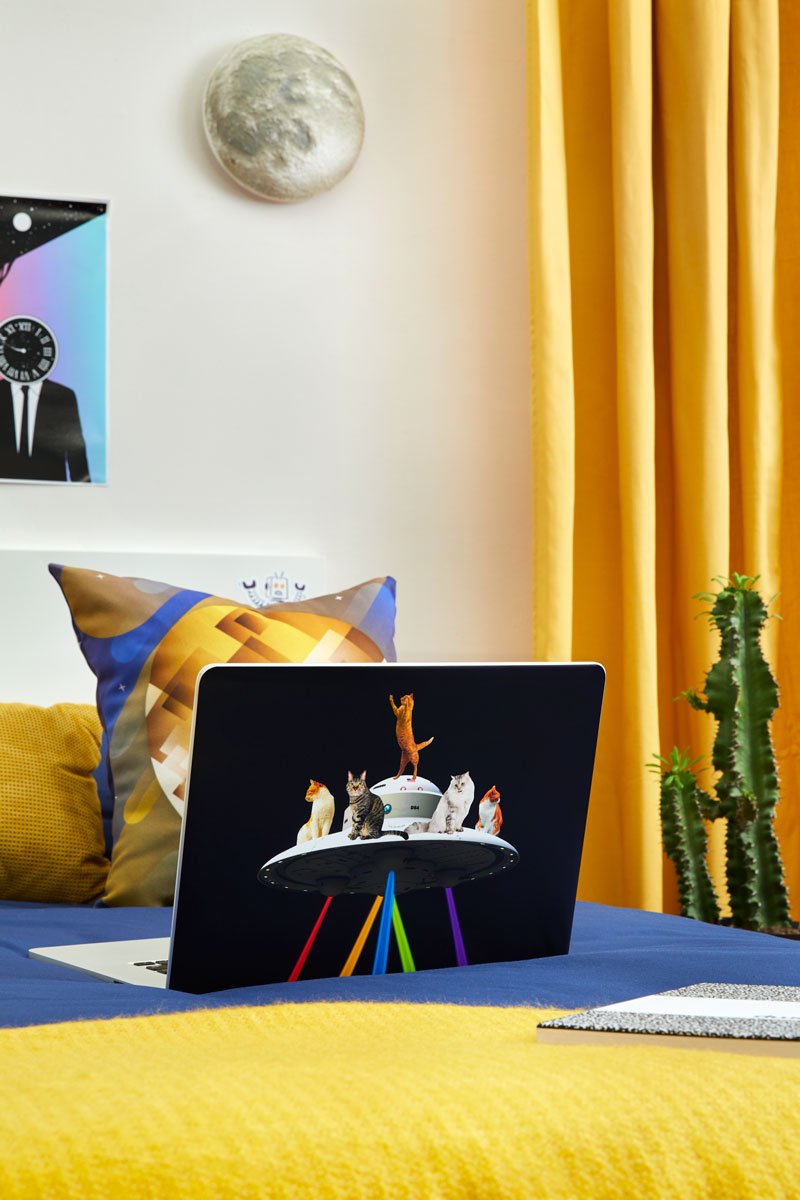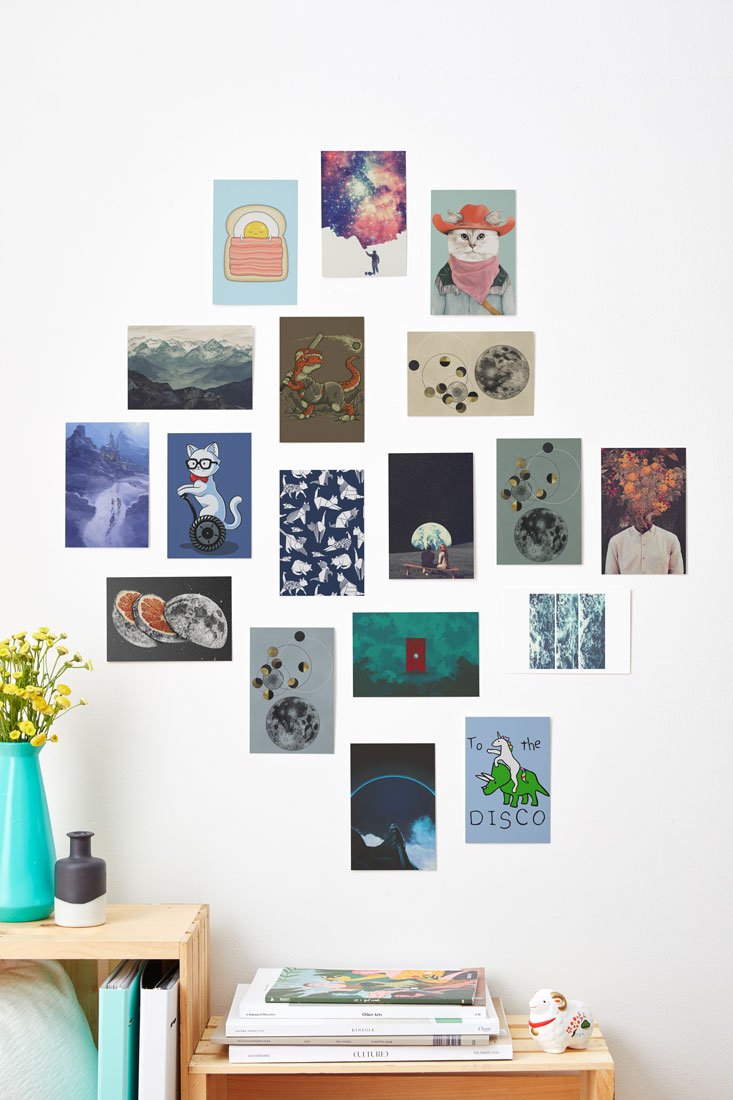 21. Empty walls are blank canvases.  Need to fill a blank wall? Use a collage of your favorite photos, homework or art work.
22. Get organized. Keep your geekiness straight with organization cubes. Decorating with old-school speakers and albums give you the cool kid on the block status.
23. Choose a theme. INFJ life means drinking tea and reading all the books. A book clock will help you keep track of time while you get lost between the pages.
Dorm Room Inspiration for Rising up Against the Man
Whether you use your dorm as a gathering for vegan parties or great feminist conversations, there's nothing more empowering than a welcoming, warm space.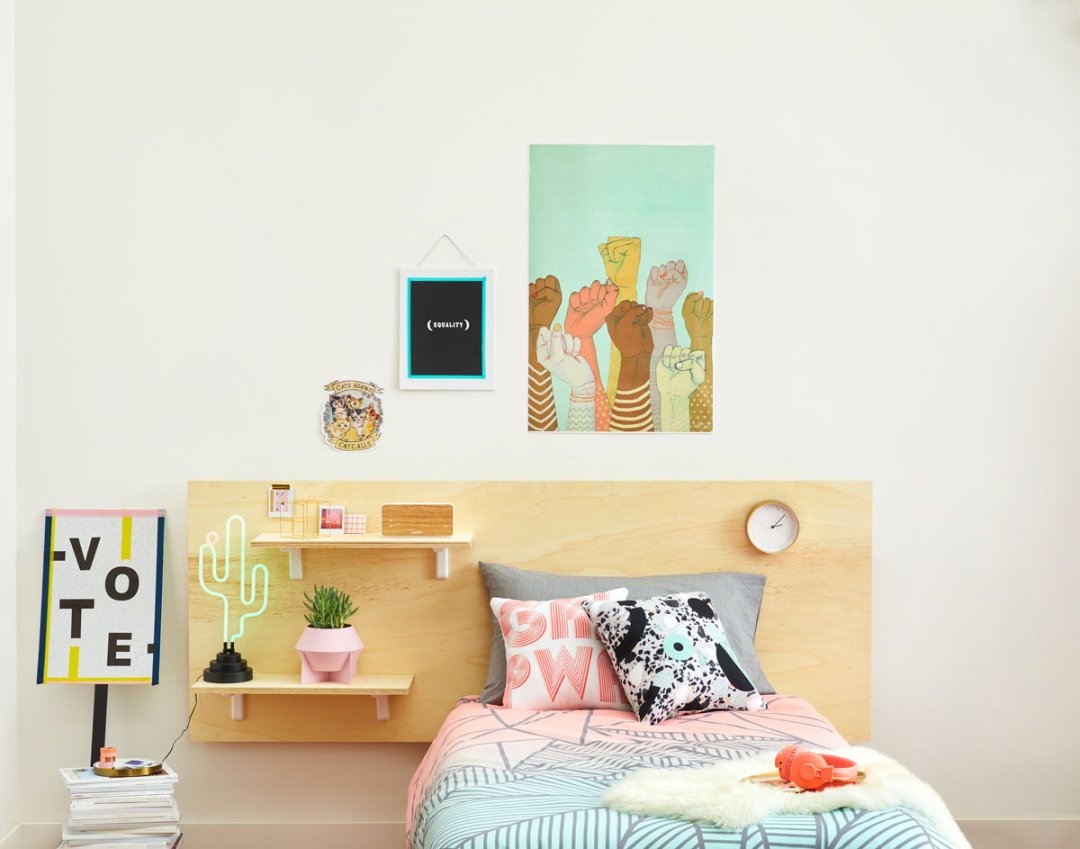 24. Hang a motivational poster. When you jump out of bed, throw your fist in the air to greet the day. You've got this.
25. Pure power pillow. Prop yourself up with this powerful (and fluffy) pillow reminder that you've got the power. Girl power, that is.
26. Pick your colors. Accent walls means going bright and bold. Always go bright, bright, bright.
27. Cover it up. You don't have to make your bed but if you do, it'll look pretty with a fluffy duvet cover. And you'll breathe easy when you dont have to spend $20 to wash your comforter every month.
28. Think vertical. A simple bookshelf can store a host of things other than books. Just don;'t let your half-eaten bowls of cereal turn into science projects.
29. Moody mood lighting. Cactus lamp for when you're feeling spiky. Reading light for when you're stuck in philosophy theory at 3am. Make sure you've got mood lighting for every situation.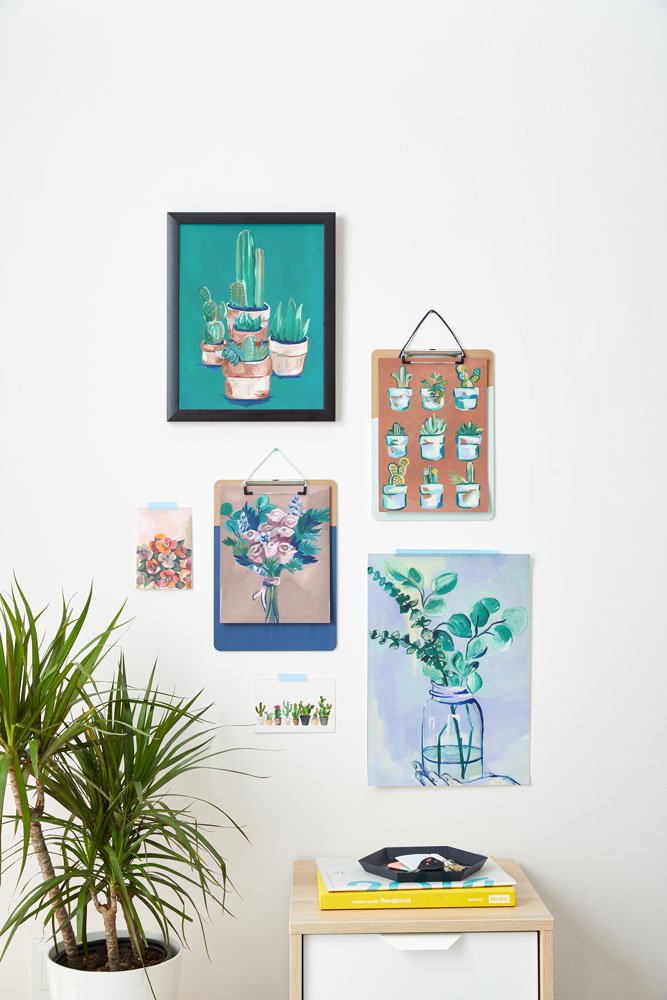 30. Get assorted. Use and assortment of frames and clipboards to create a unique collage. Make notes to yourself of how awesome you are, and clip accordingly.
31. Classy sass. Boring headboard? Use stickers to decorate your bed frame with some sass.
32. Add some neon. Whether a neon cactus or a lava lamp, the comforting glow of your favorite color will help you stay up late into the night.
33. Serious stickers. Nobody likes a cat caller. Even the cats.
34. Need some world peace in your life? It all starts with a good throw pillow.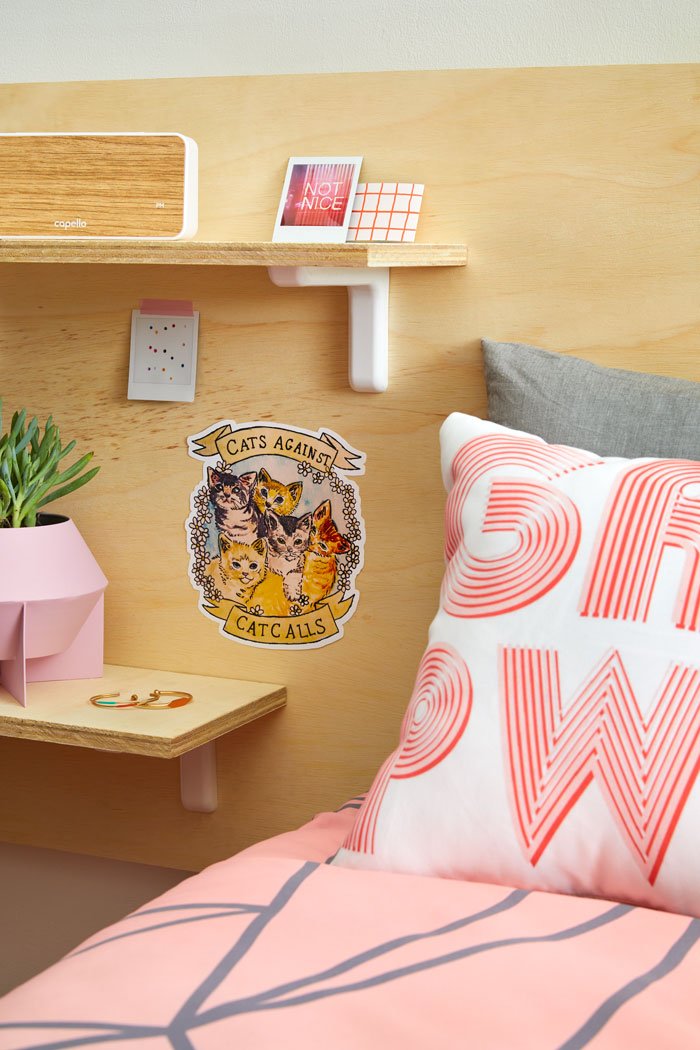 Dorm Room Ideas for Those Who Like Animals More Than People
Do you love animals more than people? We feel you. You'll never be lonely when you're surrounded by cute animal decor. Even if it's only a stuffed throw pillow covered in cats. Warning: This dorm room inspiration may move you to adopt a basketful of kittens.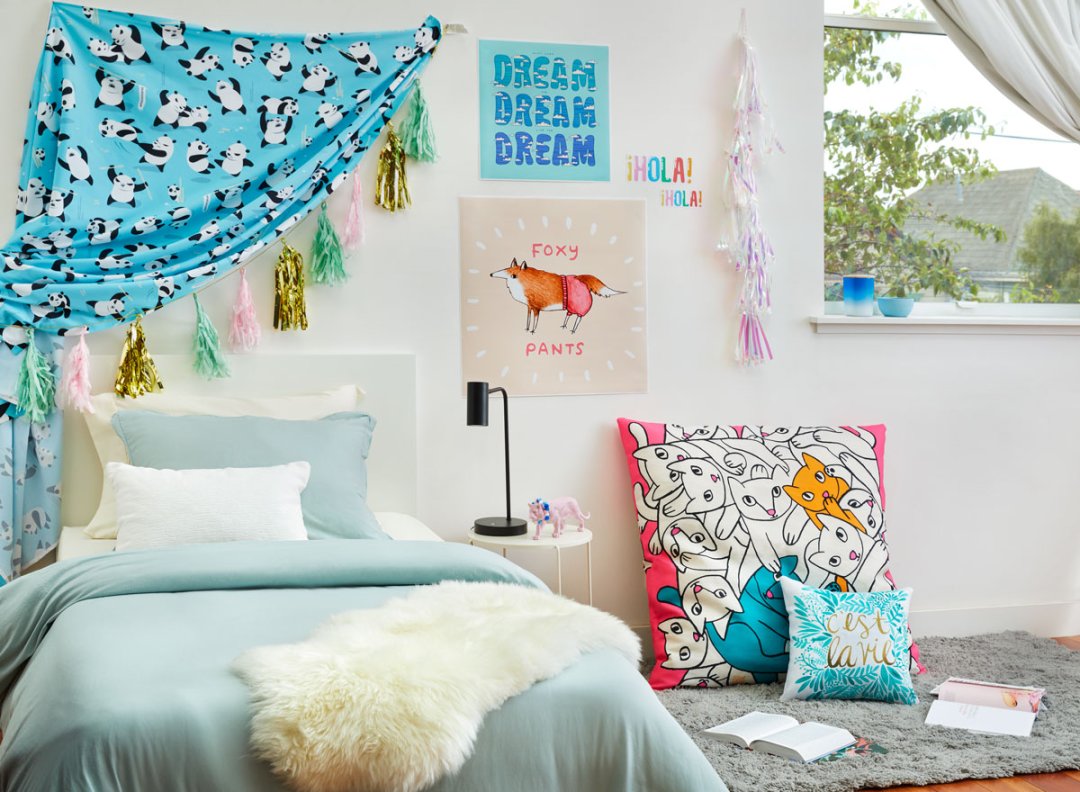 35. Get comfy in your new animal kingdom.If you want your room to look a bit like a safari, go for it. Nothing wrong with snuggling up to your favorite stuffies while you simultaneously weep over calculus homework.
36. Throw it on the ground. Sometimes a pile of cats is all you need to get cozy. Invest in oversized floor pillows, so you're not always confined to a chair.
37. Inspire your greatest self. Go big, or go home. Literally. This college dream of yours will work out if you glance at this daily inspirational poster.
38. Tack up funny posters. Any time you catch a glance at this fox in pants, you're guarenteed to smile. Bad day adverted.
39. Finest tapestry art. Blank walls feel a little too dorm-like? Pin up some dancing pandas to brighten your room. White wall crises fixed.
40. Cuddle buddies. While you can't eat these delicious-looking pillows, you can snuggle with them. And you wont drop those little sugar beads all over your bed, either. We know sleeping with ants is as weird as it sounds.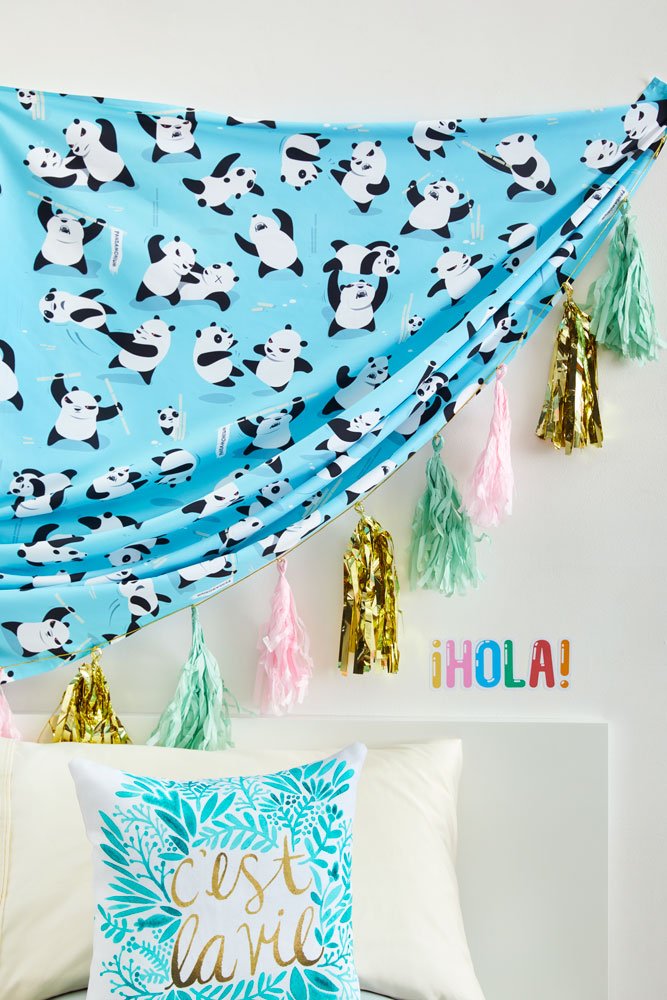 41. Get a rug. Whether your dorm room has carpet or wood, drab dorm colors always feel a little unwelcoming. Soften up the room with a luscious shag rug.
42. Liven up your dorm. Pandas Like to party. We net you do, too. Tapestries and brightness to dull dorm rooms. Don't forget to accent yours with a tassel garland.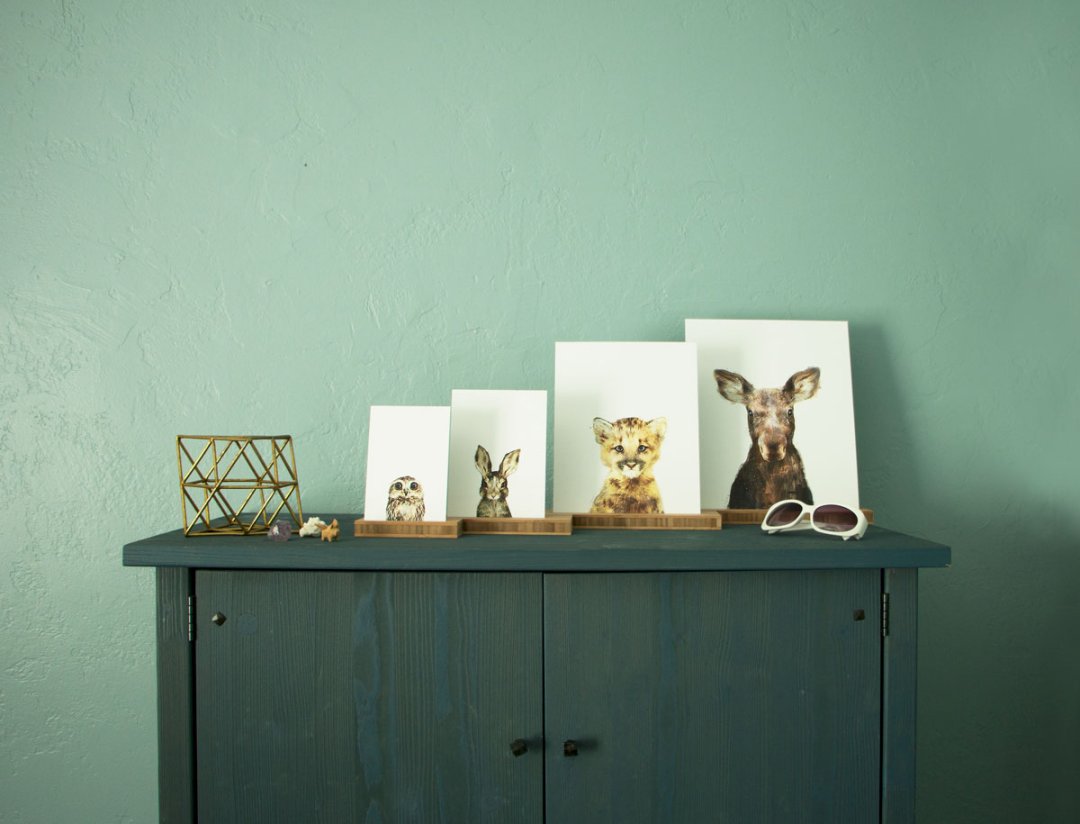 43. Show your art off. Want to showcase your cutest critter collection? line up your favorite images on a bookshelf or blank wall for an eye-catching centerpiece.
There's nothing better than a cat nap and cute animal mugs, right?
Dorm Room Ideas for the Adventurous Soul
If travel lust is real for you, perhaps this decor will inspire your next great adventure. Whether you're an experienced nomad or have yet to travel out of state, you'll love unwinding with a sense of wanderlust. Escape on a wold tour with this excursion-themed dorm room inspiration.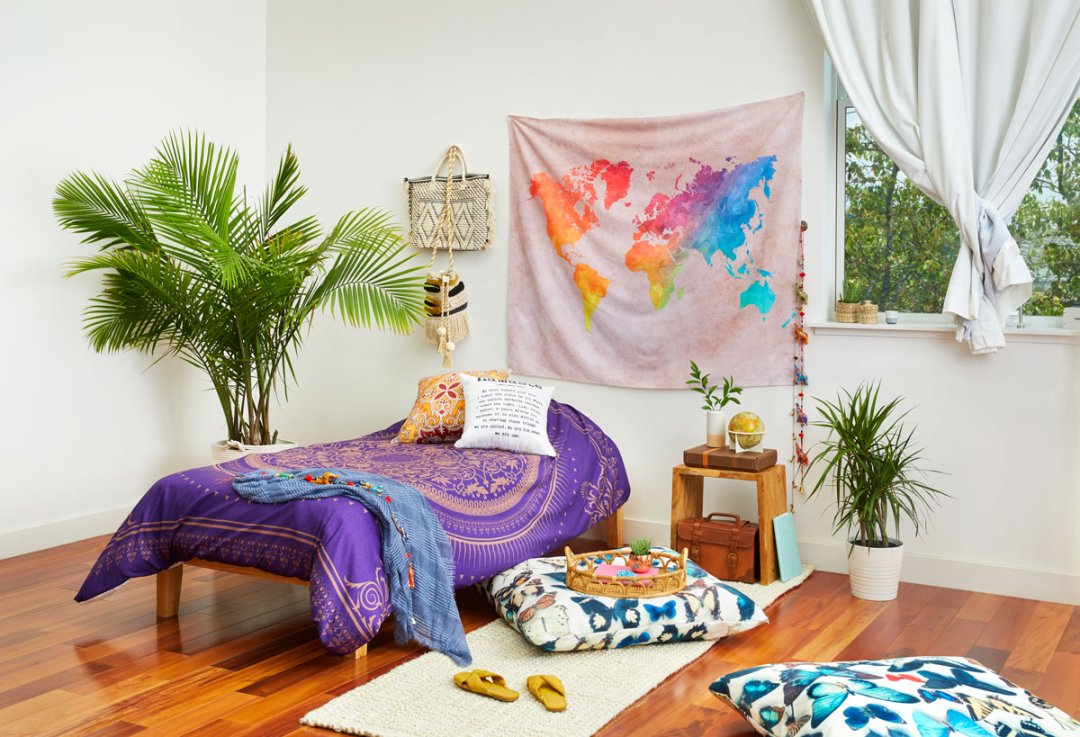 44. This one goes out to all the wanderers of the world. Even if you can't leave campus until the end of the semester. Travel on, even if it's only in your head.
45. Let your pillows talk. You know you wanna stay in your bed all day surrounded by pillows. Just let it happen.
46. Cozy up. Duvets are the best nap time companions.  Don't go to bed without one.
47. Get fresh air. Improve your dorm's stale air quality with a cute potted plant. We hear you can't kill a cactus.
48. Forget the paint. Forbidden to paint? Use pins for tapestries that show off a whole new world.
49. Be worldly. If you've ridden elephants in Africa or visited the floating market in Thailand, showcase your best photos or mementos.
50. Showcase your bags. Have bags or hats with fun textures? Don't stow them away in the closet. Hang them on the wall for all to see.
51. Bring your keepsakes. Take a trip around the world in your own dorm room. Festive tapestries, exotic plants, and worldly mementos create a travel lover's paradise.
52. Bring the party to the ground. Roll out your favorite beach mat, toss some pillows down and bring your wine-a-rita and junk food party to the floor. You'll probably end up there later anyways.
53. Create a travel gallery. Show off your travels. Put your maps and postcards on the wall for fun conversation starters.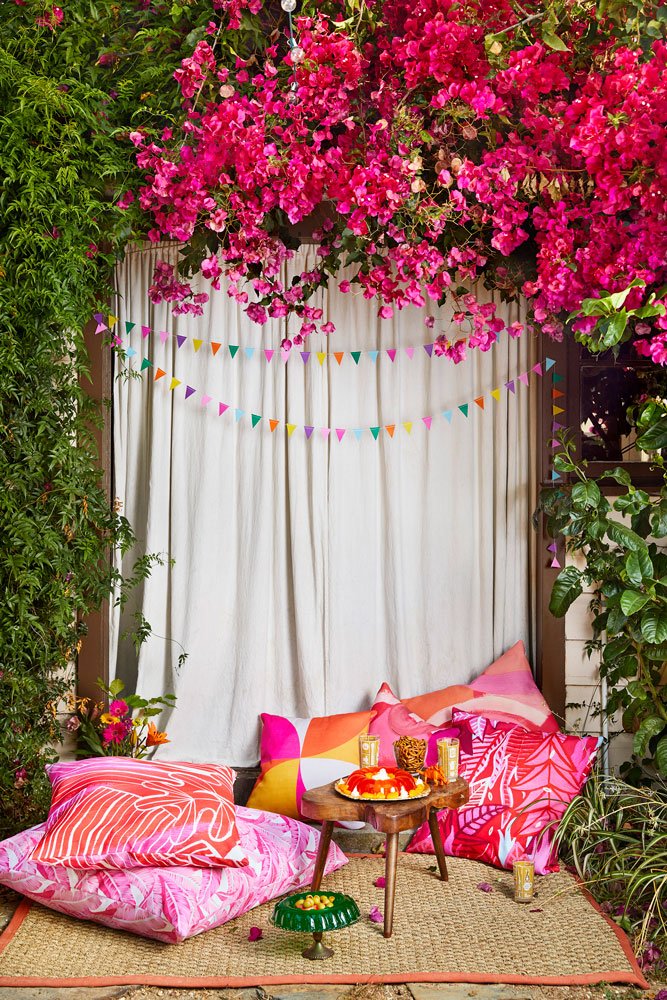 54. Make your own happy place with a tapestry and a few thumb tacks.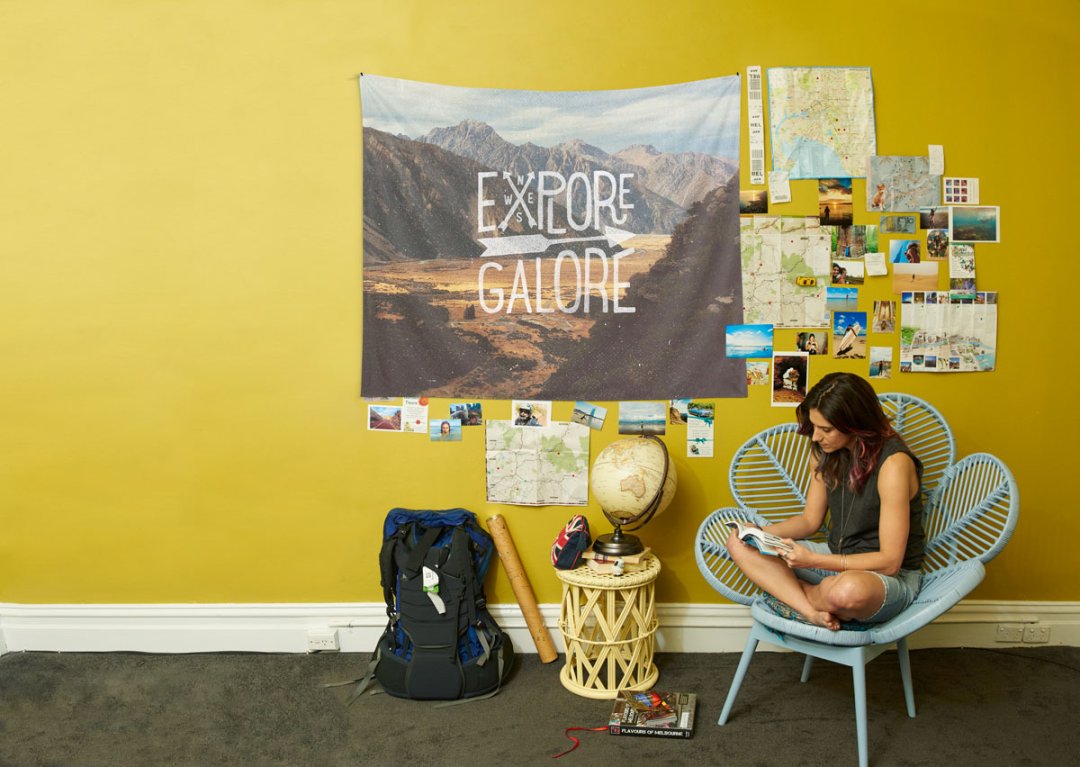 Whether you're trying to escape from the memories of yesterday's terrible chemistry test or your bad grades, these dorm room ideas will help you create a lovely retreat. Make it your own space, even if the college claims it back at the end of the year.
How do you plan to decorate your dorm? Share your inspirational tips below!