Summer is over – which means it's time for you to get back to that thing we call education.
Sorry about that, by the way. Welcome back to adulting.
To ease your pain and suffering, we've compiled a college packing list to make sure nothing is forgotten. Including your pet rock named Stan.
Tips for Packing for College
Boxes. Check. Packing tape. Check. As for the rest, throw it in a box and figure it out once you get to your dorm or apartment. Kidding. Here's some tips to keep you semi-organized.
1. Inventory your life. Don't get too emotional. If you're lucky, your parents won't immediately turn your room into a gym. Pack only the essentials, and ask your parental units to save the mementos for collection once they can really kick you out of the house. If you have a roomie, check with them to see what they're bringing. No need to have two microwaves, right?
2. Label everything. Put your name on everything. Moving day is nuts around a college campus, and if you set a box down on a curb, you might as well have shipped it to space. Mark boxes accordingly: clothes, towels, books, etc. to make unpacking a cinch.
3. Don't pack like a maniac. Pack with unpacking in mind. If you'll want to immediately shower after a day of moving, have a handy overnight bag set aside that has toiletries, a change of clothes, and your rubber ducky towel.
4. Bubble wrap is your friend. As fun as it is to pop, save some bubble wrap for your belongings, too. Bundle up your most precious items with this poppy-plastic for safe keeping.
5. Pack snacks and H2O. Moving is hard work. Have your mom send you off with her famous chocolate chip cookies. Keep your water bottle handy for hydration. Don't be the kid who faints in front of the RA the first week of college.
School Supplies
You'll actually need these to do college right.
Hangovers and messy hair aren't the only things you're supposed to bring to class. Show up with even half of the items on this list, and you're guaranteed an A for effort.
If you write notes until your hand cramps, you may as well look cute while doing it! Here's just a few things you'll want to have in class.
Notebook
Pencil Case
Temporary Tattoos
Folders
Tote bag or backpack
Pens and pencils
Highlighters
Headphones
Binders
Journals
Stickers
Water bottle
Stapler and staples
Index cards
Binders
Scissors
Sticky notes
Planner
Calculator
Paper clips or binder clips
Tape
Textbooks
Clothing
Because You Can't Walk Around Naked.
It's a fact of life — you have to wear clothes. This isn't a season of Project Runway, though, so you don't have to pack for a fashion show in Paris. The essentials will do.
Socks
Undergarments
Jeans/pants
Shorts
Sweats
Sweater
T-shirts
Pajamas
Light/heavy jackets
Rain jacket
Gloves/scarf/hat (anything else you may need if a blizzard hits)
Swimsuit
Business casual clothes
Dressy clothes
Flip flops
Sneakers
Dress shoes
Boots (rain and/or snow)
Electronics
To Keep You Near an Outlet. All. The. Time.
Now is the time to talk your parents into buying you that super sweet laptop you really want. Just make sure they buy the extra warranty in case you spill your $5 latte on it during one of those all-nighter study sessions.
Laptop or desktop computer
HDMI cord, Ethernet cord for computer (see if your dorm has wireless)
Wireless printer (most campus libraries have printers, so this isn't a must)
Power cords
Laptop and cell phone chargers
Any electronics warranty paperwork
Surge protector
Headphones
Camera
Backup drive (flash drives, external hard drives, etc.)
DVD player
Portable speakers
Alarm clock
Extension cords
Bedding
BED-azzle Your Bedding.
They say you spend one-third of your life sleeping. You might as well be comfortable, and your bed should probably be a beautiful fortress for studying, too.
Sheets and pillowcases (2 sets. Check with college for size needed — some dorm beds are extra long.)
Mattress protector
Mattress topper
Pillows and throw pillows
Blankets
Duvet and duvet cover
Study pillow/bed lounger
Bed risers
Underbed storage
Bathroom and Toiletries
Keep your stuff clean. Teeth. Face. You know.
You'll need all the little toiletries that used to magically appear in your bathroom. Thanks, mom.
Towels
Shower caddy
Shower shoes
Shampoo and conditioner
Hair products
Contact lenses and supplies
Eyeglasses and case
Deodorant
Perfume/cologne
Comb/brush
Facial wash
Body soap
Travel soap container
Shower pouf
Acetaphetamine or other pain relievers
Antacids
First aid kit
Toothbrush and toothpaste
Dental floss
Nail clippers
Razor and shaving cream
Sunscreen
Facial moisturizer
Tweezers
Hair dryer/curling iron/straightener
Cotton swabs
Cough medicine and cough drops
Feminine hygiene products
Makeup
Laundry and Cleaning Supplies
Someone has to clean the toilet. It's probably you.
Being a real adult doesn't happen overnight. Cooking, cleaning, remembering to put gas in your car… it's a lot. Just bring these with you on the off chance you remember to clean once a year.
Glass cleaner
Toilet bowl cleaner
Bleach
Sponges
Disinfectant wipes
Plunger
Toilet scrubber
Laundry detergent
Hamper
Stain remover
Fabric softener sheets
Hangers
Ironing board
Iron
Drying rack
Lint brush
Hand vacuum or full-size vacuum
Broom
Dustpan
Mop or steam mop
Kitchen
Let the real hunger games begin.
You'll learn how to use your microwave real fast. Even if it's only for t.v. dinners.
Microwave
Paper towels
Rug
Trash bags
Trash can
Lightbulbs
All-purpose cleaner
Sponges
Plastic food storage baggies
Food-storage containers
Dish soap
Dishwasher detergent
Cooking utensils (spatula, whisk, etc.)
Bowls
Plates
Drinking cups
Coffee mug
Water bottle
Silverware
Can/bottle opener
Basic spices
Water pitcher and filters
Oven mitt
Kitchen towels
First Aid and Emergency Kit
You'll need this for when your roommates have to play Dr. Mom.
When you burn your food, you might burn yourself. Be ready with all the peroxide in the world.
First aid manual
Band-Aids
Gauze
Cotton balls
Antibiotic ointment
Plastic non-latex gloves
Peroxide
Rubbing alcohol
Antiseptic wipes
Adhesive tape
Hand sanitizer
Calamine lotion
Disposable instant cold packs
Scissors
Hydrocortisone cream
Allergy meds
Thermometer
Flashlight and batteries
Magnifying glass
Safety pins
List of emergency contacts and phone numbers (poison control, for example)
Miscellaneous
The random stuff you maybe need.
There's always something you'll forget. It's probably on this list.
Box fan
Space heater (check with your college)
Umbrella
Important papers (social security card, birth certificate, etc.)
Personal fireproof safe
Board games and playing cards
Luggage
Pepper spray
Decorations
Liven up your space with some you-style decor.
Decorate to your heart's content. All within college regulations, of course.
Area rugs
Posters
Double-sided tape
Diffusers
Picture frames
Corkboard
Indoor string lights
Tapestries
Lamps
Back to School Essentials for Stargazers and Computer Nerds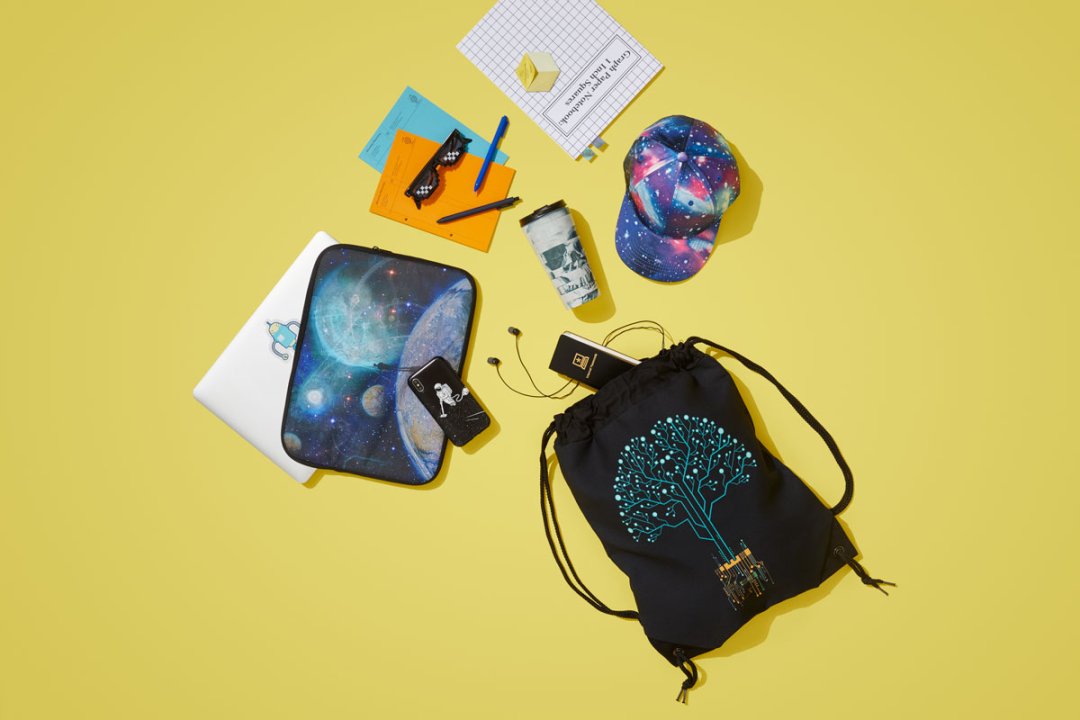 If gazing at stars is your favorite pastime, then we hope you've got plenty of those fluorescent-looking plastic stars for your dorm room ceiling. Check out our favorite products for your inner starry-eyed geek to go galactic over.
1. Stargaze challenge. Blend in with the night sky when you wear this starry baseball cap. Plus, it'll keep the blinding glare of the moon out of your eyes.
2. Caffeinate and repeat, with a travel mug. Coffee will be the only thing to get you through those dreaded 7 a.m. classes. Drinking coffee in style will never go out of style.
3. Protect your stuff. Space out in class, but don't space out on safeguarding those electronics your expensive student loans paid for. A laptop sleeve could save your bacon (and your laptop).
4. Take cover. The same 'protection your stuff' rule applies to your phone. Don't stress butterfingers, we got you and your device covered.
5. Carry on. You can never have enough cool drawstring bags to hold your hydration station AKA your water bottle.
I am the target text.
Back to School Essentials for Free Spirits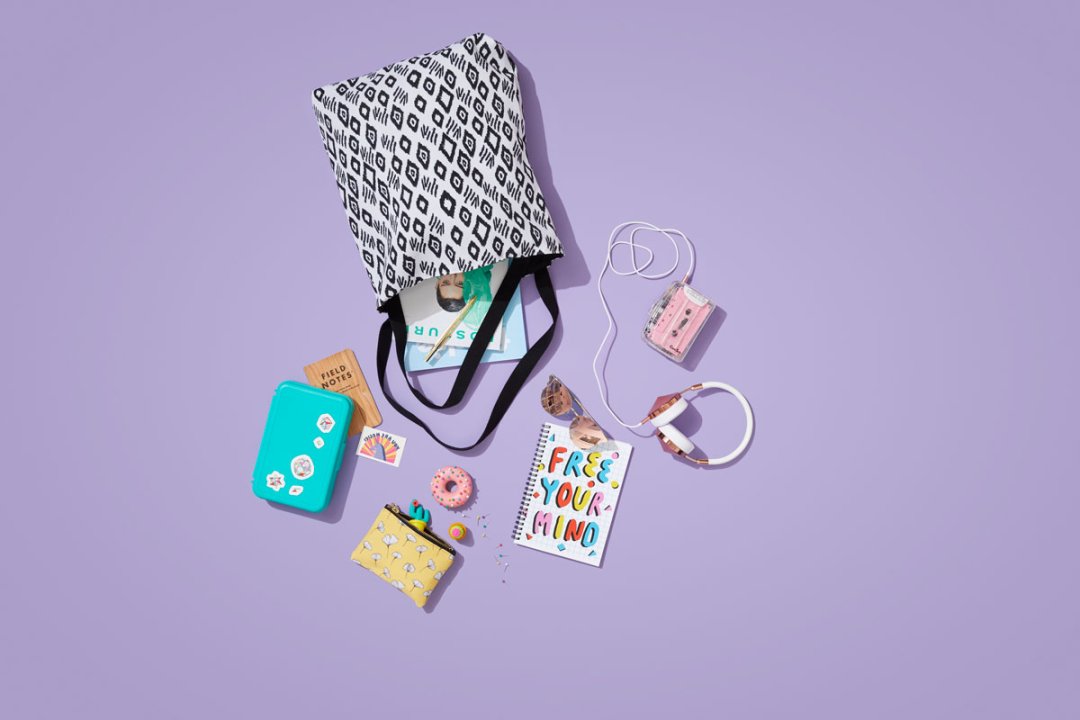 If you're more inclined to go with the flow, this essentials bag can go with you.
1. Thought freestyle. Speak your mind via your notebooks. Let everyone know what you're thinking with messages like "Free Your Mind."
2. Gather your essentials. Keep your pencils, chapstick, and even your phone in a cute catchall studio pouch.
3. Magic powers. If you like body art, slap on a new artwork daily. Keep your classmates guessing where your next tat will show up.
4. Make memories. College is part degree, part fun. Document all the memories you don't mind seeing live on forever, on Facebook and in print.
5. Stick on it. Pick a sticker, any sticker. Then, find a perfect sticking point. Place and repeat.
Back to School Essentials for Animal Lovers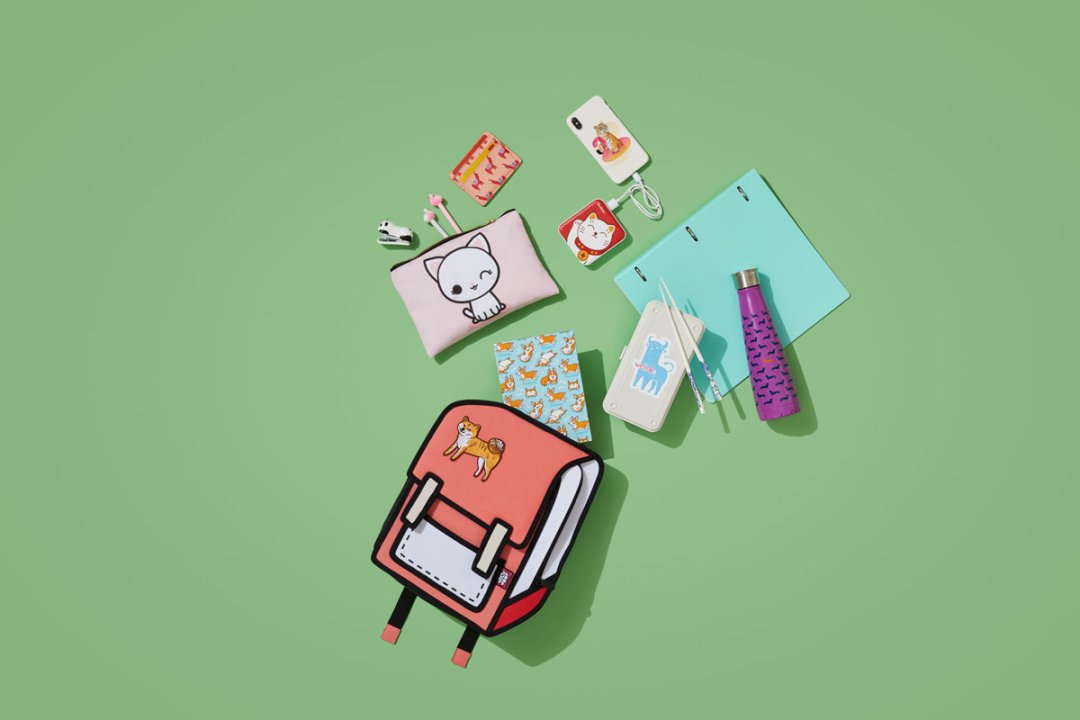 So… you had to leave Fluffy at home. We know this doesn't make up for it, but here's some cute animal stuff that might just cheer you up. Sans the cat hair.
1. A wink and a smile. Even if you've already gained the freshman 15, you'll never feel sad when you open your backpack up and see this cute cat winking at you. Keep your pencils and other tiny classroom necessities in an adorable pencil pouch.
2. Note-taking gear. We're pretty sure you'll make excuses to take notes just so you can pull out a notebook with corgis on it. We would.
3. Someone say llama? There's nothing a perky llama coin purse can't fix.
4. Hydrate. Your mom isn't around to remind you to drink eight glasses of water daily. But a cute water bottle might make it easier to remember.
5. Go get 'em, tiger. Because everyone should see a tiger riding a flamingo floatie at some point in their lives.
Stickers: For When Anything Needs Some Style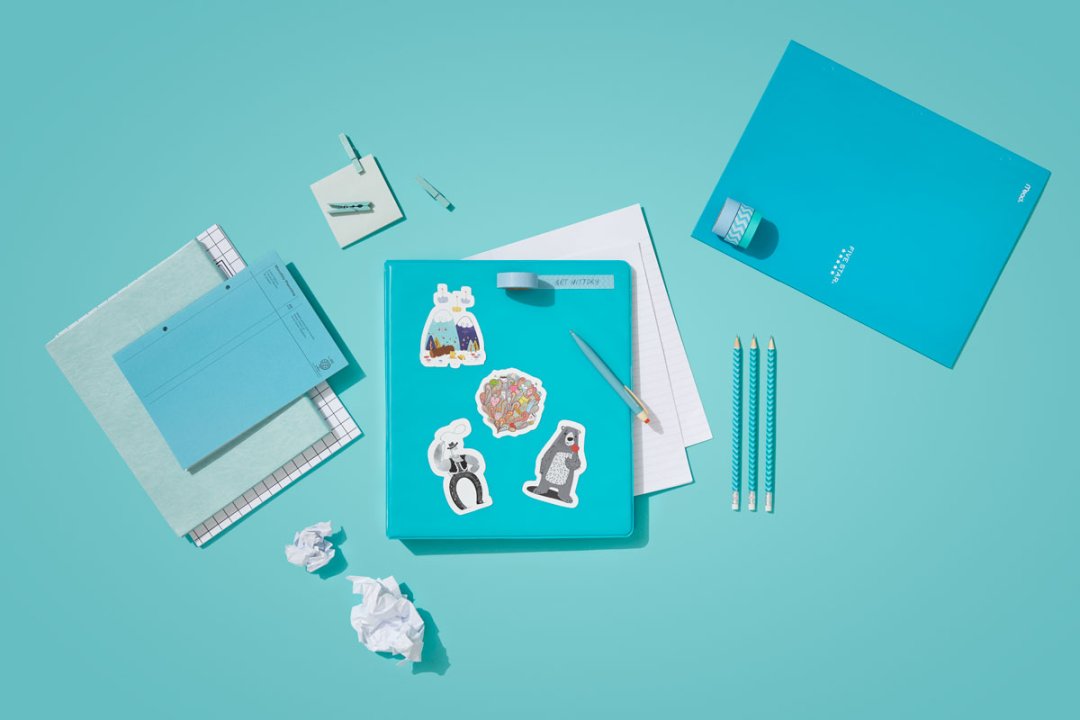 Make bold statements without saying a word. Happy, sad, or overly positive? We've got a sticker for every mood. Even when you bomb that test. Make boring notebooks fun with stickers that'll remind you of your youthful days long before college.
21. Stay sharp. Don't leave home without your favorite writing pencils. The erasers are great for changing your answers multiples times on a test.
22. Style blah binders. Washi tape and funky stickers brighten bland binders. Write the class subject across the washi tape for quick reference.
23. Take a note. Leave yourself small sticky notes to remind yourself how awesome you are today and every day.
24. Paper. You'll need lots of printer paper in college — mostly for crumpling up after you've written your research paper five times over.
25. Keep notes organized. Fact: You'll look like you know what you're doing if you have a nice notebook to take notes in. The professor will think you're paying attention when you're really doodling.
What to Leave at Home
Some things just need to stay with your parents. Like your creepy dead spider collection. Use your best judgement, but here's our guess on some things that are better left behind.
Candles. Even if you hate your roommate, you can't stink him out with your candle that smells like farts. Sorry.
Yearbooks. You'll miss your high school friends, sure. But about two weeks in when you're buried deep in freshman biology, you'll forget all about them. The yearbooks will just make you sad you're not in easy high school classes anymore.
Bowling trophies. And other knick knacks. It's safe to say your dorm is smaller than your current bedroom. Mom will keep your bowling trophy safe for a minimum of four years.
Hammocks. It's fun in theory until you pull a muscle trying to get out of one after a night of partying too hard. Save it for your actual backyard.
Pets. This makes us sad for you. If you really need to bring a pet, we hear sea monkeys slip under the radar pretty easily.
Leaving home can be tough. Leaving home to go be a responsible human being is even tougher. A college packing list shouldn't overwhelm you, and this ultimate packing list will make sure you can start the year right.
Now, go get your college on.