What an experience. While hiking under Mount Yamnuska I came across these wild horses trying to bite out grass from under the deep snow. They would not let me come close and one of them was watching out for me all the time. Once I got too close, he made a deep rumble-like noise and another horse joined him in watching me. Beautiful animals (Mount Yamnuska – on road 1A near Canmore, Alberta, Canada).
Wiki: Mount John Laurie is a mountain in the Canadian Rockies, located in the province of Alberta, Canada.
While it is officially named Mount John Laurie, also known as Mount Laurie, it is best known now by the native name Mount Yamnuska, or simply Yamnuska. Yamnuski translates to "wall of stone."
John Laurie was a founder of the Indian Association of Alberta.
This mountain is the result of a thrust from the Mcconnell Fault. This resulted in 80 million year old rock in the face of its cliff and 8 million year old rock at the scree slopes near its base.
CHALLENGE WINNER OF THE CANADIAN WINTER SCENES CHALLENGE IN CANADIANA GROUP (22/02/2011)

Featured in Your Country's Best (01/12/2010)
FEATURED IN THE SEASONS CHANGE GROUP (30/11/2010)
FEATURED IN THE BEAUTY OF NATURE GROUP (29/11/2010)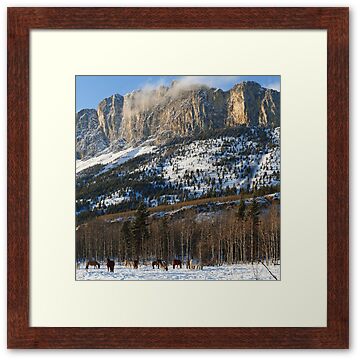 Another shots: