My original pencil drawing enhanced by Gimp.
Castle Cornet was originally built in the 13th century and withstood many major wars which involved repairs and modifications throughout it's history.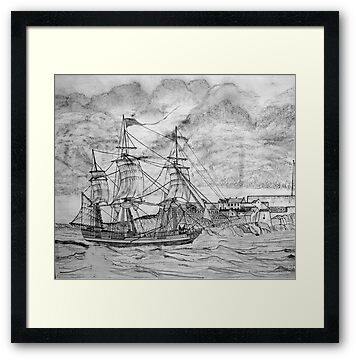 My original pencil drawing
In 1672 gunpowder kept in the Donjon exploded during a thunderstorm. The explosion killed seven people including the young wife and the mother of the Governor, Lord Hatton. It destroyed the Tower, Chapel and Governor`s residences, greatly altering the appearance of the Castle and from that time, no Governor has lived here. Many artefacts were buried in the rubble of the explosion, some of which are on display in the 'Story of Castle Cornet' Museum. A facsimile of part of Lady Cecilia Hatton's will, the wife of the Governor, is also exhibited. Poignantly, it was written in Castle Cornet only six months before she died and her bequests reveal a gentle, caring nature.
The last time that the castle was modified was during the German occupation in WW2, when it was called the 'Hafenschlosss' (harbour Castle) from 1940 until 1945. The occupying forces built air raid shelters and platforms for anti aircraft guns to update the Castle for 20th century warfare