A moment in time 2765 views 25/07/2014
My original framed acrylic painting was hung and sold, in the Fine Arts Gallery in Gibraltar. This photograph is my only copy.
No image may be reproduced, copied, edited, published, or uploaded without my permission.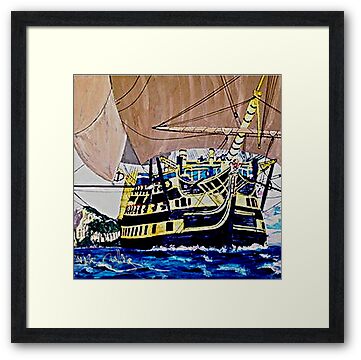 A sepia photograph of this painting
The Battle of Trafalgar (21 October 1805) was a naval engagement fought by the Royal Navy against the combined fleets of the French and Spanish Navies, during the War of the Third Coalition (August–December 1805) of the Napoleonic Wars (1803–1815).
During the time of the Battle of Trafalgar the Victory was the flagship of Admiral Lord Nelson and based in Gibraltar.
After the battle the body of Lord Nelson and other dead and wounded were returned to Gibraltar. The Trafalgar Cemetery remains to this day.