A moment in time 1891 views 21/03/2014
No image may be reproduced, copied, edited, published, or uploaded without my permission.
Richmond and the surrounding area is where I spent my early courting years. My girlfriend/first wife, went to school in this town.
My graphite and coloured pencil drawing is of the market town of Richmond which has grown up around the Norman Castle which still dominates the town today.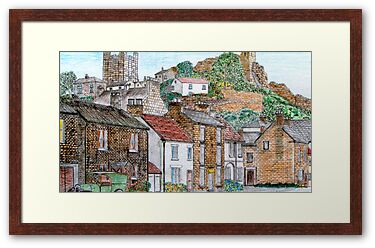 Building of the castle started in 1071 by Alan Rufus of Brittany, on land given to him by William the Conqueror as reward for his part in the victory over King Harold of England.
Today Richmond, situated in the North of Yorkshire, is a beautiful and historic market town with Georgian architecture, a cobbled market place, ancient monuments and the fast flowing River Swale.