2592 views on 21/03/2014
This is my drawing, in coloured pencil, of the former Romanian Royal Estate of Peles.
No image may be reproduced, copied, edited, published, or uploaded without my permission.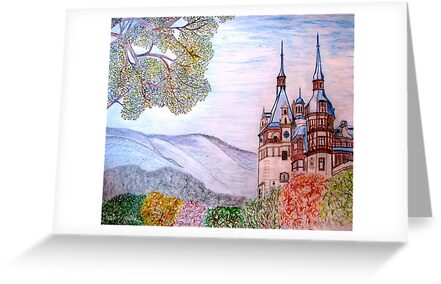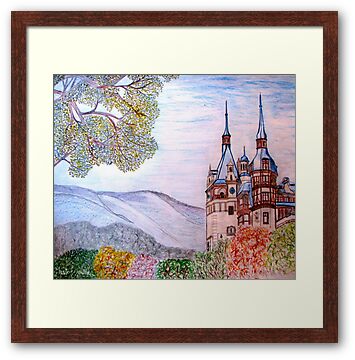 Peleş Castle is a Neo-Renaissance castle placed in an idyllic setting in the Carpathian Mountains, near Sinaia, in Prahova County, Romania, on an existing medieval route linking Transylvania and Wallachia, built between 1873 and 1914; its inauguration was held in 1883.
The folowing information is from Wikipedia
King Carol I of the Romanians (1839–1914), one of the greatest kings of modern Romania and under whose reign the country gained its Independence, first visited the site of the future castle in 1866 and he fell in love with the rugged but magnificent mountain scenery. In 1872 the Crown purchased a total of approximately 1300 km² of land in the area of Piatra Arsa, which would subsequently be named The Royal Estate of Sinaia. The monarchy commissioned the construction of a royal hunting preserve and summer retreat to be built on the property. On August 22, 1873, the foundation was laid not only for the Peleş Castle, but also for the city of Sinaia, and, indeed for modern Romania.