HMS Caroline, Alexandria Drydock, Belfast.
Built in 1914 and the last surviving ship from the Battle of Jutland in 1916, she has spent most of her life (since 1924) moored in Belfast in her role as drill ship for the RNVR and RNR. Today her future is not as illustrious as she sits in limbo, handed away from the Royal Navy and now sitting between Belfast city Council and Portsmouth dockyard who both want her, but still no decision has been made. All in all a rather unglamourous time for a grand old lady.
Taken with my Nikon D3100 DSLR and edited in Adobe Photoshop CS5 using topaz filters.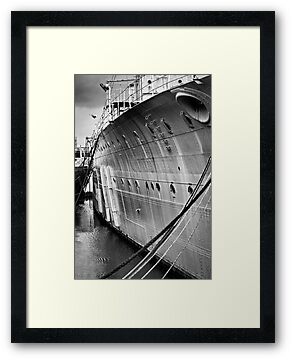 Exposure: 1/320sec
f-stop: f/5.6
ISO: 200
Lens: Tamron 70-300mm Lens.